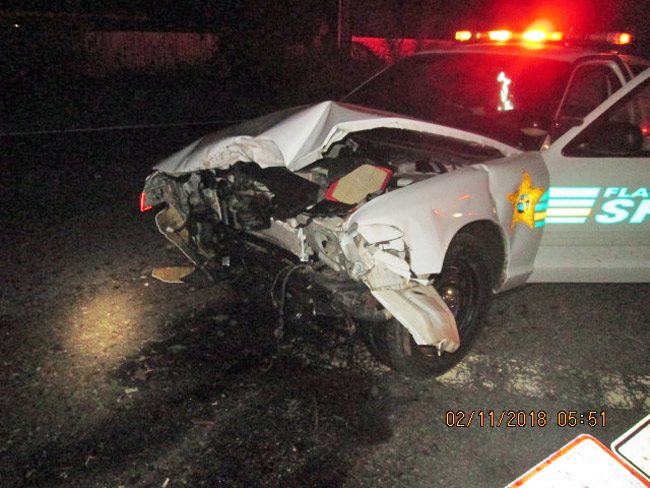 Early Sunday morning Flagler County Sheriff's deputies patrolling in Palm Coast's R Section tried to stop a man on a bicycle. The man dropped the bike and ran into the woods, prompting deputies to start a search.
Deputy David Lichty had been on patrol for 10.5 hours when he responded to the incident in the R-Section. He was driving north on Belle Terre Parkway.
Near Palm Coast Fire Station 25, just south of the intersection with Royal Palms Parkway, his vehicle "lost traction and began to spin, striking two trees in the median," according to a supervisor's report of the crash.
Lichty, 25, was at the wheel of a 2011 Crown Victoria. The vehicle uprooted one tree and struck another and downed a road sign, severely damaging the front of the vehicle, its rear and passenger side. The collision injured Lichty, who was taken to Florida Hospital Flagler. "He was treated and released with minor injuries," Sheriff's Cmdr. Mark Strobridge said today. No other vehicle was involved.

The crash took place at 4:31 a.m., according to 911 notes. The deracinated tree blocked both southbound lanes of Belle Terre Parkway, prompting the dispatching of the Palm Coast Fire Police for traffic control in addition to Flagler County Fire Rescue and the Palm Coast Fire Department. The Florida Highway Patrol was notified at 4:50 a.m. but didn't get there until 6:19 a.m., according to dispatch notes.
John's Towing towed the vehicle to the county's fleet management grounds, which the sheriff shares, behind the Government Services Building in Bunnell. By then nine sheriff's units and an FHP supervisor had also responded to the crash.
The sheriff's supervisor's report lists the crash as "preventable with extenuating circumstances." It does not explain the extenuating circumstances. The crash is being investigated by FHP, and the supervisor's report, which will include a managerial review, will not be completed until FHP's investigation is done.
The Sheriff's Office hired Lichty in October 2016 as part of the Neighborhood Services Division. He had previously worked for four years in the U.S. Military Police Corps in Fort Polk, La.
For all the mileage they log on county and city roads, deputies' crashes are relatively rare. The vehicle in this case is estimated to have sustained $10,000 in damages, according to the supervisor's report.
The man deputies were seeking in the R Section was not located.