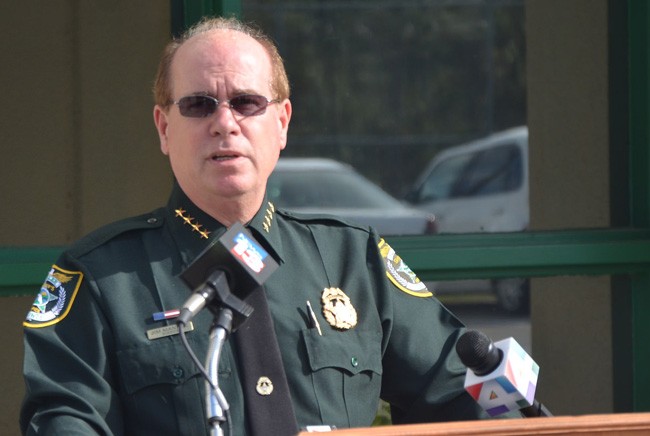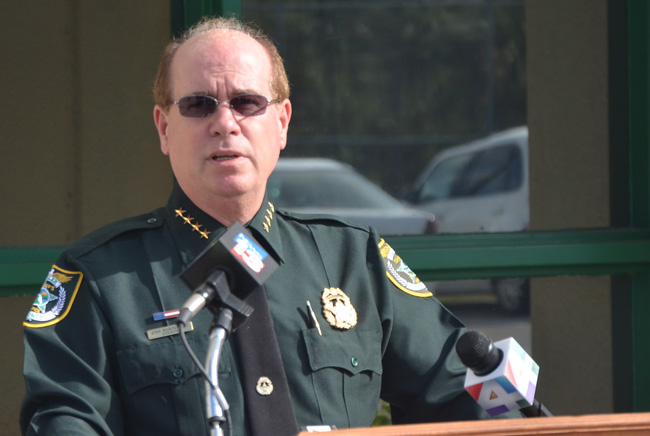 He never left any doubt about it and on Thursday, Flagler County Sheriff Jim Manfre made it official, saying he'd filed the required papers to run for re-election.
Manfre is the only Democrat so far in what is expected to be the most bitterly contested local race in next year's election. Democrats, who are having difficulties fielding candidates in most local races, are not expected to field a challenger to Manfre. Six Republicans have filed so far, including Don Fleming, Manfre's perennial rival and the sheriff from 2005 to 2012, and Rick Staly, Manfre's undersheriff in the first three years of Manfre's current administration. Manfre was first elected sheriff in 2000, serving one term and losing in the 2004 Democratic primary to Thomas Hutson, who went on to lose to Fleming.
The large number of candidates reflects a perception of Manfre as a candidate weakened by ethical issues that unfolded in the early part of his tenure and have dragged out to this year and possibly next, though Manfre in his announcement today stressed his promise of stronger ethics as a promise kept.
"As your Sheriff I promised in my 2012 bid for this office to return high ethical standards to the agency, to return community-oriented policing to the streets of Flagler County, and to return a business approach to the Sheriff's Office budgeting process," he said in a statement issued as a political advertisement. "Since taking office, together we have done this and much more. For the first time ever in April 2014 the agency underwent and received an integrity and ethics certification awarded by the National Institute of Ethics. We instituted community-oriented policing in all aspects of the Services Division (patrol). By reorganizing the command structure of the agency and reducing the number of upper management positions, we were able to hire 24 new employees in 2014. This increased the ratio of deputies-to-supervisors from 2-1 to 4-1. We also stayed well within the budget limits and have effectively worked with the county administrator and the county commissioners for each of the budget processes."
Fleming, in particularly good humor this afternoon, welcomed his rival's announcement.
"The more the merrier to me," Fleming said, simultaneously welcoming the growing field of candidates and dismissing it outright. "I'm looking forward to getting into the general election with the sheriff, I feel like I have a couple of things I owe him. I think it's healthy for a lot of people to be in the race, it gives people a lot of choices. Sheriff Manfre is the sheriff, I respect the office and I look forward to the competition."
Asked what he meant by owing Manfre a couple of things, Fleming said: "He beat me. I don't like to lose. I don't like to lose. The way it was done, the way the votes went in certain areas, well, it's politics, I understand politics and my eyes are wide open this time around. People will vote for the person of their choice. I'll match my record with that of Jim Manfre's any time any way." Fleming went on to dispute almost every suggestion of success outlined in Manfres release, even though Fleming said he hadn't read it so much as been told about it.
Staly was traveling today when he heard of the announcement. "As expected, he is taking credit for many of the things that accomplished while I was undersheriff," Staly said, such as reinvigorating crime enforcement models to drive crime down and identifying mental health as a key issue to obtain a grant that enabled a closer working relationship with the mental health intervention "in some cases he's trying to rewrite history, as usual." Staly acknowledged the stepped up ethics classes on Manfre's watch, "but he's the only one who failed the class."
Fleming struck at Manfre's ethics, too, saying Manfre should "look in the mirror" when he claims to have brought higher ethical standards to the agency. "I made a mistake," Fleming said of his own ethical lapse, which drew a $500 fine from the ethics commission. "I admitted to my mistake. He attacked me on that mistake. But his ethics things are still looming, they're coming in December or January. He should look in the mirror."
Campaign releases are usually focused exclusively on the upbeat and, as often as not, on bromides and generalities that take their cues from campaign advertising. Manfre's release takes the unusual step of addressing his strongest vulnerability at great length: the ethics complaint against him, which resulted in a severe judgment by the Florida Ethics Commission that he violated the law on three counts, with actual penalties yet to be determined.
But Manfre is refusing to end the case: he's still disputing the ethics commission's findings. In fact, a trial on the charges is scheduled before an administrative judge on Dec. 2. Manfre uses the campaign release to reiterate the position he's taken before, claiming innocence while framing the case in terms, and a degree of sophistry, befitting the lawyer he is by training.
"I take full responsibility for all of my actions and acknowledge that I could have made better choices," Manfre says, "however, I never violated any law, internal Sheriff's Office policy or practice. These actions did occur during my first months in office, and immediately after learning of these issues I directed staff to institute new policies and procedures to prevent these types of incidents from occurring in the future. I am very sorry and apologize for the distractions this has caused to the community and the Sheriff's Office. The law is clear, and to support a violation it requires that a reasonable notice be provided to me that my conduct was inconsistent with the performance of my duties. This notice did not happen, and I only acted in accordance with the established practices and procedures that were in place when I took office. I am an honest and sincere man, one who is extremely proud and honored to serve as your Sheriff. It is for this reason, as well as to have an opportunity to clear my good name, that I will be requesting a Florida Administrative Law Judge, who is a neutral party, to hear this matter."
Manfre in the release also cited demonstrably indisputable achievements: a lower crime rate, the implementation of body cameras for 79 deputies (and 52 more on order), and, as frequently reported, placing "great influence on de-escalation/crisis intervention training," which has resulted in several peaceful resolutions of high-tension encounters between armed individuals and deputies. (In each case other than the body cameras, Fleming said he'd accomplished the same ends, though it was under Fleming that vehicles' dash cameras were removed.) The latter achievement coincides with a time when police across the country are under intense scrutiny following a series of shootings and killings of individuals, almost all of them black and unarmed.
With somewhat less justification, Manfre also takes credit for the new sheriff's operations center in Bunnell, which he is dedicating on Nov. 3, though he had little to do with the funding, location or construction of what remains a county government project: Manfre gets to cut a ribbon weaved by county commissioners with sales tax proceeds. A new jail is also soon to open on his watch. His intervention, Manfre says in the campaign release without details, led to savings of upwards of $2 million, though the county administration was very influential in controlling costs.
Other Republican candidates in the race are John Lamb, Gerard O'Gara, Mark Whisenant and Christopher Yates. Manfre's filing had not yet appeared on the supervisor of election's site Thursday afternoon.