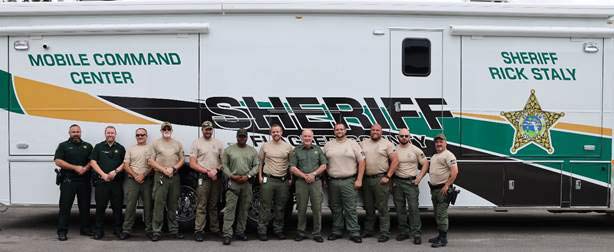 Ten members of the Flagler County Sheriff's Office Emergency Response Team are deploying to Florida's Big Bend region to assist in the areas hardest hit by Hurricane Idalia after being activated by the Florida Division of Emergency Management and the Florida Sheriff's Association Task Force.
"Hurricane Idalia certainly left its mark on Northwest Florida, and we were fortunate to not have any major impacts in Flagler County," Sheriff Staly added. "In prior hurricanes, other Sheriff's Offices have helped us, so it is our turn to help our brothers and sisters in Suwannee County as much as possible. I thank our ERT members that are deploying and their families as this adds an additional burden to their families."




ERT departed the Sheriff's Operations Center on Thursday morning in a caravan of vehicles, including FCSO's Mobile Command Center, ERT Bunk House trailer, Emergency Restaurant Team trailer, airboat, High Water Rescue Vehicle, and various patrol cars. ERT is a fully self-contained team equipped with chainsaws, various rescue tools, sleeping quarters, and food service for deployed team members.
Under the Florida Sheriff's Association Mutual Aid Agreement, Flagler deputies will have full law enforcement authority while on deployment in Suwannee County or wherever else they may be deployed. Hundreds of law enforcement officers, firefighters, emergency medical personnel, and search and rescue teams from around the state are headed to the Big Bend area to assist. Since this is a State Emergency Management authorized mission, all costs incurred will be reimbursed by the Federal Emergency Management Agency (FEMA) or Florida Emergency Management.