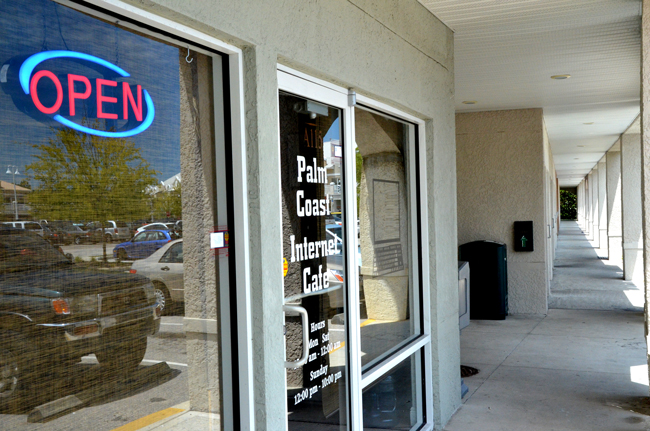 Flagler County Sheriff Don Fleming is not interested in chasing after low-stakes gambling halls such as Internet cafes, he said Thursday. "I think it is gambling, but I just don't have the resources or the higher-ups to go after them," Fleming said. He discussed the matter with State Attorney R.J. Larizza, who also told him he was more interested in focusing prosecutions on more serious matters.
The Palm Coast and Bunnell city governments are trying to decide whether and how to regulate proliferating gambling halls posing under a variety of euphemisms–"internet cafes," "penny arcades," "sweepstakes games," and a local favorite: "selling Internet time." The sheriff's decision will have wide implications on those regulations, now that Fleming is ruling out addressing gambling halls as a law enforcement problem.
Earlier this week Fleming sent a letter, drafted in the form of an opinion, to the Palm Coast and Bunnell city governments telling them as much.
"This homegrown nuisance known as Internet cafes has forced agencies within our counties to prioritize what is truly needed," Fleming wrote. "To focus our energies on the internet cafes would be a costly undertaking. For example, undercover players and expert witnesses would be required, adding to the cost of investigating and prosecuting these cases. A significant financial burden would be placed on local law enforcement agencies as well as the judicial system and the State Attorney's office. Each establishment and each incident would be investigated and judged on a case by case basis."
Palm Coast and Bunnell are working on ordinances related to gambling halls. Palm Coast's hasn't yet been presented to the city council, though the council's attorney this week asked for a workshop on the issue. Bunnell submitted its proposal to the commission last week. Bunnell would make broader allowances for gambling machines in the city by allowing businesses to have as many such machines as they want–as long as the machines don't generate more than 50 percent of the business' revenue. The ordinance does not set out how, and under what authority, the city would be able to verify whether a business generates more or less than 50 percent of its revenue from the machines.
The ordinance did not appeal to some members of the commission, particularly John Rogers, who wants all gambling establishments banned. He had support from Commissioner Daisy Henry, but no support at all from Elbert Tucker and Jenny Crain-Brady, who are opposed to regulating people's behavior when it comes to that form of gambling.
Mayor Catherine Robinson was willing to table the ordinance pending an opinion from Fleming on how he defined the cafes and whether he would tackle them. On Monday, Grady Judd, the sheriff in Polk County, raided and closed one internet cafe–the only one in Polk County–in Davenport, saying he would not allow them to proliferate in that county.
Fleming said he had great respect for Judd, but that he wouldn't follow the same strategy in Flagler. "I have bigger fish to fry," he said, citing, for example, the county's problem with prescription drugs.
"The pill problem is a hell of a lot bigger," Fleming said, referring to prescription pills such as oxycontin, oxycodone and other narcotics that have been keeping law enforcement busy in Florida, particularly along the I-95 corridor. Every local government has a six-month moratorium on approving new pain clinics, some of which, elsewhere in the state, have been used as fronts, or pill mills.
Palm Coast also has a six-month moratorium in place to prevent new Internet cafes from opening, though more than half a dozen are already operating in the city. The latest just opened its doors literally a few doors down from Palm Coast's offices, at City Market Place on Cypress Boulevard. Fleming is asking Palm Coast to extend both moratoriums for another six months to give either the Legislature time to address regulation statewide or pending litigation to make its way through the courts. Fleming is keeping an eye on a federal case in Seminole County, where the county commission banned internet cafes only to be sued by Allied Veterans, the non-profit organization. That case is on appeal.
"If Seminole does win that case, you'll see the whole complexion change in the state," Fleming said.
What all those arcades or cafes have in common is gaming machines that work on chance, and ensure that the house always wins more than it loses. That, by state statute, defines them as gambling establishments, though state statute is also contradictory, in that it leaves the decision to address the matter to local law enforcement. Several non-profit organizations that cater to veterans or sick children or other such causes also use the machines to raise funds and give their members something to do. To Tucker, the Bunnell commissioner, state law is even more contradictory when it makes lottery sales legal. He considers the lottery gambling as well, but would oppose regulating it.
Rogers said Friday that his position in opposition to the city's proposed ordinance hasn't changed despite the sheriff's opinion.