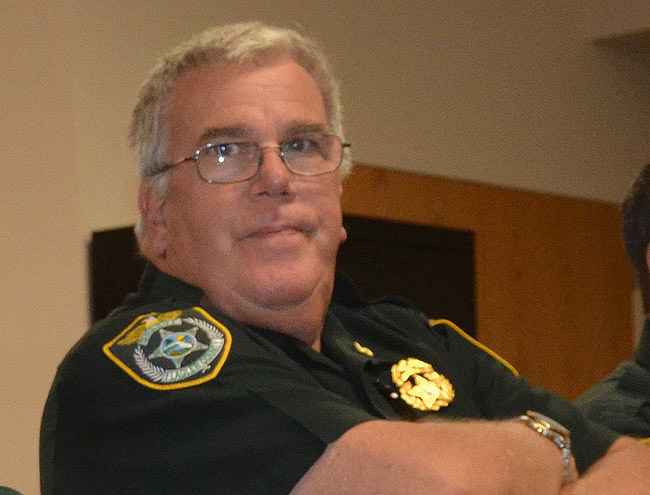 It's been rumored for years: Flagler County Sheriff Don Fleming's "free" membership to the Club at Hammock Beach, the most exclusive club in the region where a membership runs to well over $20,000. Now it's the subject of a state ethics complaint filed by James Williams, an ex-cop who used to work for Fleming, and who faxed a copy of the complaint to various media, FlaglerLive included, last week.
There's nothing wrong with a public official holding a membership to the exclusive resort. But state law requires public officials to disclose, every quarter, any gift they have received, that exceeds a value of $100.  The one-time initiation fee at the resort run around $20,000, provided the member owns property in the development, while an additional due of $5,000 a year gives members access to the beach and other amenities. No such disclosure appears on Fleming's filings with the state going back several years.
Fleming on Monday acknowledged having a membership card. But he said the card has no dollar value, and so need not have been disclosed.
"The card was given to me by the administration over there a number of years ago, which I never asked for, and they said it has no dollar value," Fleming said this morning, referring to the resort's administration. (He spoke by phone from New Port Richie, where he is tending to his father in law, who is in Hospice care.) "This thing here I will be able to defend completely. I do have a membership, but I pay for my membership."
Fleming said the membership card grants him access to the resort, but he receives a bill at month's end for the meals and drinks he's consumed. The bill, he said, has run from $400 to $500 a month, occasionally more, more often less. "When I get back I can show the bylaws," Fleming said. "It has no dollar value. All it does is it entitle me to eat at the restaurant, where I eat at the restaurant and I pay my bill."
The resort decides the value of its membership. Nothing stops it from handing out a membership card without charging the recipient, and in that sense Fleming is accurate: he was given a free card.
The question the Florida Ethics Commission will ask in its investigation is whether the card amounted to a gift, and whether the going value for the gift equates to the normal membership fee that the resort charges, if Fleming was given something that average Joes cannot get—namely, a card granting access to the resort.
The resort lists four types of memberships, starting with the beach club membership. The other three provide access to golf courses in addition, and are presumably more expensive. Mary Ann Murphy is the membership director at the Club at Hammock Beach. She did not return calls placed at her office Monday.
"The card doesn't cost anything. The only time it would cost you something is if you wanted a golf membership," Fleming said, though the so-called Beach Club membership does not involve golf, and does cost money. "Members," the Hammock notes in its description of that type of membership, "enjoy a variety of restaurants and lounges throughout the Club, with daily special member menus, preferred member pricing and happy hour specials along with an array of member events, lively entertainment, informative presentations, seminars and classes."
In his complaint filed with the ethics commission, Williams, an ex-New York City cop in his miod-50s who worked only briefly with the Flagler County Sheriff's Office—from the fall of 2007 to the spring of 2008, when he was not held over past his probation period—described working as head of security for the Ginn Co.'s northeast properties in the state in 2005, the Hammock resort included. "During this time," Williams wrote, "I was approached by Sheriff Donald Fleming who asked me if I could obtain a gift of a free membership to the resort for him. I advised Sheriff Fleming that due to the value of the gift, I was not authorized by the Ginn Company to give out such a gift. I told him that I would speak with my supervisor about his request. Not long afterwards, I learned that Sheriff Fleming did indeed receive a gift of a free membership to the Hammock Beach Resort."
Fleming categorically denies approaching Williams about the membership card, which he said was acquired through the club's administration, at the administration's behest.
"It's just this continuing assault by members of the media, a person who's running for election, and a person whom I fired," Fleming said, referring to Williams and Manfre. Manfre would not address the matter, saying it's between the sheriff and the ethics commission.
Williams is, in fact, a Manfre supporter, and there's little question that the timing of the complaint is no coincidence: elections trigger political maneuvers that exploit candidates' vulnerabilities. After eight years in office, Fleming has a few. The issue of a membership at Hammock Beach, whatever its outcome, is only the latest in a string of setbacks complicating his reelection bid.
Fleming's friendly but repeated interaction with John Fischer, the school board member, on behalf of Fischer's wife, Jamesine, following her hit-and-run accident that caused the death of an elderly woman last November, led State Attorney R.J. Larizza to hand off the hit-and-run case to another jurisdiction: Larizza did not want to run into conflict of interest issues with Fleming, who is now among the witnesses in the case, and whose judgment and memory have been questioned in the wake of his conflicting accounts of conversations with Fischer. Fleming's opponents—Ray Stevens, a Republican, and Jim Manfre, a Democrat—have pointed to a pattern of internal issues, from job discrimination to rule-breaking by some cops, that have cost several hundred thousand dollars in settlements and led to the resignation, arrest or suspension of a few cops.
Jamie Roster, a sergeant in the department, is the latest deputy, and the highest placed, to face disciplinary action. He was suspended with pay last month and an internal affairs investigation continues into allegations that he falsified time sheets.
Regarding the ethics matter, Fleming said he had turned over all relevant documents to his attorney for them to be conveyed to the commission. His attorney is Wayne Evans of the Florida Sheriff's Association, retained by the sheriff's office at taxpayers' expense.
As sheriff, Fleming is paid $120,253 a year. The salary is set by state law. The sheriff's is the highest among local constitutional officers.