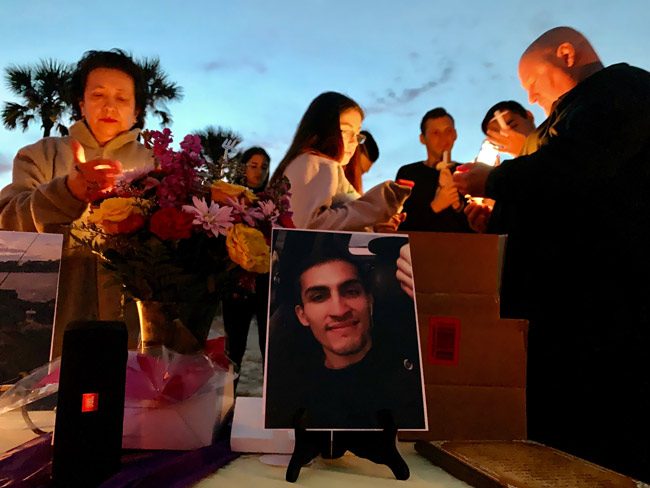 The night the Flagler County jail's health provider finally sent 23-year-old inmate Anthony Fennick to the hospital, after he suffered a seizure and after five days of fevers, his mother, Erika Williams, could not get through to him or to the jail. She hadn't been able to get through to him nor health staff most of that day. Jail officials never told her her son had been sent to the hospital. She only found out because of ER staff. By then it was too late. Anthony was brain dead, and he would be dead days later.
Those kinds of obstacles in the way of families with inmates at the jail are about to change, or have already changed.
Today, Flagler County Sheriff Rick Staly, taking "full responsibility" for Anthony's death, announced he was firing Armor Correctional Health, the private provider he hired last year: he gave Armor notice that the contract would be terminated at the end of a 90-day period required when one of the two parties does a "cancellation for convenience." (It's a bad week for Armor: Lake County is also ending its contract with the provider.) The sheriff said today he was doing so because Armor had not been responsive since the incident.
"When I have a contractor I expect them to be a partnership with the sheriff's office," he said. "The president of the company has not reached out to anyone, myself or any of my staff at the jail and all we received from them is an email that says you need to pay us more money because you asked us to remove two employees. Well, that's not what the contract says. You don't like the contract, too bad. But that ain't the contract that you signed."
The sheriff's office is issuing a request for proposals to get a replacement provider.
The sheriff isn't waiting the 90-day period or for the replacement provider to institute immediate changes in direct response to Anthony's death, and after his agency officials consulted with the family. The changes are also likely preemptive measures against legal action.
These changes will include a new system that provides for inmates to clearly list, at the time they enter jail and during their health screening, what family members may be given their medical information (the medical staff at the jail would not tell Williams anything about his condition that week, claiming she was not on an approved list). Family contacts will be informed when an inmate is taken to hospital in critical condition. It had been the jail's policy until now never to let families know when an inmate is taken to the hospital, for security reasons: the fear was that it would allow for escape attempts. The jail will still not inform families of routine trips to the hospital for treatment, but will do so in grave circumstances.
In addition, jail supervisors and administrators–not just the health provider–will be immediately informed of "any and all inmate medical concerns," Staly said, allowing "immediate oversight of any medical concerns that may require immediate attention." That means supervisors may override health staff's decisions and send an inmate to the hospital sooner than, say, when Anthony was sent. In fact, it appears that a sergeant at the jail did just that in Anthony's case: "I'm very proud–and again this is still an active investigation–but I know that one of my sergeants overruled the on-duty nurse and called an ambulance to transport him to the hospital," Staly said of Anthony, "when the nurse had said you can just put him in a sheriff's vehicle and take him there."
The jail is also adding a 24-hour hotline for inmate medical concerns and a web page, already up, that includes contact information to the medical department and inmate services as well as the division chief.
"It's a great start and it's a great change," Erika Williams said this evening, "that's what we wanted changed, some kind of good can come out of this because nothing is ever going to be good for us. I respect that and I appreciate that. But I also want to make it clear that just because it's being done and he's getting rid of Armor, it's still not ever, ever going to cleanse their hands, Armor or Staly nor those supervisors that were on duty, will ever get their hands clean of my son's blood. Armor was responsible, but the sheriff and the jail and the CO's are just as responsible." CO's are correctional officers.
"I don't want the illusion that just because this is happening, that the story ends here," Williams said. "This is just the beginning. He can close the jail down for all I know, and I'm still not going to stop and be happy because all of this should have already taken place. It shouldn't have taken my son's life" for it to happen.
Reacting to the first of Williams's two comments, Staly said: "I'm the sheriff I take responsibility for what occurs in the jail, there's nothing I can do to bring back their son, and I'm a parent myself. The situation is tragic. What I can do is do everything I can to make sure that nothing like this happens again."
As for the next health provider at the jail, don't expect a return to the previous arrangement, when local government provided the care. "I will tell you that government medical services are not any better and quite often they cost significantly more with less services," Staly said. The previous set-up, a part-time approach, also had an inmate death in 2016, he said. "I don't think having bigger government is necessarily the way to go in this field, so there's probably eight to 10 companies we've identified that we're sending out the RFP to, and we'll see what comes in. Last time we only had one bid, and Armor was not the cheaper of the two." But since they were on contract with St. Johns and Volusia, among 19 other counties using them at the time, the company came with recommendations.
Staly spoke of the changes at the jail, and of getting rid of Armor, at a 2 p.m. news conference announced a little over an hour beforehand. He said during the conference that he disagreed with any attitude that reduces inmates to "just inmates," saying "they are fellow human beings," and acknowledging that Anthony "was well behaved in our custody and he was trying to make positive changes in his life despite past struggles and mistakes."
Asked today how that approach squared with his "Green Roof Inn" sign outside the jail, Staly maintained that it was there as "crime prevention," and that it wasn't going anywhere. "It's there to reduce recidivism, that's all that sign is," he said. "We booked in 3,100 people last year. Out of that, I had nine cases, nine offenders that resisted my detention deputies, out of 3,100 arrests. That is one quarter of one percent of all arrests. Since I have been sheriff, the number of arrests and population of the jail have increased 52 percent, and our use of force has decreased. The deputies know what I expect. Candidates come to me for an interview to be hired as a deputy sheriff, I tell them, you are to treat our inmates like you want to be treated if you are on the other side of that cell. They know that expectation and I think the proof of that is the reduction in the use of force, the increase in arrests, at the same time as that reduction, and all the programs that I've implemented in that jail to stem the tide of recidivism."
He said he had a "legal and moral responsibility for the care of people who are in our custody."
The medical examiner will not have a cause of death in the death of Anthony for another two to three months.