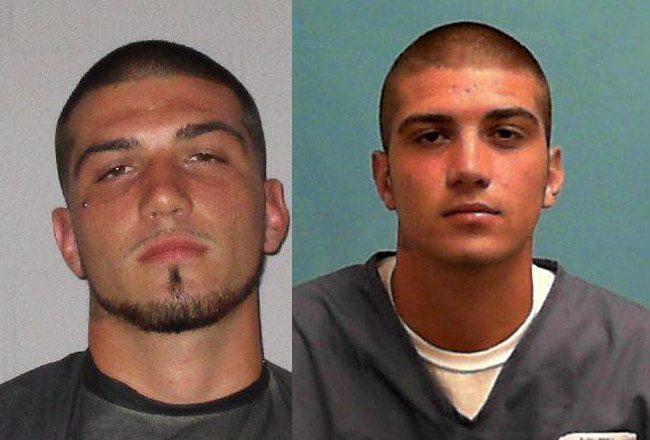 Eight days ago two men were shot at 28 Seamanship Trail: Tristan George, 18, who lives there, and Michael McRoberts, 21, who does not.
When a woman dropped off McRoberts at the hospital, he gave a false name to authorities because he is on probation: he'd been sentenced to five years' probation in a 2013 case, and was sentenced to three and a half years in prison in a series of 2014 cases that found him guilty on 11 counts, including burglary and drug charges.
A few weeks ago the Flagler County Sheriff's Office established a most-wanted list to track local fugitives or individuals wanted on probation violations and other warrants. McRoberts was on the list for a probation violation, even before the shooting on Seamanship Trail. When individuals violate their probation, they're usually booked at the jail without bond.
McRoberts was at the hospital for a week. He was discharged Monday, and booked at the Flagler County jail for his probation violation. He had his first appearance before Circuit Judge Margaret Hudson this morning in Flagler court, when an assistant state prosecutor alluded to the fact that McRoberts is also a suspect in the shooting a week ago, though he's not been charged.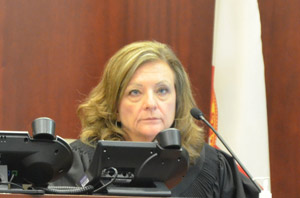 Hudson was sitting in for Judge Dennis Craig. Defense attorney Kip Miller argued that because McRoberts was injured (he had walked into the first-appearance room on a walker, laid down for parts of the proceeds and reportedly had a colostomy following the shooting), he should be allowed to go home and be under house arrest rather than remain at the jail.
Hudson agreed. McRoberts was released from jail today shortly after noon. He is restricted to his house absent a valid medical reason, or an appointment in court.
The decision dismayed Flagler County Sheriff Rick Staly, who said the judge's decision is emblematic of a problem in the justice system, where violent felons are allowed out of jail, either putting the community at risk should they reoffend or straining law enforcement's resources should they flee.
"On one hand at least the taxpayer is not having to pay for his medical bills," Staly said, "but this is a guy that tried to avoid capture by giving us a false name, that was less than forthcoming on the incidents surrounding this double shooting and his participation. I think he's a dangerous individual and while I know he has injuries, part of criminal activity–that's the danger you get. And I feel that for the safety of this community, he should have been kept in jail. This is a symptom of a problem in the criminal justice system." He added: "We make a lot of arrests and they get out of jail and go back doing the same thing until the system takes a hard penalty at them."
Assistant State Attorney Dominic Piscitello argued unsuccessfully that McRoberts was receiving care in jail and should be kept there, keeping the bond at none. McRoberts's address is listed as 1 Westbriar Place in Palm Coast.
Staly said house arrest may have been appropriate for a drunk-driver offender who made a mistake or a drug user who had a relapse, but not for what he described as a "violent offender" who purposefully hampered deputies' investigation into the shooting. Staly acknowledged that no charges have been filed against him following the shooting—or against anyone. There will be arrests in the case, Staly said, but who and when is yet to be determined. The sheriff hasn't officially spoken of the shooting as a drug deal gone bad, but authorities have strong suspicions that drugs were involved. And McRoberts does have convictions on drug crimes.
"Let's say he's a drug dealer," Staly said. "He can still make deals from his house. Just because he's laid up at home doesn't stop criminal activity. It's very disappointing when my detectives and my deputies work very hard to make arrests to clear cases and then they're right back out on the street."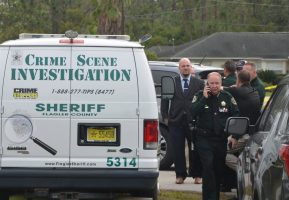 Judges are not arbitrary when they allow individuals to bond out: they don't follow their whims but actual pre-set bond schedules, and bonding out in most cases is a fundamental right of the accused. But there are gray areas. There are times when a judge may decide to revoke bond—or, as was the case this morning, opt for house arrest rather than jail as a man awaits the next step in his court case.
Still, it's unusual for a law enforcement official to directly criticize the decision of a judge. And judges don't get to respond: no judge will speak publicly, outside of court, on an ongoing case. Staly is aware. But he has also been sensitive to public criticism when suspects bond out: he did not want his agency blamed for what's strictly in the court's purview. Just as clearly, he was looking to send a signal—perhaps even to pressure judges to take a tougher stance, at least when they have a choice.
"I think it's my position or my responsibility to speak out for the safety of this community, and that's what I'm doing," Staly said. "We all need to work together in the system but it's decisions like this that cause the community to lose faith in the criminal justice system, and it's frustrating to the men and women of the sheriff's office. This issue is not specific to our community, it occurs everywhere. If this person had not tried to use a false identity, then maybe I would have a different opinion on the judge's decision in this case. But when the person is trying to avoid arrest, to avoid responsibility for their actions by using somebody else's name, then to me that's a flight risk. I don't care how badly you're injured. Let's say if he flees after he's well enough to do that. Now I have to spend a bunch of resources to track him down and bring him back from wherever he is."