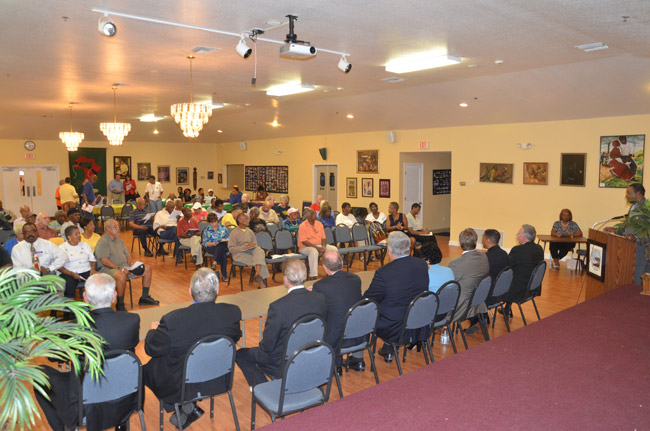 As moderator John Winston put it to a more-than-full house at the African American Cultural Society in Palm Coast Tuesday evening, "this is a forum, not a debate." So it was: the seven candidates for Flagler County judge and five candidates for sheriff were unlikely to face tough questions or a single follow-up (and none did) at the first of two such forums organized by the local branch of the NAACP. The forum was more about getting acquainted with the candidates in two of the most contested local races of the year.
Nevertheless, as such things go, the revealing moments were less in what the candidates said—much of which could be gleaned from their websites—than in how they said it, or in how they waited to say something. The crowd of 200 or so was relaxed and mostly riveted. Many of the candidates were stiff, fidgety, tense. For the majority of the candidates—all but one white—the forum was among the few times when they were the minority. And the seating arrangement had all 12 candidates shoulder to shoulder, like a seated but disarmed firing squad, which made for odd pairings.
Sheriff Don Fleming, who arrived slightly late, could only find a seat next to Jim Manfre, the ex-sheriff and repeat contender for the office. The two men dislike each other so intensely that they barely looked at each other and never shook hands before or after the forum. Of all 12 candidates for the duration of the 120-minute forum, Manfre alone leveled attack after attack at an opponent (Fleming, of course) almost every time he had the microphone. Fleming stuck to his normal approach in any public forum, whether he's running for re-election or holding a town hall meeting: he recited accomplishments on his watch, listing the creation of special squads, arrest statistics, the use of drug seizures' cash—what he called a "drug checkbook"—to distribute grants to local organizations.
Fleming unwittingly revealed his disconnection from his own ranks when he was asked a pointed question about minorities at the sheriff's office: "What is the percentage of minority officers on the job? Do you think it's adequate in relationship to the make-up of the county?"
Judge Candidates' Websites
---
Fleming paused and took out a sheet of paper from his jacket's breast pocket to answer, though he didn't actually answer the question. He listed the number of black, Hispanic and other minorities, breaking them down among men and women, but he was combining uniformed and civilian personnel (thus evading the question about officers), and never gave actual percentages, or address the issue of adequate representation.
Fleming never gets very excited when he talks, and seems out of breath even when at rest, but he delivered the evening's most colorful line, albeit to a reporter after the forum: "I'm going to give 'em just enough rope, then I'm going to hang them." The line contrasted with the way the forum unfolded—and the way the past year has unfolded for Fleming—as his opponents sounded like they were the ones braiding the ropes.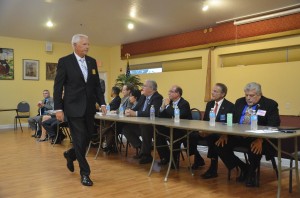 Two of those opponents were the season's other big antagonists: fellow-Republicans Ray Stevens and John Pollinger, both of them post-retirement migrants to Flagler County (from New York and New Jersey, respectively, though Stevens put in a stint as a cop in Pinellas County on the way). Stevens and his acolytes have been trying to boot Pollinger off the Republican primary ballot by claiming, as a pretext, that he's not a true Republican, though the Stevens camp is aware that a primary victory is more difficult with Pollinger on the Republican ballot than off it. The two men sat, separated by Karl Tozzi, a Democratic candidate for sheriff. Like the Fleming-Manfre pairing, they ignored each other throughout, though Pollinger and Fleming warmly shook hands afterward.
Pollinger made much of his tenure as a police chief in Middletown, N.JK., a place he compared to Palm Coast in demographic make-up, and where, as he's said every chance he could, the crime rate was the third-lowest in the country (for towns of 50,000 to 100,000 population) when he retired. He had another of the rare memorable lines of the evening: "I also firmly believe that your problem is my problem until your problem is solved." But he did not say how those problems would be solved in a government short on money.
Unlike his opponents, Stevens made innumerable promises: "I will significantly reduce operating expenses. I guarantee it, and you can hold my feet to the fire,"   he said. But then he promised one expensive initiative after another without once saying how he'd pay for any of it. He said he would "increase the size of the narcotics unit," that he would have "a gang intelligence unit consisting of more than just one person," plus "drug-prevention programs in the schools," plus "public-awareness programs," plus "free home and business security surveys" conducted by deputies "trained at the crime-prevention institute in Louisville, Kentucky," plus more focus on the patrol division whose deputies "will patrol the side streets and back roads, because that's where the crime is taking place." With no follow-up questions, Stevens could make his promises to the crowd without his feet being held to the fire.
Tozzi, who got just 9 percent of the vote in a four-way Democratic primary four years ago, provided most of the comic relief of the evening, including a revelation that at one point he had a choice between jail and the Marines. He chose the Marines, then spent a cop's career in Broward County, including supervision of 100 bailiffs. When he wasn't speaking, Tozzi played with his pen, made a tent with his notepad, pushed his notepad down, pushed the pen through the notepad's springs.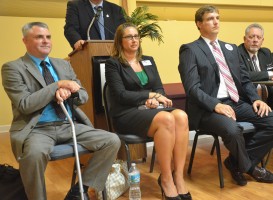 In contrast, the county judge candidates were studies in poise and rigid attention: Craig Atack and Melissa Moore-Stens, likely the front-runners of the race, each arrived a few minutes late and ended up at the extremity of the firing squad, next to each other, each sitting rigidly upright, staring ahead.  Atack, who has the advantage of name recognition, mentioned his parents only five times in his opening statement (his mother Sharon is the retiring county judge whose seat is in contention, his late father was the previous county judge) and didn't do so subsequently. "I know what it means to be a county judge," he said, which is "to follow the law, not to make the law."
Moore-Stens, a native of Miami, summarized her many academic accomplishments and pro bono work she carried on while a public servant despite not being required to do so (she is currently on the board of two legal aid organizations for the poor), and noted her board certification in criminal law, unique among the seven candidates (though the majority of a judge's work is civil law).
Members of the audience could write questions to be posed to candidates. On two occasions the questions seemed discourteously planted against particular candidates: Moore-Stens was asked specifically about the disproportion of minority students facing legal issues in schools and what she would do about it; the question would have more fairly been asked of all the candidates (Moore-Stens was not aware of the numbers, but "honestly it wouldn't surprise me," she said, noting that students understand neither their rights nor the boundaries of their rights "because we're so FCAT-driven.")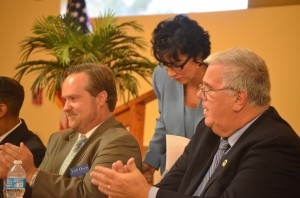 The more blatantly planted question was posed to  Sharon Feliciano, when she was asked whether she'd ever been disciplined by the Florida bar. Feliciano sat on the bar's grievance committee that voted to reprimand Mark Dwyer, one of the seven candidates for judge, who sat to Feliciano's right. The reprimand is the second disciplinary issue Dwyer has faced, harming his chances at elected office. He explained the case in detail in a recent interview. But it was Dwyer, during that interview, who revealed that Feliciano had been on the grievance committee. The question to Feliciano sounded nothing short of payback. (Feliciano was never disciplined, she said.) Dwyer afterward denied knowledge of the question's author, though it is unlikely the question was written by anyone not connected with his campaign.
Dwyer, at any rate, was entirely comfortable in the forum's setting: the only black candidate facing a mostly black audience, though Dwyer also made it clear—as he related his childhood experiences in Brooklyn or his years working for CSX or his community involvements in Flagler–that his easy demeanor and humor, his facility with words and his sharp intelligence, would have been no different had he been a Scandinavian facing an audience of Slovenians. He said he believed it was "my destiny to be a judge," words anyone might have believed if not for his knack for stumbles.
Sheriff Candidates' Websites
---
Karl Tozzi (no website found)

Candidates Scott Westbrook, Josh Davis and Don Appignani got the least amount if time at the microphone: beside their opening statements, they waited up to an hour to have another chance to speak, and one of the questions—posed to Appignani—had only one possible answer. He was asked what he thought of a scheme that recently ensnared a judge who was sending juveniles to private prisons in exchange for kickbacks. "Disgusting," Appignani said. Westbrook and Davis–who read his opening statement, in contrast with other judge candidates who mostly winged theirs (Feliciano read a summation)–got a chance to speak about their involvements in community organizations or drug court. They each sought to portray varied careers in law and elsewhere, to convey a sense of familiarity with working people. Appignani alone spoke of having the "proper demeanor" to sit on the bench, an allusion to his seniority in a group of candidates striking for their relative youth. And Westbrook, the son of a DeLand preacher, was alone in invoking a deity ("I was raised as a Christian. If I believe God cares about everybody then I should care about everybody").
But as was generally the case in a forum with more candidates than time for questions, they had little chance to speak about their legal philosophy.
The next NAACP forum is scheduled at the African American Cultural Society on July 24, from 5 to 8 p.m. "if necessary," one of its organizers said. Judging from Tuesday's forum, ever minute of those three hours will be necessary.