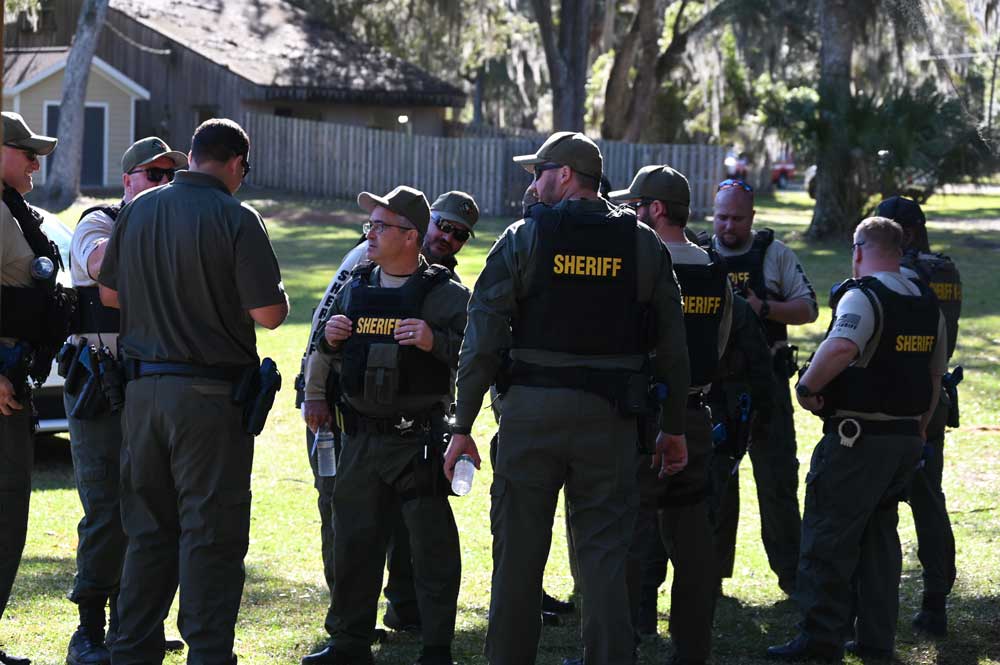 Flagler County Sheriff Rick Staly will ask for 10 additional deputies this year–five from the county, five from Palm Coast–and is asking both agencies to maximize law enforcement budget increases focused on raising starting deputies' pay to keep the Sheriff's Office competitive with surrounding agencies.
Palm Coast is limited to a maximum of 5 percent in pay increases, however, shifting a sizable portion of the pay increase the sheriff is asking for to the county. (Adding personnel is different than increasing pay as far as calculating the budget is concerned.)
The sheriff is asking for an additional five deputies for Palm Coast, to keep up with growth, he said–and maintain a resident-approval rating that consistently ranges between 80 and 90 percent, according to the city's biennial surveys.
Last year, in the largest budget increase to date, the sheriff requested 10 additional deputies from the city and 15 from the county, part of a midrange plan to eliminate a deficit in law enforcement services. The sheriff is projecting that the deficit will be wiped out by 2025 if hiring continues apace, he told the Palm Coast City Council this morning at a workshop. He said there is increasing interest at the county to merge its sheriff's budgeting with that of Palm Coast at least in such a way as to provide for a continuing resolution to increase sheriff's staffing and balance both governments' budgets in that regard.
From the city's side, there is increasing appetite for an idea by Mayor David Alfin: to shift law enforcement budgeting to an impact fee-like structure starting a year from now. In other words, use impact fees–the one time levies on new development that defray the cost of roads, schools, fire departments, parks–to also pay for policing services: the more development there is, the more fees underwrite the law enforcement budget. The less development there is, the less money there would be to increase budgets.




Alfin said he wasn't interested in deciding how many bullets and cars the sheriff needs, but he was interested in structuring the budget so that it was less dependent on annual wrangling. "I think that's the way of the future quite honestly," Alfin said. "I would like to see the budget determined by this fee structure so that the sheriff knows what he has to work for, what he can plan with, and how he can allocate those funds against the resources that he has the expertise to determine."
Staly was receptive, as were other council members. The Orange County Sheriff's Office, where Staly spent his career before Flagler, was either the first or among the first law enforcement agencies in the state to have such an impact fee. It would not cover all costs: the general fund, drawn from property taxes, would still shoulder its share. But it would presumably lessen the pressure on the general fund.
"So, for example, of the five deputies that I've asked for, in today's model, the city of Palm Coast has to pay for the uniforms, their bullets, their car, their radio, the salary, everything," Staly said. "In an impact fee model, you pay for their salary, but all the equipment–and that car and all the equipment in it today is about $80,000–that can be paid out of impact fees. And so to me, that's growth maybe not paying totally for itself but certainly paying its share for the impact that growth has, so the burden is not off the residents that are currently here."




The building and real estate communities, however, tend to push back against impact fees, as was recently the case when the school board requested a substantial increase in its own impact fees, which were first instituted in 2005 and had not been increased since.
Staly this morning submitted his request to the council more as a courtesy than a begging ask, knowing that–between his political capital, his crime-reduction record in six years as sheriff, his rising state profile and his continuing ability, after six years, to avoid scandals as his predecessors could not–he is almost assured of getting whatever he asks for.
Council members all but fell all over themselves to let him know so as he completed his presentation. "Unless I can't, there's nothing, if it's legal and ethical, that I wouldn't do for your department," Council member Eddie Branquinho said. "I fully support your department and all the great work that you're doing," Council member Ed Danko echoed. "It is of paramount importance that we have what we need to keep everybody safe," Council member John Fanelli said. All three liked the impact fee route, while the council for this year offered no resistance to the sheriff's continuing expansion of the agency.
It's come at a cost: the Sheriff's Office's budget is increasing rapidly, too, and now stands at $38.3 million. Palm Coast accounts for $5.7 million of that, not including jail costs–$8.1 million–which the county budget shoulders entirely, even though the majority of jail inmates have a Palm Coast address and commit their crimes in Palm Coast. The jail averages some 260 inmates a day, a higher rate than during the Covid years, when it dropped "well below" 200.
"The priorities for our community since I've been sheriff is to preserve the peace and quality of life and to prevent crime and arrest offenders, and you got a good taste and feel for that yesterday," he said, referring to the arrest of 18-year-old Sterling Orlando Davis-Jones of Jacksonville Monday morning in Palm Coast's P Section, after Davis-Jones allegedly car-jacked a street-sweeper in Daytona Beach. The arresting deputy got six stitches as a result of the chase, but was back at work today. "The harassment from the squad is probably worse than the injury," Staly said.




He said crime is down 52 percent since he became sheriff. Total crime is "at an all-time low," he said, though vehicle crashes are up: "We still can't drive." Calls for service have increased "dramatically," he said, with total calls for service up to 115,000 last year, with a projection of 118,000 for this year, half of them placed to 911. That's the equivalent of 323 calls a day, or more than a dozen calls an hour.
The zones with the highest number of calls? The Hammock, up to Marineland, and Cypress Knolls. Daytona North, or the Mondex, is reputed to be Flagler County's wild west, its crimes drawing particular attention for their sometimes more unusual character. In fact, the Mondex is among the sectors that draws the fewest number of calls, though other western Flagler sectors draw more.
The county's population keeps growing, and Palm Coast's population is approaching 100,000 at a rapid clip.
As he has in the past, Staly pointed out what he considers to be a policing bargain for Palm Coast, when compared to Deltona, which also contracts with its sheriff for law enforcement. But he said the ratio of officers per 1,000 residents remains in his view–based on a study his office commissioned from the University of North Florida–at a deficit, though the department has been catching up. "Because between the city of Palm Coast and the Board of County Commissioners, of those deficit deputies that were identified in 2018, and this study wasn't done until 2019, all but three of those have been hired. So we went from 31 deficit to only three."
But keeping up with salaries is again a challenge.




Flagler County Sheriff's deputies start at a salary of just under $40,000 a year. They generally get up to $43,000 with overtime, because of their 12-hour shifts. The Daytona Beach Police Department is raising its annual starting salary to $51,000 in October, and the Florida Highway Patrol is raising its starting pay to $50,000 after a significant increase from the Legislature. The St. Johns County Sheriff's Office starts its deputies at $50,000, and Volusia starts its deputies to $48,000.
"So the focus of my budget with the Board of County Commissioners is some staffing," Staly said, "but it is really salaries because I'm no longer competitive. And I want to continue to be able to track the type of employee that we want. And, I also don't want to be the training ground for other agencies. In the last 18 months I've lost 20 employees. All of this occurred in the last year because I had the highest starting pay 18 months ago."
Palm Coast has a pay-increase cap of 5 percent. Staly cited inflation numbers now at 8.6 percent, gas approaching the $5 a gallon rate even though the budget was set on a $2.75-a-gallon rate, and increasing retirement and insurance costs. He said just to stay even, the budget should increase 13 percent. "So what's going to frankly have to happen is–assuming that you approve the contract–the 5 percent will offset what the county is going to have to put in to balance out, quite frankly, because I can't be competitive."