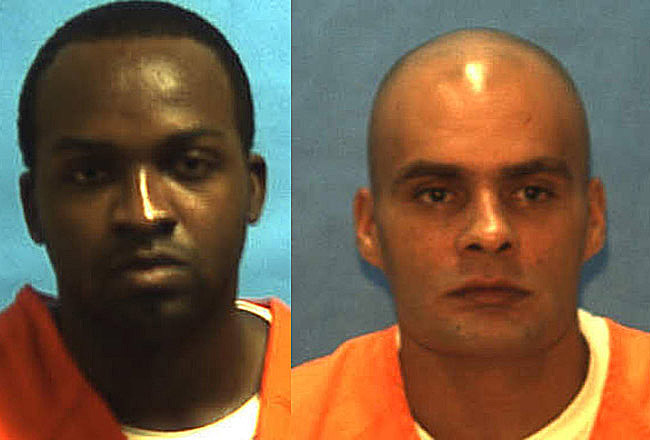 In two separate pre-Independence Day decisions, the Florida Supreme Court this week overturned the death sentences of Michael Shellito, 37, and Ralston Davis, 28, ruling in both cases that the murderers' mental state at the time of the killings should have played a larger role in theirs sentences.
In neither case was the first-degree murder conviction overturned. Both men will remain in prison for life. A lower court must sentence Shellito again, but to a third life sentence.
The cases illustrate the fallibility of death penalty convictions in a state with more than 400 people on dearth row. Last month, Gov. Rick Scott signed a new law that expedites executions.
The Shellito case was unanimous. In the Davis case, Justices Jorge Labarga, R. Fred Lewis, Barbara Pariente, James E.C. Perry and Peggy Quince were in the majority, and Chief Justice Ricky Polston and Justice Charles Canady were in dissent.
The Shellito murder of Sean Hawthorne in Duval County goes back to the evening of Aug. 30, 1994. Shellito and others were staying at the apartment of a man called Stephen Gill. Around midnight Shellito left and returned with a .9 mm gun, which was reported stolen that same night by Kevin Keyes.
Around 4 a.m. on August 31, Michael Green was awakened by a noise in front of his home. When he looked out his window, he saw a white pickup truck in the road. He saw Hawthorne–the 18-year-old victim–standing by the truck, heard a pop, and Hawthorne spin around, run, and fall over by Green's gate. By the time Green called 911, the truck was gone. Hawthorne was dead from a gunshot wound to the chest.
Shellito told at least two people that he'd shot Hawthorne after shaking him down and finding him without money. Police raided Shellito's house on Sept. 1. He jumped out the window but was stopped by a police dog. He aimed a gun at a cop, who shot and wounded him. It was the same gun he'd used in the murder. Though Shellito claimed Gill had committed the murder, he was convicted.
Despite evidence about his learning, emotional and psychological disabilities, an 11-1 jury recommended death. (Florida is one of two states that does not require a unanimous verdict for death. A simple majority is sufficient. Alabama is the other, though at least 10 jurors out of 12 must recommend death there for the sentence to be imposed.)
Shellito was represented by attorney Refik Eler, who was conducting one of his first capital cases. "Eler," the court ruled, "was deficient in failing to follow up with the indications of Shellito's mental health issues, and in failing to have Shellito's mental health issues presented by an expert at trial to explain their significance and impact on his behavior at the time of the murder." Shellito's medical records included evidence of a mental disorder, developmental language and reading disorder, a history of aggressive behavior, and homicidal and suicidal threats. He was on Tegretol, a brain-disorder medication.
The court threw out numerous other contentions by Shellito that his sought to overturn his conviction.
Ralston Davis was convicted of a triple murder that took place on Dec. 2, 2005 in Broward County, when he killed Myosha Proby, Ravindra Basdeo, and Carlos Jones.
Davis had bought a rifle from a friend on Nov. 30, 2005. Two evenings later, a chef working at a barbecue on the corner of Northwest 31st Street and Sunrise Boulevard in Ft. Lauderdale saw a car stop at a green light in the middle of an intersection and block traffic. The chef then saw a man get out of the car, jump on the hood, and begin firing in the air. Shell casings traced the gun back to the one Davis had bought two days earlier.
Later that evening, Davis went to Proby's house, upset. She was an ex-girlfriend. He claimed she had "set him up," and shot her execution-style in front of a woman who managed to escape. Davis fired 26 rounds from his rifle. Davis then went back to the same intersection where he'd fired the rifle earlier, near where he shot and killed two people at random. Cops spotted him, briefly chased him and arrested him.
He pleaded not guilty by reason of insanity. The jury rejected that defense and convicted him on three counts of first-degree murder, recommending life in prison for two of the three killings (Ravindra Basdeo and Carlos Jones at the intersection) and recommending death for the killing of Myosha Proby. That recommendation was on an 8-4 vote of the jury. The judge followed the jury's recommendations.
The Supreme Court, however, ruled that Davis's mental health state, including his behavior under the influence of crack cocaine the evening of the murder, was not sufficiently taken into account at the sentencing phase. "We have held sentences of death to be disproportionate in a large number of
other cases involving substantial mental health mitigation," the court ruled.
"In evaluating the proportionality of the death sentence in this case, we also take note of Davis's extensive history of abuse and neglect. Evidence presented during the penalty phase established that due to strained finances, Davis's parents sent him to live with relatives in Jamaica on several occasions. These relatives failed to properly care for Davis and physically abused him. Evidence was also presented that Davis was subjected to sexual abuse when he was twelve or thirteen years old. When Davis was in high school, a close friend was stabbed in front of him and died in his lap. Dr. Brannon testified during the penalty phase that this incident likely contributed to Davis's mental deterioration in the period leading up to the capital offenses."
Flagler Beach's William Gregory had claimed similar mitigating circumstances leading to the night when he murdered his ex-girlfriend and her boyfriend as they slept in her grandfather's house off John Anderson Highway in 2007: in his appeal to the Florida Supreme Court, Gregory had claimed that he;'d been neglected, that he'd witnessed his sister being raped, and that he'd taken prescription drugs. But the court last week upheld the death penalty in his case.
Until the rulings this week, there were 406 people on Florida's death row. The rulings bring down the number to 404. The execution of Marshall Lee Gore, originally scheduled for June, is now scheduled for July 10 at 6 p.m., and will bring down the number to 403, but only briefly: new death penalty convictions, and additional executions, keep the number fluid.