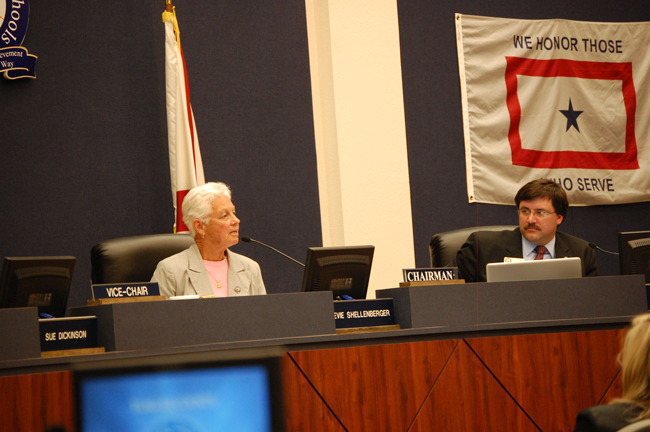 Looking to end questions over her future in a race for her seat that has already drawn four candidates for the Aug. 24 election, Flagler County School Board Chairwoman Evie Shellenberger announced tonight that she would not be running for a third term. At 64, and after 41 years in education, eight as a board member, she said she'll trade what has become a nearly full-time job for golf clubs, yard work and some traveling before returning to volunteer duty, preferably in a steel-drums class at Matanzas High School. "I really want to learn to play the steel drums," she said.
Shellenberger, who masked steely resolve with a cautious temperament–a point of occasional contention and frustration for those who'd buck her–leaves a school district she helped shape and steady through some of its most difficult times.
Crises in the early part of the decade gave way to a pile-up of accomplishments over most of the past five years: school construction scandals ended. Reserves grew. Curriculum, instruction and academic standards became a near-obsessive focus under Superintendent Bill Delbrugge's leadership. But Shellenberger is also leaving in the middle of some of the district's most serious challenges since the desegregation era. Revenue is declining. Financial burdens on the district, to comply with a constitutional amendment reducing class sizes, are increasing. Flagler County is facing a foreclosure epidemic that's forcing schools to scramble over more and more transient, and homeless, students and families. And Superintendent Bill Delbrugge will leave this summer and be replaced by Janet Valentine.
"That's part of the reason that the decision was as hard as it was," Shellenberger said, "because of the change. There's a part of me that feels like I'm kind of letting Janet and the system down because I'm not, you know, hanging in there to do this, but I also know that, do I need to do this out of guilt? You know, for other people? Or what is best for me, because the last thing that anybody would want is for me to run, get re-elected, and then six months down the road be miserable. Not that I would be, but at the same time, what I have done is I have tried very hard to look out there and talk to some people and try to find some good candidates to run, because I want somebody good to come into this seat."
The four candidates for Shellenberger's District 5 seat include John Fischer, a 65-year-old Knights of Columbus insurance field agent, who challenged Shellenberger four years ago and lost by a far closer margin than expected (He got 48 percent of the vote to Shellenberger's 52 in a run-off; "He worked his tail off and I didn't do anything," Shellenberger says); Rachael Kopec, Sarkis Peligian and Raven Sword. Andy Dance's District 1 and Trevor Tucker's District 3 seats are also up. Neither incumbent is facing a challenge so far.
Clearly tired of the political wrestling and the constraints of the job, Shellenberger had two parting thoughts: term limits are good. And common sense is an unwelcome quality in public office, elected or not. "I can tell you that when I moved to human resources, I never got to use common sense. You have to follow the law," Shellenberger said. (She headed Flagler schools' human resources department for four years before taking the student activities director position at Flagler Palm Coast High School for nine years before her election to the school board.) "When I moved to this position, you can't use common sense. You have to follow the law. The last time I used common sense probably was when I was a principal. And then I was pushing the envelope. But I did."
Speaking to the board and what few members of the public remained in the board chambers past 8 p.m. (the meeting had begun at 6) Shellenberger said that while she'd be returning to leisure in November, "until then, I'm not going to be a lame duck, so count on me doing my job. And this meeting is adjourned."