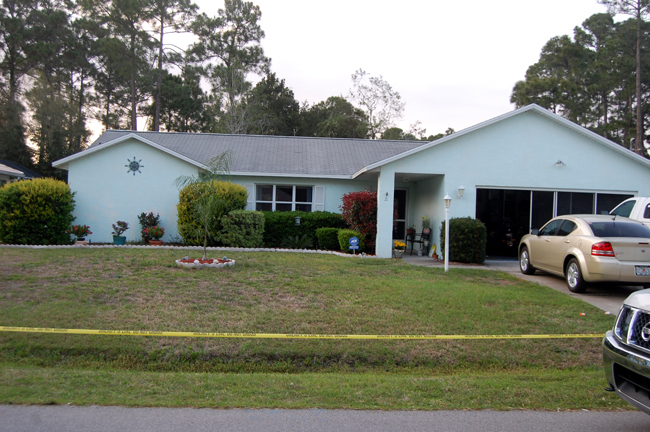 Last Updated: March 22, 12:15p
An autopsy is scheduled for Tuesday following the apparent murder-suicide of David and Terry Sharp, a Palm Coast couple who lived on Barkwood Lane, in a neighborhood south of Indian Trails Middle School. Authorities are withholding a final determination on their cause of death until then.
The bodies of David, 52, and Terry, 54, were found by a neighbor in their home Sunday afternoon, dead from shotgun blasts. A .12 gauge shotgun was recovered at the scene. Florida Department of Law Enforcement detectives say it appears that David shot his wife then turned the gun on himself.
No note was found at the scene, and a time of death had yet to be determined as of Monday afternoon, the Flagler County Sheriff's Office said. And involvement by anyone else in the deaths, while unlikely, has not been entirely ruled out. There's been no explanation for the three containers of medical pills found strewn on the side of the front driveway. Two of the containers were the classic orange prescription type. The case, in other words, "remains open," the spokesperson said.
Both FDLE, which referred calls to the sheriff's office, and the sheriff's office, are being cagey with new information.
Commenting on Sunday's report of the deaths, Terry Sharp's sister wrote: "Words cannot express the devastation I feel over losing her, and the way I lost her is just about unbearable. […] It will take me a very long time to forgive Dave for killing Terry Lynn, but am also certain that something had to go terribly wrong since he was normally a gentle man." The Sharps had lived just one house down from where they'd been in the past couple of years, she noted (Sunday's report had said they'd lived a few streets over before moving in at Barkwood Lane). "They loved Palm Coast," she wrote.
The Sharps owned two dogs. They were recovered, traumatized but alive, at the scene, and turned over Palm Coast Animal Control. One is a Chihuahua and the other is a Dachshund mix," Barbara Grossman, Palm Coast's code enforcement manager, said on Tuesday. "Next-of-kin has been notified. No response at this time. The animals were in excellent condition."
See Sunday's story for more details on the initial discovery and investigation.