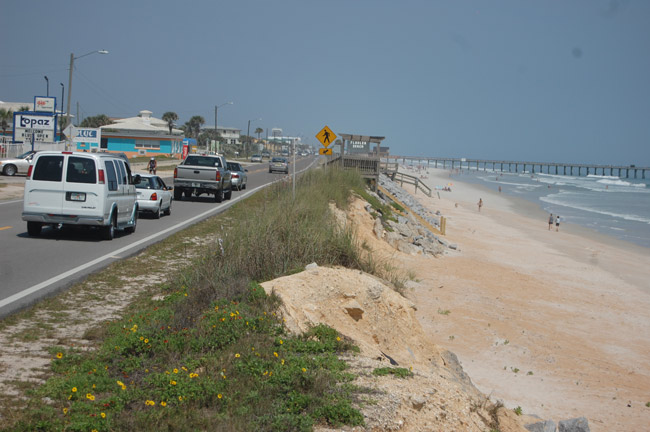 Last Updated: 3:51 p.m.
Shane Kitchens, a 37-year-old Flagler Beach resident and business owner, was in critical condition overnight after a motorcyclist struck him as Kitchens was crossing State Road A1A around 12:45 Sunday morning. Kitchens was a few blocks from his home on South Flagler Avenue.
According to the Florida Highway Patrol, Kitchens was crossing A1A from the beach side toward town at South 12th Street in Flagler Beach (near Blue at the Topaz Restaurant) when Brian S. Freeman, 30, of Ormond Beach, struck him as he rode a 1996 Honda Shadow south on A1A. Freeman was seriously injured and transported by ground to Florida Hospital Flagler. He was wearing a helmet.
FHP says Volusia County's Air One emergency helicopter was called in (Flagler County's goes off duty overnight for lack of funds). It flew Kitchens to the trauma unit of Halifax hospital in Daytona Beach. Kitchens was in critical condition.
Kitchens is the owner of Platinum Pool & Patio Screening, a company he started last year. He is married and has two young sons. A recent image on his Facebook page shows him in his Platinum Pool t-shirt fishing with one of his sons at sunset on the Intracoastal.
The Flagler Beach Fire Department and Flagler County Fire Rescue's Rescue 92 and Battalion 92 responded to the call.
Charges are pending, FHP says.
In mid-afternoon Sunday, Kattie Kitchens, Shane's wife, posted the following update on Facebook: "I Just talked to the trauma surgeon. He's not out of the clear yet. He has some bleeding on his brain and they said within the next week it could swell even more. He's had multiple surgeries already, and could have up to almost 20 more on his leg, his hip sockets are broke, broken pelvic, sternums broke, broken ribs, his wrist are broke, and they said he's still got a lot of parts they haven't got to cause he's so swollen, and there's just too much trauma to address everything at once, their giving him more plasma now trying to play catch up w/all the blood he's lost. I've been at the hospital with him since he got here, and still camped out in ICU. Sorry to tag everyone, everyone just keeps asking what's going on. KEEP PRAYING♡ —"