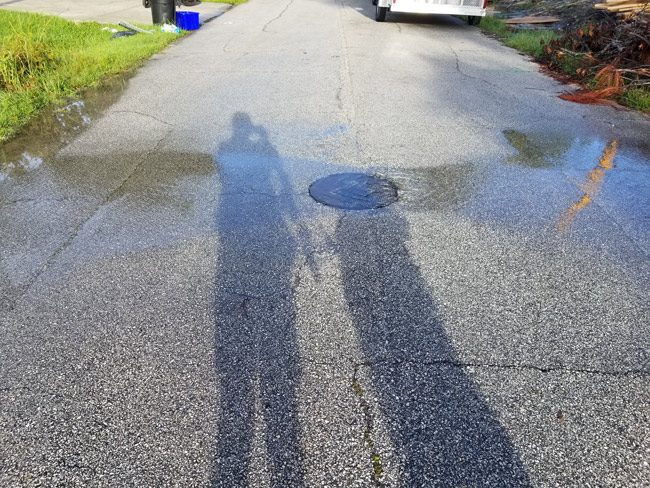 As a festering problem goes, this one is literally the case: Palm Coast's stormwater system has been so overwhelmed by recent rains that sewer effluents are bubbling up into streets and causing hazardous conditions for pedestrians, especially children waiting for or getting off school buses, or playing after school.
"We have manhole covers bubbling out on our streets," one resident on Round Tree Drive said this morning. "Children are walking in it and it has run onto people's lawns. I have called twice and don't know what else to do. They put a sign up about contaminated water at pump station. This morning there were two more trucks there pumping and the manhole covers are bubbling again."
Flagler Schools was made aware of sanitary sewer overflows within Palm Coast, the district said in a release it issued this afternoon. "City officials are working to identify these areas and will communicate with Flagler Schools of specific areas impacted. They have advised us some school bus stops may be affected," the district said.
City crews are working to clean up these areas as well as disinfect them. This includes the use of lime. "If you see lime, which looks like white flour, on the ground and/or a sign that reads 'Possible Contaminated Water,' avoid that area," a city release stated. The district intends to reinforce the cautions with students on a street by street basis, whenever it is notified of problem areas, while bus drivers have been tasked to pay close attention to such problem areas at bus stops. If there is an area of concern at a stop which has not yet been adjusted, the drivers always have the option to roll stops to drier, safer areas.
The city is advising the public not to work or play in standing water or to wade through it. The swales are very full right now, and some PEP tanks are under water. After heavy rains, standing stormwater is full of pesticides, herbicides, fertilizer, oils/greases from roads and dog poo. In areas where manholes are (or were) bubbling up on a flooded road, that stormwater might contain domestic wastewater (sewage from flushed toilets), as well.
In addition, the city is asking all residents to limit the amount of water going down the drain over the next few days. Flush toilets less frequently, limit showers, do only essential laundry and keep dish-washing to a minimum. Reducing the amount of water going down the drain will help avoid additional sewer overflows in streets and yards, backups into homes and discharges into water bodies.
After weekend rains that dumped up to 14 inches on the region, rain has continued to drench the county in the middle of the week, with another 4.5 inches reported in west Palm Coast on Wednesday, 2.4 inches reported in east and central Palm Coast, and 2.8 inches in northwest Palm Coast, according to Bob Pickering, Flagler County Emergency Management's weather specialist.
Last Sunday, Palm Coast's sewer system was overwhelmed with 14 million gallons of water, twice what it could handle. One of the reasons you see sprinklers activated in Town Center and elsewhere, even as it rains, is because the city's wastewater utility is essentially draining that excess water–what it calls re-use water–through those means, instead of duping it into the Intracoastal Waterway. "Our medians, many of them are re-use, our golf courses, and U.S. 1 is one of those that was actually designed to be a discharge for treated wastewater," Jim Landon, the Palm Coast city manager, said on WNZF's Free For All Fridays this morning, "and it takes days for the plant to actually recover because you have a lot of that rainwater getting into the pipes."
Some 15 to 17 tanker trucks have been pumping water out of lift stations for days to relieve pressure on the sewer system.
It's also why you see that pipe vomiting water in Town Center: it's intentional, and it's helping to drain the system. "It's not drinkable, but in my opinion you could probably play in it," Landon said of that re-use water. "It is at that step where we could actually put it in our water treatment plant and make it drinkable."
Flagler County has been hit by unprecedented amounts of rain over the last couple of weeks and more rain may be in the forecast this weekend. Stops in the western portion of Flagler County have already been moved. Transportation officials will be monitoring the roads and bus stops throughout the weekend and should any additional changes be made, they will be announced on the district's website, flaglerschools.com and its social media accounts.
"As always, we ask parents to speak with their children about safety at their bus stops and why it's important to be aware of their surroundings as temporary changes may impact a particular stop," the district said.
Customers who experience sewage backup in their homes or a PEP tank alarm going off should call Palm Coast Customer Service at 386-986-2360.