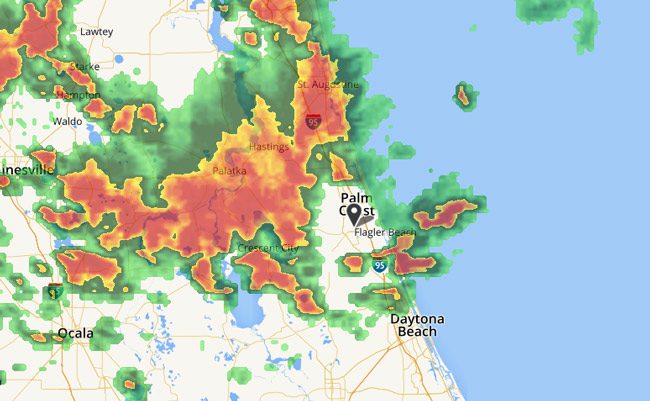 The National Weather Service has issued a severe thunderstorm warning for all of Flagler County from 12:48 p.m. to 1:30 p.m. Sunday.
Residents should seek safe shelter immediately. Severe thunderstorms can produce dangerous lightning, hail, squalls high winds and tornadoes with little or no advance warning, though the National Weather Service sees little likelihood of a tornado with this line of storms.
The storm warning is also in effect in Southeastern St. Johns and southeastern Putnam counties. At just after 1 p.m., severe thunderstorms were located along a line extending from Palm Coast to 9 miles northeast of Pierson, moving southeast at 35 mph.
Sixty mph wind gusts and quarter size hail were cited hazards, according to the National Weather Service. Hail damage to vehicles is expected. Expect wind damage to roofs, siding, and trees.
Locations impacted include Palm Coast, Flagler Beach, Bunnell, Crescent City, Andalusia, Marineland, Beverly Beach and Espanola.
For your protection move to an interior room on the lowest floor of a building.
The heat index before the storms today was projected to reach 109. For the rest of the day, the National Weather Service predicts mostly cloudy skies with more showers and thunderstorms in the evening. Some of those thunderstorms may produce gusty winds and heavy rainfall in the evening. Lows will be in the mid 70s, with the chance of more rain at 90 percent.