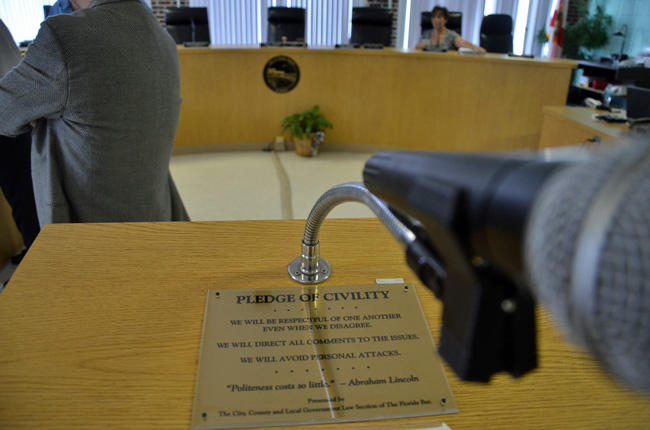 "This is going to be a beautifully short meeting," Chairwoman Kim Carney said, just before the Pledge starting the Flagler Beach City Commission's bi-monthly meeting Thursday evening.
"Don't say it," Mealy said, fearing a jinx. Mealy has been on the commission quite a bit longer than Carney. She knows. And she was right.
The meeting was relatively short—10 items dealt with in 70 minutes. But it was book-ended by two ugly confrontations between Commissioner Steve Settle and Rick Belhumeur, a local resident and property owner. Belhumeur is an opponent of the city's plan to buy a new so-called "quint" fire truck, for $600,000. Settle is a proponent.
The first confrontation was entirely Settle's doing: he drew Belhumeur back to the podium after Belhumeur was done speaking. Settle then made statements some of his colleagues found unacceptable, including calling Belhumeur's words to the commission "inappropriate," because, Settle claimed, Belheumeur was "running for office," which is not the case. Settle also asked Belhumeur what experience he had to "allow" him to make the statements he was making—again, raising a conditional bar on a speaker's freedom to speak during public comments that no local government ever presumes to raise.
"I was kind of flabbergasted," Commissioner Jane Mealy said today.
"It was not cordial, everyone left there with much tension, of course," Carney said.
Carney did not intervene, though she found Settle's comments themselves inappropriate—the more so when paired with the two men's confrontation immediately after the meeting adjourned.
At that point, in a description Belhumeur described afterward and Carney corroborated, Belhumeur walked up to the dais, where Settle was standing with other commissioners still milling about, and asked to speak with him. "He turned around and looked at me and said, 'what, do you want to fight?' I don't remember exactly what I said but it certainly was not 'yes, let's go at it,'" Belhumeur said. Rather, he told the commissioner that he had three minutes to speak to the commission, twice a month, and that the right to do so could not possibly be "inappropriate."
"The volume got louder as it progressed, and it almost turned into a shouting match," Belhumeur said. The confrontation lasted less than two minutes.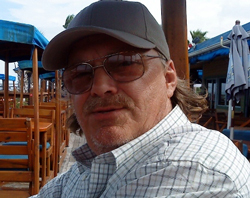 "It was so uncomfortable, I just tried to stay away from it," Commissioner Jane Mealy, who's had her run-ins with Settle before, said. She was no more comfortable by the way Settle had questioned Belheumeur during the public speaking period. "Steve went off on him and it just made it uncomfortable for everybody," mealy said. "Basically, this should not be happening. Whether there was something more between them, I don't know. I don't think either side, whether commissioners or the public,should go off on each other like that."
Settle did not return a call to his home Friday.
The meeting featured nothing more exciting than a financial review by City Manager Bruce Campbell. But it started with the usual opening to public comment. There were fewer than five people in the audience.
Fran Moore, a Flagler Beach resident, spoke in opposition to the proposed quint truck (and said that she'd relied for her statements on perspective by Art Woosley, the retired firefighter in Flagler Beach who's often found himself at loggerheads with city policy over the fire department.) Moore asked the commission to place the matter of the truck on the March election ballot, enabling the public to have a straw poll.  "By the next budget meeting we will have plenty of signatures on a petition, so I just want you to know that," Moore said.
Belhumeur then stepped to the podium. He said the fire department would need $1.7 million over the next five years, according to the city's own five-year capital spending plan, which includes the quint, a new brush truck, a new captain's SUV, a new squad truck, a new ATV, a new boat and other items. "The commission has the responsibility to make wise decisions, and it seems as though we might be spending this infrastructure money faster than we're getting it," he said, referring to a specific fund that gets fed by the city's share of the county's sales tax—a diminishing fund, as the city's portion has declined, in relation to the county's, in the past two years. "I don't think the quint is really something that the city really needs, I think it's something that certain people want. We've got good equipment over there now that would put out fires in this town."
He spoke for a few more seconds and began turning away when  Settle jumped in, asking if he could ask Belhumeur a questions.
"Yes," Belhumeur said.
"State for the record," Settle asked, "what kind of experience you have to allow you to say this. Have you ever been a volunteer firefighter? Have you ever been to firefighter training school?" (Never had Settle, even as chairman of the commission, questioned a speaker's right to speak based on the speaker's experience regarding one matter or another. Never in recent memory has a local council or commission chairman equated a speaker's experience with whether that speaker was "allowed" to address an issue or not.)
"No, but I talk to many firefighters," Belhumeur said.
"With whom?"
"I talked to our county chief to start with."
"You talked to our county chief."
"Absolutely."
"Oh, so we're going back to—your purpose in being here is not really a quint. You're talking about losing our fire department again," Settle said.
"I am not!" Belhuemeur said, startled by the assumption: he had said nothing approaching that suggestion.
"Then what are you talking about?"
"I'm talking about a lot of money."
"You talk to our county fire department, rather than our own fire chief."
"When you want information you go to different people and get that information, not just to one person,"  Belhumeur said.
"I think," Settle said, "you are already running for office, and it's inappropriate right now, so."
"Oh, really! I'm being inappropriate," Belhumeur said, walking away from the podium.
"OK," Carney said, and picked up the thread of the remainder of the meeting. But she was uncomfortable, then and at the end of the meeting, when the confrontation resumed.
"I don't know what happened," Carney said today. "They were both a little angered, I would assume, nothing happened other than the exchanges, some inappropriate words. They didn't treat each other very well. But public comment time is public comment time. Sometimes it's not easy to have to hear."
Carney has been a supporter of Belhumeur's position. "He's right, we are basically depleting that infrastructure surcharge account," she said. "In my short three years it looks like people think its free money, but I don't quite feel that way."
Campbell, the city manager, did not stick around for the confrontation at the end of the meeting, though he'd heard of it by morning, and spoken with Belhumeur. "I don't really want to get involved in that," Campbell said, though he said Belhumeur's figures, outlined during the public comment period, were correct. "I don't know what happened with this big exchange between them. It is what it is." As he described it, "I saw Rick approach the dais and I left. I didn't want to be any part of it."
"Funny thing is that I didn't know I was running," Belhumeur said. "Maybe [Settle] should be excused from the commission and I'll take his place just like my father took a commissioner's seat years ago." Belhumeur said he is drafting a letter to the commission, demanding a public apology and a commission reprimand of Settle.
Carney said that as chairwoman she has no authority to address the matter. "I'm just going to leave this to Steve and Rick to Hash out," She said.