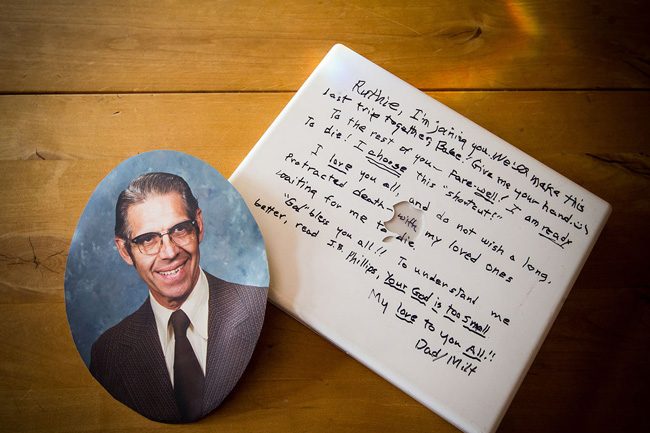 Lethal Crisis: When Seniors Turn To Suicide
When Larry Anders moved into the Bay at Burlington nursing home in late 2017, he wasn't supposed to be there long. At 77, the stoic Wisconsin machinist had just endured the death of his wife of 51 years and a grim new diagnosis: throat cancer, stage 4.
His son and daughter expected him to stay two weeks, tops, before going home to begin chemotherapy. From the start, they were alarmed by the lack of care at the center, where, they said, staff seemed indifferent, if not incompetent — failing to check on him promptly, handing pills to a man who couldn't swallow.
Anders never mentioned suicide to his children, who camped out day and night by his bedside to monitor his care.
But two days after Christmas, alone in his nursing home room, Anders killed himself. He didn't leave a note.
The act stunned his family. His daughter, Lorie Juno, 50, was so distressed that, a year later, she still refused to learn the details of her father's death. The official cause was asphyxiation.
"It's sad he was feeling in such a desperate place in the end," Juno said.
In a nation where suicide continues to climb, claiming more than 47,000 lives in 2017, such deaths among older adults — including the 2.2 million who live in long-term care settings — are often overlooked. A six-month investigation by Kaiser Health News and PBS NewsHour finds that older Americans are quietly killing themselves in nursing homes, assisted living centers and adult care homes.
Poor documentation makes it difficult to tell exactly how often such deaths occur. But a KHN analysis of new data from the University of Michigan suggests that hundreds of suicides by older adults each year — nearly one per day — are related to long-term care. Thousands more people may be at risk in those settings, where up to a third of residents report suicidal thoughts, research shows.
Each suicide results from a unique blend of factors, of course. But the fact that frail older Americans are managing to kill themselves in what are supposed to be safe, supervised havens raises questions about whether these facilities pay enough attention to risk factors like mental health, physical decline and disconnectedness — and events such as losing a spouse or leaving one's home. More controversial is whether older adults in those settings should be able to take their lives through what some fiercely defend as "rational suicide."
Tracking suicides in long-term care is difficult. No federal regulations require reporting of such deaths and most states either don't count — or won't divulge — how many people end their own lives in those settings.
Briana Mezuk, an associate professor of epidemiology at the University of Michigan, found in 2015 that the rate of suicide in older adults in nursing homes in Virginia was nearly the same as the rate in the general population, despite the greater supervision the facilities provide.
In research they presented at the 2018 Gerontological Society of America annual meeting, Mezuk's team looked at nearly 50,000 suicides among people 55 and older in the National Violent Death Reporting System (NVDRS) from 2003 to 2015 in 27 states. They found that 2.2% of those suicides were related to long-term care. The people who died were either people living in or transitioning to long-term care, or caregivers of people in those circumstances.