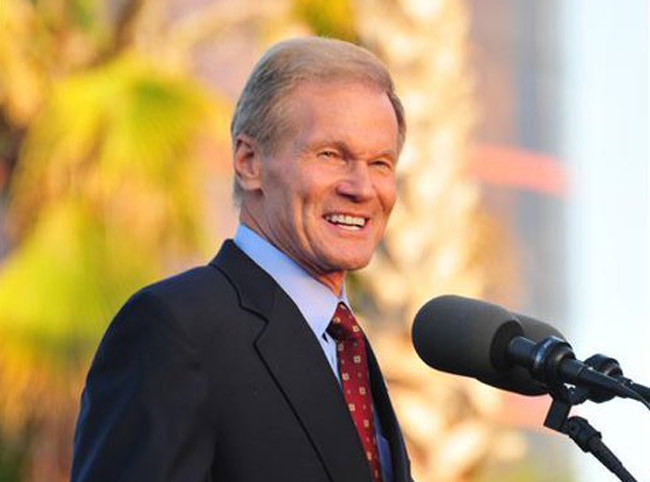 Maybe Sen. Bill nelson was inspired by Sen. Rob Portman, the Ohio senator, who last month switched his stand from opposing gay marriage to favoring it. Portman did so after his son Will told him in 2011 that he was gay. That prompted the change of mind in Portman, belated though it was: Portman was a leading contender for the vice presidency last year, but Mitt Romney's opposition to gay marriage was a fundamental marker that Portman could not cross. At least until last month.
"It allowed me to think of this issue from a new perspective, and that's of a dad who loves his son a lot and wants him to have the same opportunities that his brother and sister would have — to have a relationship like Jane and I have had for over 26 years," Portman told the Ohio press. "If anything, I'm even more proud of the way he has handled the whole situation," he said of his son, a student at Yale. "He's an amazing young man." Portman remains, however, only one two Republican senators to endorse gay marriage, while most Democrats already have. On April 2, Markl Kirk, the Illinois Republican, joined Portman in defense of gay marriage.
Nelson hadn't. Until today.
Here's what Nelson wrote to the Tampa Bay Times editorial board today: "It is generally accepted in American law and U.S. society today '… that all Men are created equal, that they are endowed by their Creator with certain unalienable Rights, that among these are Life, Liberty and the Pursuit of Happiness.' I believe that. The civil rights and responsibilities for one must pertain to all. Thus, to discriminate against one class and not another is wrong for me. If we are endowed by our Creator with rights, then why shouldn't those be attainable by Gays and Lesbians?"
Nelson is the 51st senator to come out in favor of gay marriage. He said he would add his name to a brief before the U.S. Supreme Court in defense of gay marriage.
Oral arguments on two gay-marriage cases before the Supreme Court last week prompted a slew of senators to endorse gay marriage. Politicians, including conservatives, may be deciding to do so as much out of hopes of staying in step with moral currents as to perhaps sway the court not to decide the issue one way or the other, but to leave it to legislatures to decide, state by state.
That had been Nelson's position last May, when he cagily told the Miami Herald: "I have a record fighting against discrimination and standing up for people's civil rights based on their sexual orientation. I believe marriage should be left to the states, and Florida voted on same-sex marriage in 2008." That year, 61 percent of Floridians approved a constitutional amendment banning gay marriage, even though Florida law already banned it.
Nelson was pressed by gay-rights groups to come out in favor of gay marriage last year, after President Obama did. Nelson resisted. He was running for reelection at the time, in a state that still enthusiastically opposes gay marriage: a civil union bill hasn't gone far in the Florida Legislature.