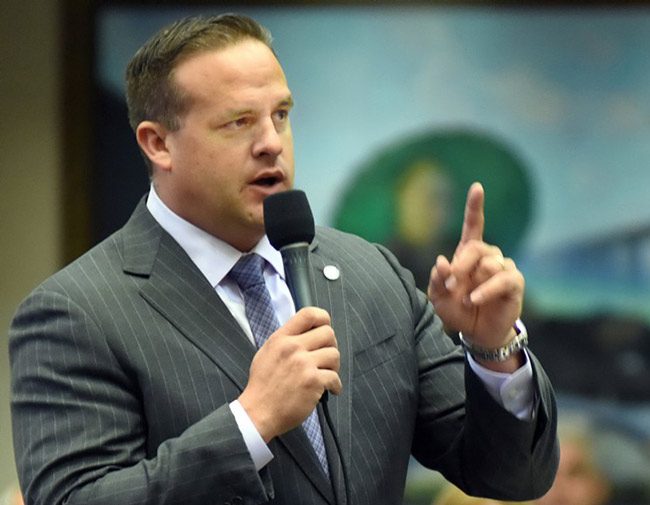 Calling his presence a "distraction" days after apologizing for a public tirade that included racially charged and vulgar expletives, Miami Republican Frank Artiles announced Friday he was resigning from the Senate, effective immediately.
Artiles — a tough-talking, U.S. Marine veteran who earned the moniker "Frank the Tank" from fellow lawmakers — stepped down amid a Senate investigation into reports that he had insulted two black colleagues, and others, Monday night at a members-only club in the shadow of the Capitol.
Artiles has faced widespread condemnation for a rant that reportedly included calling Sen. Audrey Gibson, D-Jacksonville, "girl," a "bitch," and a "f—ing ass—-." Artiles also reportedly used the word "niggers" or "niggas," though he contended earlier this week that he did not direct the word at anyone in particular.
"It is clear to me my recent actions and words that I spoke fell far short of what I expect for myself, and for this I am very sorry. I apologize to my friends and I apologize to all of my fellow senators and lawmakers. To the people of my district and all of Miami-Dade, I am sorry I have let you down and ask for your forgiveness," Artiles wrote in a resignation letter to Senate President Joe Negron, R-Stuart.
Artiles earlier admitted to berating Gibson, who is black, at the Governors Club. Gibson said he also used the word "niggers" when referring to Republican senators who backed Negron in a leadership race, although Artiles later said he referred to the president's backers as "niggas." Gibson and Sen. Perry Thurston, a Fort Lauderdale Democrat who heard most of Artiles' remarks at the club Monday night, said Artiles also used a derogatory term to refer to Negron.
"He made the right decision. As he has noted, both on the (Senate) floor and in his letter, all of us are accountable for our actions and comments. I think it is an appropriate resolution," Negron, told reporters at a hastily convened press conference Friday.
Negron on Wednesday appointed the Senate's general counsel, Dawn Roberts, to serve as special master to conduct an inquiry into Artiles' behavior and submit a report and possible recommendations for sanctions to the Rules Committee.
The Senate president ordered the investigation after Thurston, who serves as chairman of the Florida Legislative Black Caucus, filed a formal complaint seeking Artiles' expulsion from the Senate.
"My actions and my presence in government is now a distraction to my colleagues, the legislative process and the citizens of our great state," Artiles wrote in Friday's resignation letter.
Artiles' action Friday was a marked reversal from a stance taken less than a day earlier by his lawyer, Stephen R. Andrews. Andrews argued that the senator's remarks were protected by the First Amendment and raised the specter of detailing similar comments by other senators if the matter were sent to the full chamber for a vote on possible sanctions.
In a statement issued Friday, Artiles attempted to make amends for his comments — which he acknowledged "were hurtful, unacceptable and inappropriate" — while at the same time accusing critics of making him a political target.
"While I take full responsibility for using language that was vulgar and inappropriate, my family has fallen victim to a political process that can distort the truth for the sole purpose of political gain," he said. "The American people and Floridians want their leaders to be accountable and responsible, and by resigning my elected office I believe I am demonstrating those qualities they desire and deserve."
Gibson issued a brief statement following Artiles' announcement.
"This has been an ordeal that no one should have to endure. I wish him well in all of his endeavors," she said.
Under pressure from Negron, Artiles delivered a public mea culpa to Gibson, Thurston, the Senate president and the entire chamber, appearing contrite during a 3 ½-minute speech during Wednesday's floor session.
But, for many, the Hialeah native undercut his own act of contrition by blaming his use of the n-word on growing up in a "diverse community" in which "we share each other's customs, cultures and vernacular."
Since then, demands for Artiles' resignation — including from members of his own party — have grown.
Thurston, who withdrew his complaint against Artiles after the senator resigned Friday morning, said that seeking the ouster of a fellow senator was something neither he nor Gibson relished.
"So it's hard to say 'victory' when you don't want to do something like this, but at the same time it's something that has to be done so all of society knows we're moving beyond where this is acceptable," Thurston told The News Service of Florida on Friday.
The Miami Herald and The Florida Times-Union reported Tuesday about Artiles' tirade the previous night. The speed with which the drama surrounding Artiles concluded likely was related to the Miami Republican's reported disrespect toward Negron and other Senate Republican leaders, according to Thurston.
"It's amazing when you've attacked the person who could protect you. The attack on the members using the n-word crosses the line in any circumstances, but when you're also attacking the members who could protect you, that probably added to the quick resolution," he said.
Senate Minority Leader Oscar Braynon, D-Miami Gardens, called Artiles' move "not only the right decision, but the honorable one."
Senate GOP leaders publicly denied that Artiles' fellow Republicans had pressured the former state representative to step down, even as public demands for his ouster intensified.
"The situation is regretful, however I think he did the right thing in resigning and putting his interest beneath that of the Senate," Sen. Bill Galvano, a Bradenton Republican slated to take over as president of the chamber in November 2018, told the News Service.
House Speaker Richard Corcoran praised Artiles' Marine service and dedication to his family. Artiles served six years in the House before getting elected to the Senate in November.
"Frank Artiles loves his community, is an incredibly effective legislator and advocate, and has shown again he will always do what's best for the people of Florida. I sincerely hope that as Frank seeks forgiveness and absolution from those hurt by his words, he will be met with forgiveness and a second chance" Corcoran, R-Land O' Lakes, said in a statement.
Artiles' exit just two weeks before the scheduled May 5 end of the legislative session will lead to a special election in District 40, a heavily Hispanic seat that leans Democratic. Gov. Rick Scott will announce details of the special election in the coming weeks, a spokesman said Friday.
Artiles — who garnered national news coverage for sponsoring a measure in 2015 that would have banned transgender people from using bathrooms that don't match the gender on their birth certificates — defeated former Democratic Sen. Dwight Bullard in a bitter election fight in November.
"These words aren't in a bubble. When you use racial epithets, those resonate through entire communities. I think Sen. Artiles understands that better today than he did Tuesday. You can't just say the n-word and think universally black people aren't going to be offended. I believe he drew the right conclusion in resigning from office," Bullard, now political director for New Florida Majority, said in a telephone interview.
–Dara Kam, News Service of Florida