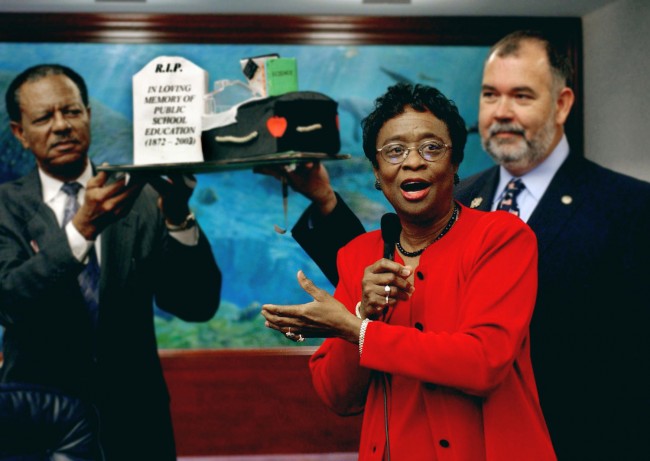 The first time Sen. Arthenia Joyner demonstrated for civil rights, in 1960, she was in the 11th grade at Tampa's Middleton High School. She went on to study law to follow in the footsteps of Thurgood Marshall, lead attorney in the U.S. Supreme Court's Brown v. Board of Education ruling, which paved the way for school integration. When Joyner graduated from law school in 1968 and couldn't get hired as an attorney, she went into practice for herself. Now she's the state's longest-practicing black woman lawyer.
Elected to the House in 2000 and the Senate in 2006, Joyner also will be the first black woman to serve as Senate Democratic leader. She is expected to start that role in November 2014.
The News Service of Florida has five questions for Arthenia Joyner:
Q: What do you think of the governor's bill actions so far?
JOYNER: He did the right thing when he vetoed the alimony bill. I voted against it in committee and on the floor. I thought it was awful that it would end permanent alimony. There were a lot of factors in that bill that just didn't (jibe) with what really happens in the real world.
Alimony can be paid be either party. Folks tend to think that, 'Oh, it's always the man that's got to pay.' Well, there are more women in colleges and universities now, and in business and law and in medicine — the numbers are about equal. So women will be paying alimony as well as men. I'm looking at the fact that alimony is an institution that serves a purpose for which Florida did change a few years ago. So I was pleased that that was vetoed.
But the immigrant driver's license act? Oh, that was awful. These children who would have benefited deserve to have the opportunity to at least be able to get back and forth to work and to school. They're here because their parents brought them here. They've done nothing. And shame on the governor for not realizing — even people in his own party are saying, "Why? What was the real rationale?"
And as far as we can see, it was because he was catering to the tea party, to a minority of vocal folks who want the status quo, who don't respect the fact that America is a country of immigrants. Always has been, always will be.
Q: Do you think the trial of George Zimmerman in Sanford will stir the embers of racism there?
JOYNER: Well, it's already been stirred, just by the mere facts of what happened: a young black male being shot and killed by a volunteer in the community who utilized his discretion to end a life without any real basis of doing it, after having been told (by a police dispatcher), "Do not follow the young man. We're on the way."
It's tragic that we lost that young man. And now that the trial is here, we'll have to wait and see what the jury decides, and hopefully at the end, that justice will be done. And that the people will accept the ruling of the jury, the jury's decision and the court's subsequent sentencing if it comes to that. But we don't know.
We have a great system here in America, and hopefully at the end of the day, when that trial is concluded, the people will respect the verdict, whatever it is.
Q: You were arrested for civil disobedience several times, including here in Tallahassee as a student at Florida A&M University.
JOYNER: Patricia Stephens Due, who led the civil rights marches here, organized the students, and I participated. A couple of blocks from here, at the Florida Theater, we attempted to integrate it in May of 1963. And I was arrested and we were released on recognizance to the dean of women at Florida A&M. The charges were dismissed. And later, when we came back for the fall (semester) in September of 1963, we picked up and started where we left off because we felt that every person in this state and in this country had a right to be able to eat at any restaurant, attend any movie, go to any church.
So we walked and marched the streets of Tallahassee. And we went again to the Florida Theater, and the federal judge had said that we could demonstrate, so many feet apart, and we wouldn't be arrested. And five minutes after we started picketing, we were arrested. So that was my second offense, and we were taken to the Leon County Jail on Gaines Street. I pass it often and reflect on those days. We were given 90 days or pay a $500 fine. I spent about 21 days in the Leon County Jail because everybody couldn't get out, so it was all or none. And ultimately attorney William Kunstler from New York and Francisco Rodriguez, the Afro-Cuban lawyer from Tampa, both came up, and they got bond set. And we got out.
Q: So you've always been outspoken?
JOYNER: I did what I had to do. I remember once when I was in school here, and my father took me to the airport to fly up. One of the police officers came over and told him, "Boy, move out of the way." Well, I stood up and said, "How dare you. My father is in his sixties. He's old enough to be your father. And he is not a boy and that is not the way that you're going to talk to him!"
And so of course my father was old and said, "Oh, it's all right." I said, "No, it is not all right. This gentleman is wrong. And if he doesn't like what I'm doing, then he can put me in jail, but he's not going to talk to you like that."
You know, there were instances when you just could not take it. And you could step back and accept it, or you could speak out. And I have never been one to stand by and let somebody willingly, verbally or otherwise, abuse me merely because I was black. And that is what was happening to my father.
And all of that compelled me to just continue to fight for equality and right because this is America. This is where the huddled masses come and yearn to be free. Well, I'm here. And my father and his parents and their parents all fought and worked to make this a great country. There was no way that I could stand by and allow someone to speak to him like that.
Q: What does it feel like to come to the Capitol now as a senator, past where you were arrested?
JOYNER: It has a special significance to me because in 1969, I was the aide to Joe Lang Kershaw, the first black representative since Reconstruction. And during that time, he and I were the only two blacks in the Capitol who weren't maids or janitors. And to come back in 2000 as a member of the House of Representatives was like coming full circle.
I really hadn't envisioned coming, because I was one of those players on the outside who worked hard to send people to represent me. The opportunity arose, and I was convinced, and I came. And I look back and think about those days and how different it is now — and how some things now still remain the same. (So you're still working on those?) Absolutely.
–Margie Menzel, News Service of Florida