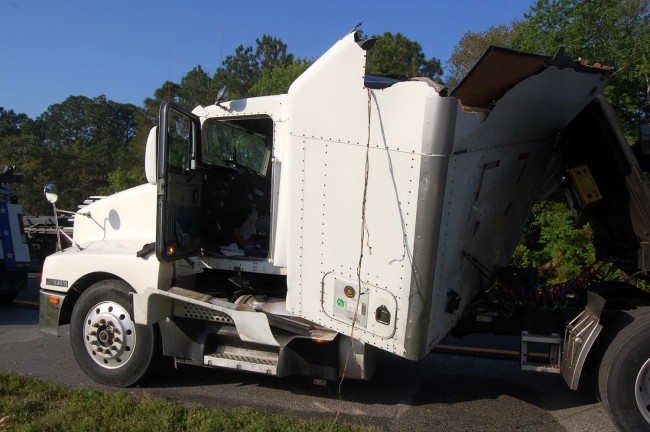 Last Updated: 10:20 a.m.
Two semis and a crane truck were involved in a chain of collisions at about 7:30 this morning on I-95 southbound, at mile market 290, just north of the Palm Coast Parkway interchange. One of the truck drivers was injured. The extent of his injuries is unclear.
I-95 was briefly closed, creating a back-up. But one lane reopened quickly, and by 9:15 this morning, two lanes were open, though it would be a while before the third would open: Crews from Rogers Towing will be busy this morning unloading two of the semi trucks of their load, as one of the semis' trailer is inoperable, while the other semi's cab was smashed up. The crane truck is not seriously damaged.
One semi was carrying a full load of lumber planks. Another was carrying huge steel beams. The crane truck is inherently heavy and voluminous because of its equipment.
All three truck drivers were able to steer their trucks to emergency lanes–two of them on the center media, the third on the west shoulder of the southbound lane.
No passenger vehicles were involved in the wreck.
The trucks involved: Sims Crane and Equipment out of Jacksonville; Alma, Ga.-based SLC Trucking (the truck carrying the lumber); and Madisonville, Ky.-based Tango Motor Transit Inc. (TMT Trucking).
The rear left tires on the lumber truck were severely damaged, and part of the load was edging off the truck bed. The crane truck sustained minor scratching on its rear left corner, indicating where one of the trucks had clipped it there. The steel-carrying truck's cab was virtually demolished, apparently by a collision with the the crane truck's crane. There was debris strewn along both sides of the road, including a six-by-four foot part of the cab itself some 75 yards north of where the steel-carrying truck came to a rest.

Wreck Gallery:
[nggallery id=53]