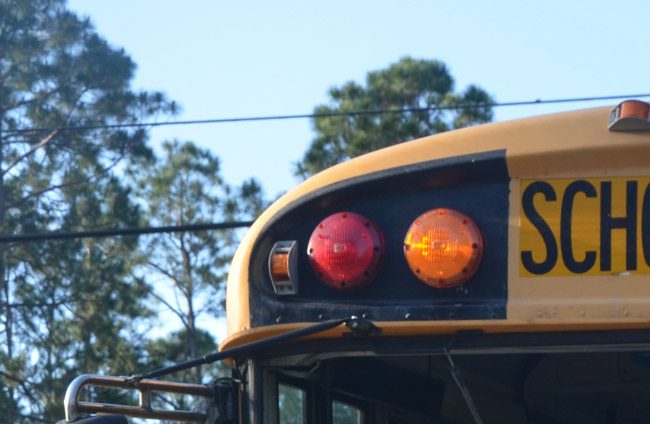 Tuesday afternoon a Flagler County School bus dropping off children in Palm Coast's R-Section had to pull over on Red Mill Drive when its driver, Lorraine Clift, called 911 about a child on the bus who was out of control.
Clift, who's been driving a bus in the district since the fall of 2017, told a Flagler County Sheriff's deputy that the child appeared to be harming himself. He was "hitting himself in the head with a seat belt and appeared to tie his jacket sleeves around his neck until his face started to turn purple," according to an incident report.
The boy is 5 years old, and 3 feet tall. He will be 6 in March.
Deputies had arrived at the scene along with paramedics, who tended to the child and cleared him medically. His 33-year-old father soon arrived as well, and as soon as he began speaking with his son, the boy's "demeanor and attitude deescalated drastically," the report states. The boy explained that "he is being bullied by an unknown group of other juveniles and was angered and acted out."
A deputy at the scene told the boy's parent that he would be informing the school resource deputy at Rymfire Elementary, the student's school, of the incident and of the report of bullying. The child, according to the report, sees a counselor at school every week, and his father said he would take him to an "evaluator" right away.
Since the child was "under control, and not physically injured and in the care of his father, it was determined that [he] would be turned over to his father," the report states.
Three Flagler County school students have been arrested in eight days in three different schools over making threats. In two of the three cases, the students cited bullying as causing them to make the alleged threats: on Tuesday, a 16-year-old girl at Matanzas High School was arrested for allegedly making a threat on Snapchat to shoot up the school, an image other students detected and reported to school officials. Last week a 13-year-old boy at Buddy Taylor Middle School known to have been the victim of bullying in the past was arrested after an outburst of alleged threats while he was playing a live Xbox game on the internet the previous weekend, with other students online. In every instance, the students making the threats have been charged with a felony. Because of confidentiality rules, it is impossible to get information about the students' history or to document any history of bullying through the school district.
John Fanelli, the district's coordinator of student support and behavior, could not be reached Thursday morning.