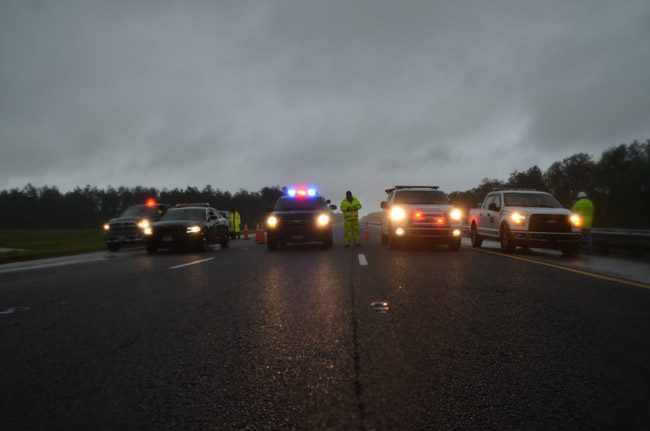 A man brought I-95's southbound traffic to a standstill during rush hour Monday morning in Palm Coast after he repeatedly stabbed himself in his pick-up truck and claimed he had earlier harmed his companion in Jacksonville.
"He made statements to the effect that he had harmed her, I don't know if it was his wife or his girlfriend," a Flagler County Sheriff's spokesperson said this evening.
The sheriff's office relayed the man's claim to the Jaksonville Sheriff's Office, which picked up the investigation there, but Flagler officials had not received information about the veracity of the man's claim by day's ends.
WOKV in Jacksonville reports that a woman was found dead at the man's apartment on on White Blossom Circle, which is off Bartram Park Boulevard. "JSO says foul play is suspected in the death, but they're not confirming the manner of death, because of the ongoing investigation," the radio station reports. "The victim has not yet been identified, so JSO is not sure how she knew the man who's detained and if she also lived in the residence."
What is certain is that the man seriously injured himself and was taken to Halifax hospital in Daytona Beach. His pick-up truck, believed to be a turquoise or green-colored GMC Sierra, was taken to the Flagler Sheriff's Office and parked in a garage at the currently-evacuated Operations Center in Bunnell, where investigators and crime technicians still conduct some analysis. The vehicle's interiors were reportedly covered in blood.
It was not a vehicle crash, so neither the Florida Highway Patrol nor the Flagler County Sheriff's Office issued traffic alerts as they normally do when serious crashes take place.
The incident unfolded at mile marker 286 in the southbound lanes of I-95, near the weigh station, after 7:15 this morning, causing an extensive back-up on the highway. FHP was also at the scene.
"Initially we thought it was a Baker Act situation," the spokesperson said. It wasn't until later that we found out it was more." The man was to be treated at Halifax then Baker Acted–that is, sent to a psychiatric unit for up to 72 hours of observation and treatment. Baker Act patients may not leave the facility voluntarily for that period of time.
Information about the incident, including the man's identity, remains sketchy Monday evening as even the sheriff's incident reports had not been filed yet.