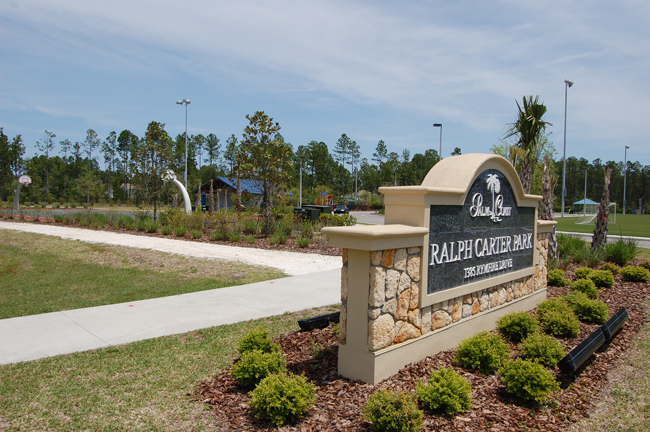 Over the past few weeks, the Flagler County Sheriff's Office conducted secret video surveillance of activity around Ralph Carter Park and Rymfire Elementary school, focusing on license plates of vehicles parked in the area and a footpath through a vacant lot residents say has been drawing "undesirables."
The surveillance, Capt. Mark Carman, the Sheriff's Office's Palm Coast liaison, says is not taking place anymore, but Palm Coast and the Sheriff's Office are working on installing permanent surveillance cameras in the park. Signs would inform users of the park that they are under surveillance. No such signs accompanied the use of the roving camera.
The surveillance was the result of persistent pressure from a few residents around Richardson Drive who publicly complained to the Palm Coast City Council that noise, traffic, "undesirables" lounging on their cars and using vacant lots as "cut-through" paths to the park were making them feel threatened. There were also some complaints about children from the school using the vacant lots as "cut-throughs."
"I thought it was good news," Palm Coast City Manager Jim Landon told members of the city council on May 5. "They put up a mobile camera, and been checking it out. The Sheriff's department doesn't like people to know where their mobile cameras are." But that morning, Landon said, Carman had shown him in his cruiser the results of the surveillance. "Mark has reported back to me a couple of times now that they see no activity there at all. I'll give the Sheriff's department 100 percent of the credit for their initiative I guess, but parents are not picking up the kids there, they watch before and after school, they're not seeing the kids cutting through there at this point."
The five Palm Coast City Council members had no issue with cameras—roving or fixed—when Landon spoke of the surveillance earlier this month.
Based on 911 calls placed from the park area from February 2009 to January 2010, the problems residents cited may have been overstated. Out of 240 calls, there were just three actual fight calls, three verbal fight calls, "a couple of noise complaints, a reckless driver, a couple of suspicious persons. So for the most part I personally think we did a good job in the park," Carman said. Residents complained that the issue had gone beyond park boundaries, which prompted the further surveillance on streets and lots adjacent to the park.
But Carman said the patrol division doesn't have access to video cameras. Only investigators do. "If they have cameras we're not going to tell you where they are," Carman said. Such cameras have become cheap to acquire, easy to use and just as easy to hide–by consumers just as easily as by cops.
Sheriff Don Fleming confirmed that secret surveillance had taken place. "We have the ability to videotape certain things when we want to. But that's something that we don't really disclose," Fleming said. Ralph Carter Park is a possibility. We're not surveilling any place that would be an infringement on privacy." He said the area under surveillance was "just a path, walkway, that's all it is."
Fleming made a distinction between that sort of surveillance with a "roving" camera and a different sort of camera surveillance that targets only license plates, not individuals. The license-plate cameras were also used in the area around Ralph Carter Park.
"We have a vehicle that has three cameras on it that has the ability to look at license plates," Fleming said. "Like you can go up and down Walmart's parking lot, and it'll run every license plate that you do, and it'll tell you if you have a hit, a BOLO, or if it's something that was stolen. We have that ability, and we use that consistently in the park areas just to see who's in there and what they're doing. That's all. We don't disturb anybody. We just ride through." The system, Fleming said, "will only hit on a vehicle that is either wanted, stolen, or on what they call a BOLO, Be On the Lookout for, so it invades no other privacy whatever."
Fleming added, "If we see somebody that we think might be a person of interest, we'll sit and talk to them, we'll stop and talk to them to see, you know, what's going on, what are they doing, have a nice day, that type thing."
George Griffin, president of the Volusia/Flagler chapter of the ACLU and a director on the board of the ACLU of Florida, termed the use of cameras around the park "disturbing" though not, in and of itself, illegal. "We are becoming more and more of a society where there is no entitlement of privacy once you step outside of your home."
The line between surveillance and harassment can easily blur. "Public streets and public parks are meant to be open to the public for use without surveillance or harassment," Griffin said. "Last time I checked, we have not passed any Arizona-type laws here in Florida. Law enforcement cannot search, pat down, or demand documentation from citizens simply for being in a public place."
Griffin said the ACLU intends to request records on the use of video surveillance in Flagler County. "Just because the Sheriff's office has a new toy does not mean that it can be used in a manner that disregards the rights of the public," he said.
So-called "eagle-eye" cameras used to sit inside the Sheriff's Office's patrol cars. The cameras videotaped such things as DUI arrests, providing evidence both of suspects' and deputies' conduct which prosecutors and defense lawyers relied on in court. Fleming did away with the cameras.
Jim Manfre, who preceded Fleming as sheriff, characterized cameras—fixed or roving—as "lazy police work." If there's a problem area, there's no substitute for actual patrolling. "Police presence picks that stuff up."
This week, the Flagler County Sheriff's Office is starting a "crime-suppression team consisting of a corporal and about four to six deputies. "All they do, full time, is they go to hot-spot areas where they're having problems. They don't answer calls," Fleming said. "It's Ralph Carter Park, it's any other area that might have a lot of burglaries, a lot of car larcenies, all those types of things that we get involved in all the time, so those kinds of things we're going to be addressing with a crime-suppression unit."