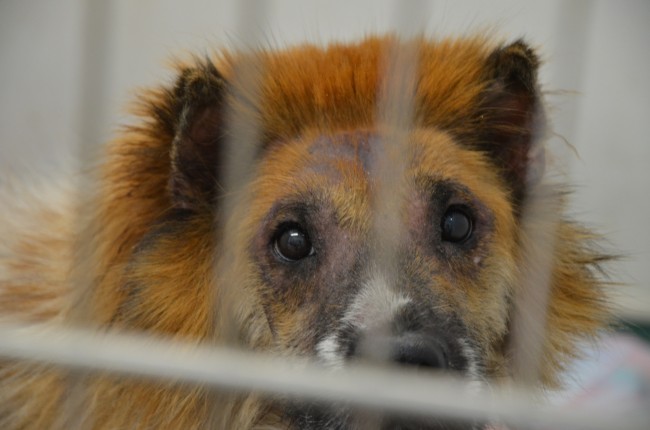 Debi Root has been at it for 26 years, saving animals from death row and ensuring that they're adopted, fostered, loved and cared for. When Hurricane Katrina hit, she spent 13 weeks rescuing animals in New Orleans. She's saved some 30,000 animals in that time span, most of them in Indiana, where she started her Second Chance Rescue operation, saving well over 1,000 animals a year before moving to Florida with her husband Dave—they've been married 10 years—in 2002, when he was relocated.
---
How You Can Help:
It's not just the fire. Second Chance Rescue is always looking for help to foster animals or help with donations or other contributions, though the fire is heightening urgency, particularly with fostering. Visit the Second Chance Rescue website for details on how you can help.
---
---
"She took all the animals that were in her control at that point," Dave recalls, "loaded them in a U-Haul and drove them to Florida." They set up shop, and home, on a property off State Road 100, west of Bunnell, a somewhat smaller operation than in Indiana, but still teeming enough with lives saved, recovering and thriving that it keeps Debi going all hours of the day and most hours of the night, every day, saving 600 to 700 animals a year, most of them dogs, but also cats, a few pigs, goats, horses, peacocks, chickens, turkeys. Her efforts, her work, is Herculean.
There are 100 animals on the property today, including 46 dogs, most of them in a 1,000-square-foot kennel, and four horses, among them Cashe and Sundance—two magnificent horses—and two miniature horses saved from a meat operation. "You get more and more loving as you get old," Dave tells Sundance as the horse nuzzles up to him over the wood fence. "The older you get, the nicer you get." As he speaks, Fire Flight, the county's fire-fighting helicopter, whirrs above. There's also Ramsey and Ryder, a couple of peacocks almost 2 years old each, hand-raised by Debi, the way she hand-raises many animals, from the time they were hatchlings. Ramsey was in a particularly show-offy mood today. And then there's Eli, the star of the grounds, a happy 4-month-old pup who arrived there when he was one day old.
All these animals are now just south of the Espanola fire.
The smoke is visible, dark gray and thick, beyond the back fence. Friday evening around midnight hot ash was drizzling on the property, Debi said. The fire themselves have been temperamental, the Espanola fire especially. It devoured 700 to 800 acres in a single day earlier this week. It's been quieter in the past two days, but shifting winds this weekend and Monday are expected to make matters more difficult.
From one perspective, the wildfire story is all about the contingencies, the firefighters' hard work, the command structure, the big shots calling the shots, talking in generalities what areas are being consumed by fire, what areas are being pre-warned about evacuating. For every one of those homes on the line in the way of the fire, there's a more intimate story of angst and personal contingencies. Debi's Second Chance Rescue is one of those stories, the more poignant for illustrating the fate of more than 100 animals that could not help themselves in a fire, but at least have someone who cares for them more than—come to think of it—some of the animals trapped in the wildfires nearby, whose stories will never be told.
Debi got a call from the Sheriff's Office Friday evening. She has good connections there and at the county fire department, where people know what she does and know that she'd need considerable advance warning to get ready for an evacuation, should it come to that. (They've occasionally brought her rescued animals.) By Saturday, she had not received a pre-evacuation flyer from the county (they were being distributed to properties along 100, from John Campbell Drive going west to the Flagler-Putnam county road). But she'd already made evacuation arrangements for every one of her animals.
"In my mind I'm see-sawing a lot because I've got a safe place" for the animals, Debi said Saturday morning, "but do I want to use it if I don't need it? Then again we have to be conscious of the smoke, not just the fire. I do have great volunteers who, if we do have to evacuate, we're covered on help." She was at PetSmart in Palm Coast Saturday, as she is every Saturday, with 10 dogs and a cat ready for adoption. It's not a simple process. Prospective adoptive owners have to fill out an application, their references are checked, their home-ownership is checked, a home visit is carried out, all to ensure that the dog or cat about to be adopted will be cared for properly. The contract also ensures that Debi's no-kill policy carries over, no matter what. "Never for space, never for temperament," Debi says. The only exception is when the animal is in pain and cannot be treated.
Preventing the animals' pain and protecting their welfare is paramount. So the fires are heightening anxieties. Back at the Root property this morning, Dave shows the extent of the operation, where veterinary bills alone run to $80,000 or $90,000 a year. Second Chance Rescue is its own 501c-3 non-profit (the official name under the non-profit is Another Chance Animal Rescue), which helps draw the sort of donations that underwrite the animals' food and provide for other needs.
But the operation is still dependent on donations—and foster homes for the animals, and adoptive homes. Second Chance Rescue is looking for people willing to foster a few dogs during the fire emergency. When an animal is fostered, Second Chance Rescue takes care of the animals' food and other needs. The foster home just provides a loving, safe environment. "We always need fosters, that's an everyday thing," Debi says. The fires are merely heightening the urgency.
"Hopefully we don't have to mobilize," Dave says. That would be the worst case scenario—to mobilize and then lose our facilities."
They're elaborate, those facilities, and all of them, including the house, are now part of the operation. The Roots live in an RV on the property for now, though they hope to be in a house soon. They've been working on that. Now the fires are the bigger worry.
"I know I've got back-up," Debi says. "It's just scary when you're responsible for so many animals and you don't know what's going to happen."

The Many Lives of Second Chance Rescue: A Photo Gallery
[nggallery id=70]