Last Updated: 11:06 a.m.
Flagler Beach's iconic Seaside Shoppe, for two decades a mainstay of the city's commercial life and tourist stop, was demolished by an early morning fire the owner detected at 4 a.m. when she smelled smoke. The owner of the garden-rimmed gift shop, Sally Pillitleri, and her husband, lived in the apartment attached to the business.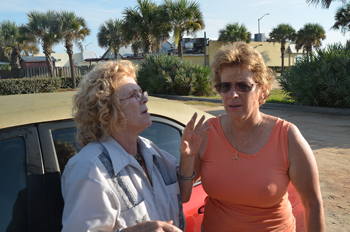 Firefighters from every agency in the county fought the fire and battled its advance against other nearby buildings, which have virtually no buffer with the Seaside structure. Among them was Dennis Bayer's multi-level office building, which includes Bayer's law offices and several other businesses, and the Mayo condominiums' half-dozen units. Firefighters staved off flames and damage to all nearby buildings, however.
"Dennis Bayer's building, we've been able to protect it by putting water on it," Don Petito, Flagler County's fire chief, said.
No one was injured in the blaze.
"It was good to see the county and the city cooperating and putting out the fire," Bayer said later in the morning. "We're happy it wasn't any worse than it was. I feel sorry for Sally. She's a good neighbor."
Petito said at the scene that the building was a total loss. "The roof is caved in, center walls are already caved in," he said.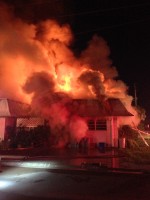 Pillitleri stood nearby, speaking with several people lending her their support and sympathies, including Flagler Beach City Manager Bruce Campbell, who is in effect the city fire department's administrative chief at the moment, and Joy McGrew, a city commissioner.
"I've owned the building for 17 years, and I've been in business for 14 years," Pillitleri said. "My husband went to work. I go right back to sleep, I need a lot of sleep, so I'm a sleeper, and then, there's a crack underneath the door about this size, and I started to smell something. It woke me up, and I opened the door, then I saw smoke. No fire, just smoke, lots of smoke, and I thought, boy, I've got to get out of here. And then even when I called 911 I ran outside and called 911 they said, is there any fire? And I said no, there's quite a bit of smoke. Then they come over. It looked like it stayed inside for a long time."
The building is in two segments, one measuring about 2,000 square feet, the other about 1,000. Campbell estimated the building dates back to the 1960s. Property Appraiser records are not precise on that score. The building's value was last assessed at $182,436.
"This is one of our older businesses in town," Campbell said. "I's been a mainstay of our merchant offerings here in the city for some time. She sold a lot of Flagler Beach memorabilia, t-shirts, hats, collector's items, trinkets, things like that. It'll be missed. It was a neat place because she had that little courtyard there, and then you could go in, she had it decorated very nicely. Sally has been a long-time merchant here in the city, very involved. everybody knows Sally Pillitleri. We feel bad for her but we're very, very pleased that nothing happened physically."
Campbell was referring to the units of the Mayo condominiums, which could have been in harm's way.
"Everybody did a nice job, and we're thankful for the county and Bunnell, Palm Coast, our guys, everybody pitched in and did what they had to do," Campbell said.
Flagler Beach's unit, with Stephen Cox initially in command, was first on scene, followed by units from the rest of the county. Command was turned over to Flagler County Fire Rescue's Capt. Jamie Burnsed. Flafgler Beach and Bunnell each had an engine at the scene, according to Petito, the county had three engines, a ladder truck and two rescue units, Palm Coast sent an engine and a ladder truck. Curiously, County Administrator Craig Coffey was also at the scene for a time. (He lives nearby.)
Petito said firefighters could not get into the ceiling as they normally would, to fight the fire, because the ceiling was sealed shut with plywood. That enabled the fire to keep burning, with flames still leaping from the roof past 8 a.m. By 9 a.m., the building was mostly a blackened shell of itself, smoking some but no longer burning. The state fire marshal was at the scene. But there still was no determination about the cause of the fire.