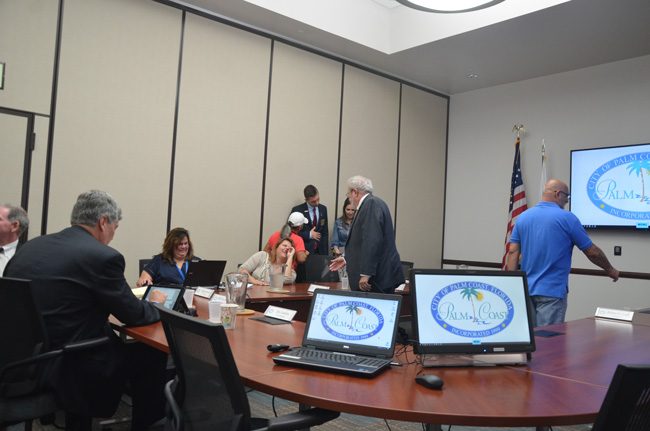 Palm Coast City Manager's Jim Landon's tenure is ending, but not just yet: The Palm Coast City Council wants him to stick around as it searches for his replacement. That could take a year to 18 months, if not longer, with that clock starting no sooner than January. That means the search will coincide with next year's election season, when two council seats are up.
In a meeting with far less unanimity than grudging agreement on a few matters, the one thing the council decided today was starting a search in the next few weeks–not for a manager, but for a search firm that will itself solicit applicants. The council would work on developing that request for proposal now, with the RFP going out at the beginning of January. Assuming a 12-month search, that would not lead to a new manager until the end of 2018 or the beginning of 2019.
Landon himself wants to retire in the latter part of 2019. Some council members–Steven Nobile and Heidi Shipley–want to start the search now. Others are willing to wait until next year and even have the hire dovetail Landon's retirement.
As much as the council wants to replace him, it is just as clearly nervous and unsure about how to proceed: today's discussion showed that. Almost two hours in, and council members still had no unanimity on when to start, other than agreeing to putting out a call for a search firm by January. Generalities aside about a "forward-looking" professional manager with ideas and "energy," one who will "take Palm Coast to the next level," it is not even certain yet what sort of manager it wants, though that generally becomes more defined as the process advances.
That still left unclear what a termination agreement with Landon would look like, or whether there would be one, though council members seemed to agree that there should be one.
"I still don't know what we're doing, I don't know what's happening to Mr. Landon right now," Council member Steven Nobile said just past the hour mark, words he echoed nearing the two-hour mark.
By then only Mayor Milissa Holland's approach of sending the RFP out in January had prevailed. It was still unclear to what extent the public would be involved in the process.
Playing into the decision is Landon's severance package, which would cost the city close to his current annual pay package of nearly a quarter million dollars, and which Landon says will kick in if he is not allowed to retire on his terms in 2019. "It's not my interest whatsoever to negotiate out of the contract," he said, later clarifying, at Nobile's urging, that he sees his retirement in "the July-August time frame of 2019."
Nobile described it as "a hostage situation," and he and the rest of the council members said they did not want to have their decisions driven by whether they must pay severance or not: they are willing to put the cost of the severance into next year's budget, along with the costs of the search, which Council member Nick Klufas said could run up to $100,000. At the same time, the matter of the severance again and again became a subject of discussion, with council members obviously willing to consider how to avoid paying it, even if it meant possibly sticking with Landon until the summer of 2019.
Holland tried several times to get clarity from fellow-members about whether they wanted the search timed with the end of Landon's contract. The answers were mostly vague. Council member Bob Cuff said he was "not opposed" to waiting until 2019, and timing the hiring with that date. Nick Klufas appeared to agree. Nobile did not. "I don't want to wait," he said. Heidi Shipley agreed. But both Nobile and Shipley said that approach would not preclude sticking with Landon until his retirement date if the process did not land on a quality candidate.
Holland's position: putting out the request for proposal for search firms in January, and letting the process take its time, with the possibility that a manager would be found in late 2018 and hired them, even at the cost of kicking in the severance package. That was not acceptable to Nobile. "My preference is we start now," he said. (It is his seat and Shipley's that are up in the 2018 election. He has said previously that he favored ending the search process before the next election. That now appears to be impossible.)
Today's workshop was the first chance for the council openly to discuss what most council members have been saying privately: that Landon must go, and that the council must devise a way to replace him. But that he should go not "for cause," but rather because the council wants to take a new direction.
Nobile had put Landon on notice several weeks ago that he wanted him gone, and Landon himself, in closed-door meetings with each council member, said he'd be willing to retire in 2019. Once those talks were made public, it forced the council's hand to start open discussions, today's meeting being the first step. It was a workshop, where no votes would be taken. It was also clear that since council members had not had a chance to speak to each other about the transition until now, they'd have to see through a lot of procedural clutter.
Landon himself sat at his usual spot at the table, next to Bill Reischmann, the city attorney (sitting in the audience, as some council members had preferred, was not for him), though council members tried to restrict much of the discussion to themselves except when they needed clarifications about his intentions. That worked at the beginning. It did not work in the second half of the meeting, when Landon's controlling nature could no longer be contained.
He suggested that his staff be involved in framing the RFP, saying the city attorney, a staffer from the procurement department and the city clerk work with the council to that end. Nobile said that "sounds weird," wanting the council to control the process without interference from the administration. "We want to act as the scoring entity," Holland said.
Landon then interjected again to say RFP discussions should not go on the next workshop agenda, but the one two weeks later.
In the meantime council members will meet individually with what's now an administrative committee to help in the process–City Clerk Virginia Smith, Beau Falgout, the administrative services director, and Reischmann.
The meeting was attended by some 100 people, though the council never opened up the floor to public input. Nor will the public be involved in the early stages of the RFP process, when council members instead will meet with staffers behind closed doors, though Cuff said that's more to figure out technicalities than to talk substance. Cuff himself, he said, favors those discussions to be in the open.
Among the audience members: former Mayor Jon Netts, who has been increasingly visible at city meetings again. "They should put money in the budget for the search firm, they should put money in for the severance package because you can't put this down to a specific date," Netts said after the meeting. "You need to be prepared for all eventualities, whether you do them or don't do them."