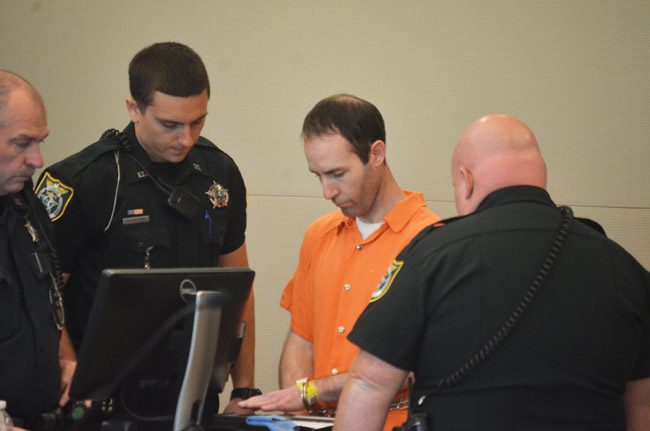 Sean Stern, the 36-year-old former soccer coach who tailored his career to jobs where he'd always be overseeing pre-teens and teens in camps, development academies and soccer schools in Texas, North Carolina, Jacksonville and Palm Coast, was sentenced this morning to 20 years in prison after pleading to molesting three children who'd been entrusted to his coaching at what used to be the Professional Sports Pathways soccer academy in Palm Coast.
The academy, which had its offices at the old Palm Harbor shopping center, closed shortly before Stern was first charged with two molestation counts in October 2016. The Palm Coast academy had fired him after getting reports of suspicious activity by Stern, who was subsequently arrested in Washington State and had three additional charges added, involving three children. All were younger than 16. He was accused of molesting them in a back room at the school, in the school's parking lot, and at his dwelling in Flagler Beach.
Circuit Judge Dennis Craig sentenced him to 20 years in prison followed by 15 years' sex-offender probation, when he will have to abide by a 10 p.m. to 6 a.m. curfew, among many other restrictions on his freedom, and be a designated sex offender. If he violates probation after his release from prison, he faces up to 75 years in prison–the maximum sentence that could have been imposed today.
Yet even these numbers may prove academic in the long run: Stern faces an even more serious child rape charge in Bell County, Texas, where he was once a camp coach at the Belton Christian Youth Center in the early 2000s. He'd gone to high school in Texas, and was a successful soccer player there. The aggravated sexual assault of a child charge under Texas law means that the rape allegation involves a child younger than 14.
Records obtained by FlaglerLive from Bell County indicate the new charge was filed on March 21 and refer to an incident that took place when the victim was 10 years old. The Stern family and the victim's family had been friends for decades and attended the same church. Stern was the victim's "idol," according to the arrest warrant, as Stern helped him to become a better soccer player. Stern was in college at the time. When he'd come home from college, the warrant states, Stern and the boy would watch soccer on TV, then wrestle, then their clothes would come off, and based on the "rule" devised, the winner would be the one who'd manage to stick his penis in the other's anus. The only time the child won was when Stern let him, the warrant states. The alleged rapes ended when the young boy developed a sense of revulsion after Stern allegedly ejaculated in him (and claimed it was "a little bit of pee").
According to the warrant, Stern admitted to the victim in 2015, when the victim was an adult, that Stern was a pedophile, that the victim had told his mother that year about the assaults, and that the victim's father provided a statement indicating that his son had told him he'd been raped. Stern's alleged admission and the parents' awareness are contemporary with the beginning of the assaults against boys at the Palm Coast academy.
That pending charge was not mentioned in today's sentencing, though the sentencing may play a role in the Texas case. If convicted in that case, Stern may never see a day's freedom again.
The Belton Youth Center in Texas, which no longer has a soccer camp, was for for teens and pre-teens. Stern was also a coach at the Abilene Soccer Club, for children ages 11 to 18, in 2006, and by 2012 was working with English club West Ham United as part of its talent coordinating team, evaluating children ages 10 to 16 for the club's international academy program in Jacksonville. Two years later he was a soccer coach at the then-Palm Coast-based Players Development Academy Florida soccer organization, a recreational program for children ages 3 to 18. He also volunteered as a coach at Embry-Riddle Aeronautical University's soccer program, and became the program director at Professional Sports Pathways in Palm Coast.
There, the assaults, according to the state attorney's information, took place between January 2015 and April 2016.
---
"He knew what he was doing, and he planned that out and sat at many of our kitchen tables telling us how we can trust him."
---
"What this man did to these children, to these innocent boys, was planned, and it was a choice that he had made," the relative of one of the victims told the court today. "It's a disgusting choice that he made, but he knew what he was when he made the decision to groom these boys and to coerce them into the things that he [did], and it was planned over years."
The relative said he was speaking on behalf of victims who had chosen not to be at the sentencing. He said Stern had built and violated the trust he had from the boys as well as from their families. "He made the decision to be a coach for young soccer players," the relative continued, "and to be consistently confronted with what he in turn should have been battling with and seeking help for, he made the decision to [work] with colleagues to build a school, to position himself even further amongst these children, and these were all choices that he made, regardless of whether it's an illness or a choice of his preferences. He knew what he was doing, and he planned that out and sat at many of our kitchen tables telling us how we can trust him and how all he has in mind is the best interest of these kids at his heart, and took our kids on trips, and we fell for it. We fell into this game. But not anymore. This is our chance to have that closure and see this man go away. In all honesty we are all accepting the sentence that he's taking but it's not enough, it'll never be enough for what this man did. The fact that he's even able to breathe the air that we are able to breathe, he needs to be fortunate for it every day of his life."
Another relative described how Stern managed to take advantage of boys even as some of their parents, including the relative herself and her mother, had their suspicion: her late mother had run a background check on Stern. Nothing came up because he hadn't faced charges yet. "I guess my gut intuition was correct," she said, nervously chuckling to try to overcome her tears.She described "so many red flags that I couldn't prove," the way he would never be "creepy and manipulative and vindictive and took full advantage of the boys and gathered everybody's trust, it's just sick, just sick."
Stern himself sat at the defendant's table or on a chair in front of it, appearing to listen intently to the testimonies, keeping a poker face, his head tilted at a discernibly upward angle, the sort of tilt usually associated more with pride than resignation. Craig, the judge, then called him to the lectern in the middle of the room to hear sentence.
These types of offenses are very serious, they have long-lasting consequences with not just the victims but the victims' families," Craig said, "and circumstances like this and the position you were in creates a betrayal of trust not just for the victims but the victims' families. So I think it's appropriate that these types of offenses have the consequences that they do have in this particular case."
Stern was not asked if he had anything to day, though his lawyer, Chris Carson, had said that he intended to have no witnesses address the court.
One of the few people in the audience was Ryan Maloney, the director of the soccer academy where Stern had worked, and who had fired Stern.