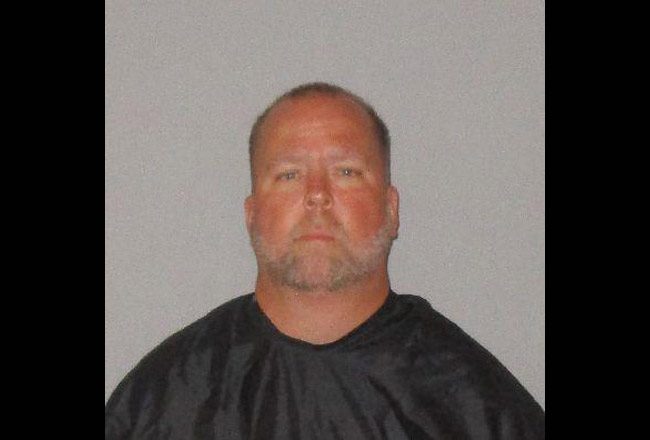 The code words he'd text the 16-year-old girl were: "Want to play"–47-year-old Sean Patrick Farrelly's way of soliciting sex. He wouldn't take no for an answer. "You sure," he'd text. "I'm sure," she'd reply.
The Palm Coast man would then offer cash, usually $30, maxing out at $40, adding alcohol and pot to the mix so, in his texted words, "your primed up." He'd text pictures of himself with cash in his hands.
On Tuesday, Farrelly, who works in construction and excavation with a Palm Coast construction company, was arrested on a charge of statutory rape and charges of unlawful sexual activity with a minor, contributing to the delinquency of a child and pot possession. The statutory rape charge and the unlawful sex with a minor charge are second-degree felonies.
The Flagler County Sheriff's Office was first alerted to allegations of abuse on Feb. 17. A deputy questioned the alleged victim, who reported that Farrelly started making advances a year ago, texting pictures, pictures of himself with wads of cash, propositioning her, then moving on to more aggressive behavior that included walking in on her as she showered or as she slept, or allegedly assaulting her over her clothes in a vehicle.
Sheriff's detective Frank Gamarra and a Child Protection Team investigator met with the alleged victim on Feb. 18, when the girl consented to a search of her phone that revealed numerous text exchanges. The exchanges show Farrelly tracking the girl's locations and telling her to complete certain tasks or be at certain places, and using several coded words to insinuate sex. Detectives and Child Protection Team members again met with the alleged victim on Tuesday for a forensic interview, when she disclosed more details of Farrelly's alleged conduct over time. Those details included allegations of Farrelly grabbing and slapping the girl's butt since she was 15 and bribing her for sex.
"Detective Gamarra stated that there is an overwhelming amount of information and disclosure by the victim during the forensic interview indicating that Farrelly and the victim were engaged in sexual intercourse," his arrest report states, "and other activities." The comments gathered from the forensic interview corroborate with the text messages.
That afternoon, detectives Gamarra and George Hristakopoulos "utilized investigative tactics in order to monitor communications between the victim and Farrelly," according to the arrest report. The report doesn't detail the tactics, but intimate they referred to a controlled, or recorded, phone call with the alleged victim's consent. She spoke with Farrelly of her concern that she could get pregnant despite his use of condoms, to which he said that wasn't true, and that he would reassure her later. When the victim told him, "I promise you, you're the only one," Farrelly changed the subject and told her again he would speak to her later in person. Clearly aware that he could be recorded, he texted later that he did not want to talk about the issue on the phone. When the girl then tells him off in a text, using an expletive and "no more deals" ("deals" was one of Farrelly's code words for sex), he texts back: "I love you everything is fine breathe deep."
Farrelly then called back the alleged victim and asked: "You swear to God you're not recording this conversation?" She tells him she wasn;t. He tells her he didn't want to talk about it and end up in prison, and again talks about his worry about the call being recorded and him getting arrested. Those comments alternated with the girl's worry about being pregnant, having morning sickness, and Farrelly reassuring her he had not gotten her pregnant. When she tells him she no longer wanted to have sex with him, he says, "Ok," but didn;t want to talk about it anymore.
But he had a sense something was up. He asked her to swear he wasn't being set up and if she'd spoken about their relationship to others.
Later that day the two detectives went to a location in Palm Coast's LL Section and found Farrelly in his driveway. He immediately said he did not want to speak with them without a lawyer present. He was placed under arrest. A search allegedly produced a small amount of marijuana. He was taken to the Flagler County jail, where he's being held without bond.
"Our detectives worked quickly but carefully to gather the evidence in this case and get [Farrelly] in jail," Sheriff Rick Staly was quoted as saying in a release his agency issued this morning.
The case is still under investigation, with further ramifications possible.