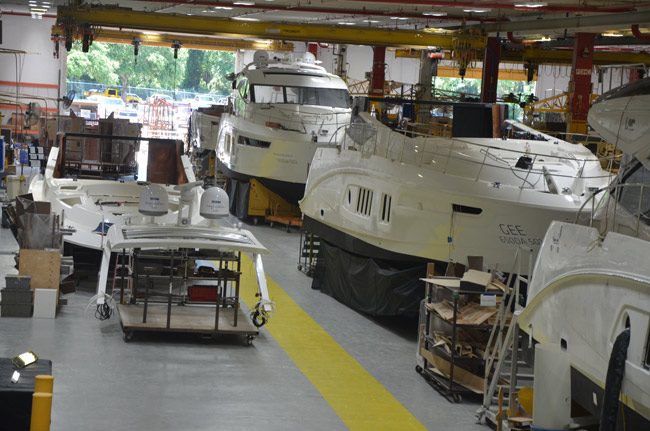 In its latest annual report, Brunswick Corp., owner of Sea Ray Boats, whose manufacturing plant employs upward of 400 people off Colbert Lane in Flagler Beach, had stated: "We believe that our brands, including Mercury, Life Fitness, Sea Ray, Boston Whaler and Lund, significantly contribute to our success, and that maintaining and enhancing these brands is important to expanding our customer base."
Months later, the Lake Forest, Ill.-based company announced it planned to sell Sea Ray–and just Sea Ray—from among the 15 brands that make up the company's boat group. (Meridian Yachts is a division of Sea Ray, so Meridian's plant in Knoxville, Tenn., is also affected.)
There'd been no hint of any issues with the boat division in the company's previous reports other than notes of disappointment in its third quarter results, which it summed up as "Manufacturing inefficiencies, including costs related to the hurricane preparation and recovery efforts." But that wasn't Sea Ray's fault so much as Irma's. Third quarter results had also noted "unfavorable changes in sales mix" in the entire boat division. But the company does not appear to be strapped for cash. It has a debt-equity ratio of 28.3 percent and a market capitalization of nearly $5 billion. Its share price hit an all-time high of $63 in July. It's not far from that now.
In a press release issued on Dec. 5, Mark Schwabero, the company's chairman and chief executive officer, said the decision to sell "was made after careful consideration, and reflects the evolving contribution that the Sea Ray brand has made to our marine portfolio." It was not so much an explanation as a restatement.
But a note in a Securities and Exchange filing the same day was less cryptic and perhaps more worrisome for the future of Sea Ray, as it suggested a darkening outlook for the division. The sale was authorized, the company stated, "as a result of, among other things, a change in strategic direction and a review of the expected future cash flows, market conditions and business trends."
And a presentation to investors the company prepared in conjunction with its announcement included a slide that showed its 10-year trend, going back to 2007, of diminishing sales in some of its manufactured boats portfolio and increasing sales in outboard engines, "propulsion technologies, parts and accessories." The illustrations it chose for its presentation told a story of their own. They featured an engine, a propeller, a fitness gym (the company also has a substantial fitness division), and only the back of a boat, the focus of the illustration being more on a man catching a swordfish than on the boat itself.
The 2016 annual report had also noted another issue that may be contributing to Brunswick's decision: "Hurricanes, floods, earthquakes, storms and catastrophic natural or environmental disasters could disrupt our distribution channel, operations or supply chain and decrease consumer demand," the report noted. "If such an event occurs near our business, manufacturing facilities or key suppliers' facilities, business operations and/or operating systems could be interrupted. We could be uniquely affected by a catastrophic event due to the location of certain of our boat facilities in coastal Florida and the size of the manufacturing operation in Fond du Lac, Wisconsin." Such statements are the routine stuff of annual reports, weighing in more as disclaimers than predictors. Perhaps the disruptions of two hurricanes in two successive years took a toll, as reflected in the report's note about lost manufacturing days locally.
Still, public documents or the company's December release did not explain why Sea Ray was being singled out in a boat group that had net sales of $1.37 billion in 2016 (up from $1.27 billion in 2015) and employed 5,000, up from 4,500 the previous year.
And the additional statement Schwabero was quoted as making in the release only begged the question further regarding the company's motives to sell: "We believe that the Sea Ray business, through its leading brand and exciting product line, offers attractive value creation opportunities to a new owner," he said. "Sea Ray is an iconic brand that is rich with history, with a reputation for craftsmanship, quality and styling. Sea Ray's manufacturing facilities are among the most advanced in the marine industry, with talented and dedicated workforces."
The pending sale has naturally left local officials wondering what comes next. "Depends on who's buying and what their intentions are," said Rick Belhumeur, a Flagler Beach city commissioner. "If they plan to keep the Sea Ray boat brand and not try to change things, I doubt the operations at our Flagler County assembly plant will change." And while the company asserts that little is changing at Sea Ray itself, that certainty is out of its hands once the sale is executed, according to the company's plans, in early 2018.
The company expects to record a loss loss and resulting charge in connection with the sale of these businesses. Brunswick bought Sea Ray–when it was known as Ray Industries–in 1986 for $350 million. Brunswick at the time had ended its last fiscal year with profits of $100 million on sales of $1.54 billion. It ended 2016 with profits of $409 million on sales of $4.49 billion.