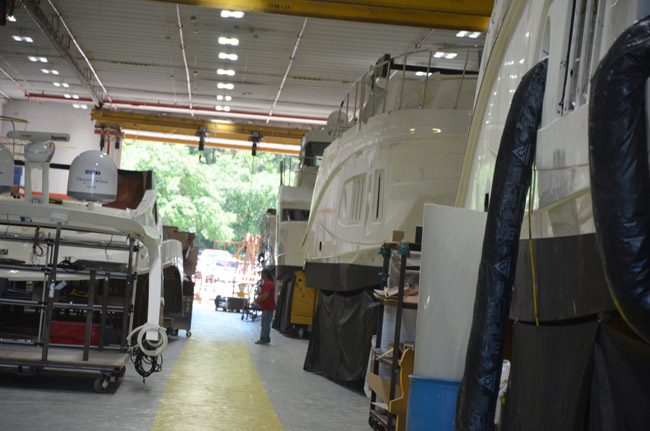 The Brunswick Corporation confirmed today that 94 people were laid off at its Sea Ray-Palm Coast plant, and about 130 more "will be part of a temporary furlough to be conducted during the third quarter," according to a company spokesman. Sea Ray, one of Flagler County's top 10 employers, was employing 560 people before the layoffs, in well-paying manufacturing jobs.
No other Brunswick facility is affected by the reduction.
The company's announcement of layoffs and furloughs at Sea Ray coincided with the release of its second-quarter results on Thursday, which reflected buoyant numbers and a bright outlook.
"These actions were to align our production levels with market demand in the 40'- 49' segment of our business," Dan Kubera, Brunswick's spokesman, said, referring to the size of boats manufactured at Sea Ray's plant off Colbert Lane, "while continuing to maintain our production capabilities in stronger segments of the business."
"No specific boat models are being discontinued or moved to another production facility, production numbers are being eased to align production levels to market demand," Kubera explained. "Furloughed employees will return to work as determined by production schedules. This will likely be later in the third quarter, and we are keeping our employees informed. We are not sharing the dates publicly."
Lake Forest, Ill.-based Brunswick manufactures boats, boat engines, parts and accessories, fitness equipment, billiards and game-room equipment and furniture, the lot under numerous brands, Sea Ray being just one of them. The company struggled through the Great Recession but recovered strongly since, its stock trading at $56.50 per share today after falling to a low of just over $2 a share in 2010. It hit an all-time record of $63 two weeks ago.
The company posted a net sales of $1.35 billion, an 8.8 percent increase compared with the same period a year ago, with operating profits of $119 million, an increase of 4 percent compared with the second quarter in 2016.
Boat sales in particular had even stronger results. The company's combined 15 boat brands had net sales of $412.1 million, a 12 percent increase over a year ago. International sales, which represented 27 percent of total boat sales in the quarter, increased by 11 percent. Boat sales netted the company operating profits of $24.7 million, up from $22.7 million in the second quarter of 2016.
"Our outlook for 2017 continues to be generally consistent with our three-year strategic plan and reflects another year of outstanding earnings growth, with excellent cash flow generation," said Schwabero. "We believe we are well-positioned to generate strong sales and adjusted earnings per share growth in 2017 and beyond.
"We expect our marine businesses' top-line performance will benefit from the continuation of solid growth in the U.S. and international markets and the success of our new products," Brunswick Chairman and Chief Executive Officer Mark Schwabero was quoted as saying in a company release announcing second-quarter results, with predictions of 7 to 8 percent growth in 2017.
At Sea Ray, the company says it will help furloughed employees through the transition and help with placement of laid-off employees. "We take good care of our people and will continue to develop our employees and support those impacted by these adjustments," Kubera said in an email. "For example, we will be conducting an outplacement fair to help these individuals transition to other employment. As for those on furlough, the company is offering a number of measure to help soften the impact upon those individuals."
Though 40 percent of the workforce was affected by the layoffs and furloughs, the company expects the workforce to be back up to 83 percent of its former total once workers return from furlough.
Sea Ray's manufacturing facility on 64 acres along Sea Ray Drive contributed $88,208 in total property taxes last year, the bulk of it to Flagler County government and the school district.