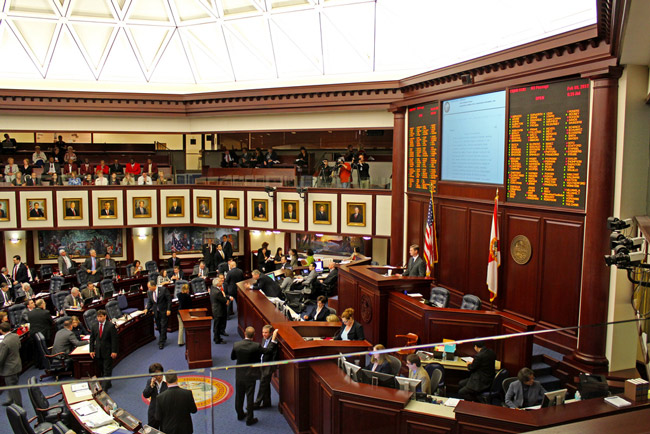 Gov. Rick Scott, who fought House leaders for months over economic incentives and tourism money, used a heavier veto pen on House projects than Senate spending, an analysis shows.
In signing a new $82 billion state budget on Friday, Scott used his line-item veto power to excise $410 million in spending initiatives. He additionally vetoed state funding for the $20 billion public-school budget, but that is expected to be restored in a three-day special session that begins Wednesday.
Based on vetoes that Scott identified in his veto message by either a House bill number or a Senate project number, Scott vetoed 208 individual House member projects, which accounted for nearly half the total vetoes.
The cuts, to 153 Republican projects and 55 Democratic initiatives, totaled $199 million and erased efforts of 81 different House members, just over two-thirds of the membership.
By comparison, the Senate, which has been more supportive of Scott's funding requests for the public-private agencies Enterprise Florida and Visit Florida, saw 44 projects, identified by project number and collectively worth just over $25 million, axed from the spending plan.
The evaluation is not exact because a number of projects were supported by House and Senate members. And other projects were vetoed by Scott but not directly linked to a House or Senate sponsor.
There were at least $17 million in additional vetoes that could be tied to Senate sponsors and another $6.4 million tied to House sponsors, although they were not directly linked in the budget message.
Nonetheless the data shows a definite tendency to eliminate House projects, although Scott on Monday downplayed any suggestion that a revenge motive guided his veto pen.
Scott said that he and his staff go over each line in the spending plan and determine what is "the best way to spend the money."
"It's really tied to, does it build roads? Does it grow jobs? Does it improve the education system? Does it keep people safe?" Scott said.
Pasco County, the home of House Speaker Richard Corcoran, R-Land O' Lakes, appeared to be ground zero for many of the veto decisions, with the county losing at least nine projects, totaling $26.5 million.
Among the Pasco vetoes was a $4 million proposal for St. Leo University's Florida Hospital Wellness Center, which was sponsored by Rep. Danny Burgess, R-Zephyrhills. Corcoran is a 1989 graduate of St. Leo, a private university.
Like a number of other vetoes aimed at private colleges, Scott said he cut the spending because St. Leo had raised tuition by 3 percent, a move that Scott has consistently opposed.
Burgess was also the sponsor of the largest Pasco veto target, a $15 million appropriation for an Interstate 75 interchange project. Scott said he eliminated the money because the project, like other vetoed road projects, had circumvented the state Department of Transportation's process for its five-year work plan.
The vetoes drew the ire of Sen. Wilton Simpson, R-Trilby, another Pasco resident who is slated to lead the Senate after the 2020 elections.
"Member projects aren't about members. They are about the people we serve," Simpson tweeted. "We won't stop fighting for the worthy projects that Floridians need, want and deserve."
Simpson and Burgess were sponsors of a vetoed $4.3 million project at the Thomas Varnadoe Forensic Center in Pasco, where investigators and scientists are creating a so-called "body farm" where they can study decomposing remains. Scott said he vetoed it because the project should be under the Florida Department of Law Enforcement, rather than Pasco officials.
Scott showed some balance in his budget vetoes, eliminating at least a half-dozen projects linked to Senate Appropriations Chairman Jack Latvala, a Clearwater Republican who was a strong supporter of Scott's economic and tourism initiatives and was a critic of Corcoran.
But Latvala, who represents a portion of Pasco County, won approval for some projects that might otherwise have drawn the governor's veto, including $3.1 million to renovate the University of South Florida St. Petersburg's Davis Hall, which was not a project recommended by the state university system's Board of Governors.
–Jim Turner and Lloyd Dunkleberger, News Service of Florida