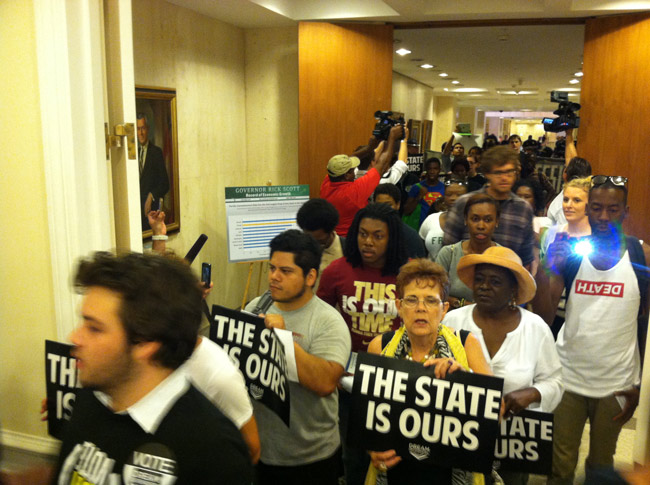 About 40 students sat in Tuesday at the Governor's Office, waiting for Gov. Rick Scott to return from a trip to New York and take up their demand for a special legislative session addressing laws they say unfairly affect minority youth.
As of shortly before 5 p.m., they were leaving Scott's waiting area and making plans to spend the night in the Capitol rotunda.
The students, part of a group called the Dream Defenders, said they're responding to the "not guilty" verdict in the trial of George Zimmerman, who was charged with second-degree murder in the shooting death last year of black teen Trayvon Martin in Seminole County.
They want Florida's controversial "stand your ground" self-defense law changed. They asked for a meeting with Scott, and when told he was unavailable, vowed to wait for his return. They want Scott to call a special session to create a Trayvon Martin Civil Rights Acts and address "stand your ground vigilantism, racial profiling and a war on youth that paints us as criminals and funnels us out of schools and into jails."
Scott's office put out a statement suggesting the governor is unlikely to meet their demands.
"As the governor has said, as a father and a grandfather, his heart goes out to Trayvon Martin's family and all those affected by his death," said Communications Director Melissa Sellers in an email. "We are grateful that people across our great nation have the right to assemble and share their views. … Immediately following Trayvon Martin's death, Gov. Scott called a bi-partisan special task force with 19 citizens to review Florida's Stand Your Ground law. This task force listened to Floridians across the state and heard their viewpoints and expert opinions on this law. The task force recommended that the law should not be overturned, and Gov. Scott agrees."
The governor's task force did not include opponents of the controversial "stand your ground" law, although Senate Minority Leader Chris Smith, D-Ft. Lauderdale, had asked to be appointed. The panel recommended few changes, and the 2013 Legislature refused to hear any bills that would have changed "stand your ground."
"Even the governor's task force filed legislation that wasn't heard," Smith said. "There was a fear of even discussing it. But I think the more and more pressure that's put on Florida to at least have the discussion, I think (it) will happen this year."
The stand-your-ground law drew widespread publicity when Zimmerman was not arrested for 44 days after shooting the 17-year-old Martin. The law says people have a right to meet "force with force" if they reasonably believe such steps are necessary to prevent death or great bodily harm.
While Zimmerman ultimately was arrested and charged with second-degree murder, a six-member jury Saturday found him not guilty.
The students sat in the governor's waiting room from 11 a.m. until shortly before close of business. As Capitol police looked on, they sang and chanted and took turns describing their own encounters with racism.
"So you're telling me — again — that people who look like me, we don't matter," said Shamile Louis, 21, a student at the University of Florida who came from Gainesville to participate. "Our bodies don't matter. We can lie in the street and be dead and it's cool. I had a friend killed about a month ago in Orlando. Still no arrest. Still no nothing. Another black man gone. Another young black boy without a father. And so that's why I'm here today."
Dorothy Inman-Johnson, a retired poverty-agency administrator and former mayor of Tallahassee, said she she'll keep protesting until "stand your ground" is abolished.
"If 'stand your ground' was doing what these legislators said it was supposed to do, the presumption of self-defense should have been Trayvon's, not George Zimmerman's," she said.
There were about 100 protestors when they first marched to Scott's office, but their numbers dwindled as the day wore on. They ate pizza and played cards while waiting. Some said they expect buses to add to their numbers on Wednesday, with groups coming from Miami, Boca Raton, Orlando and Alabama.
–Margie Menzel, News Service of Florida