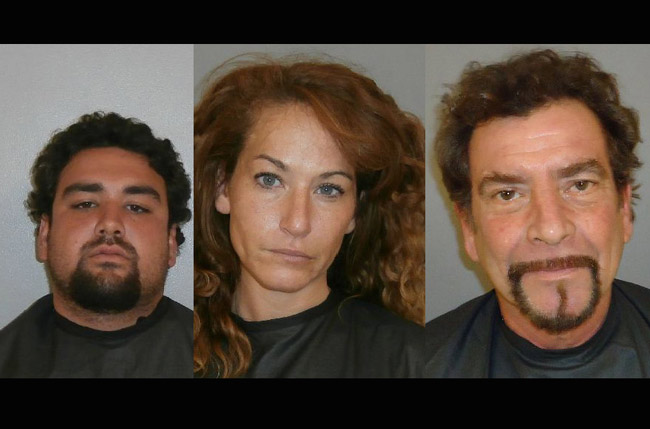 Update: Boyles and Massey were indicted on first-degree murder and kidnapping charges on July 22. The story here.
The evening of June 14, Justin Boyles, Danny Massey and Cheryl Leggett showed up extremely drunk at the home of Robert Frantz and Wendy Crenshaw in Bunnell. Boyles told Frantz of the severe beating of another man that had taken place the previous evening. Edward "Scott" Mullener, Massey and Boyles had gotten into a fight. Mullener was beaten so severely, Boyles told Frantz, that he was "not recognizable."
"Let me enjoy my last meal," Massey joked at one point while at Crenshaw's house, "25 to life." Everyone laughed, Crenshaw thinking nothing of it at the time, as she would later tell police.
Massey may come to rue his joke for its veracity, or understatement: he and Boyles are in jail on first-degree murder charges in the torture, killing and incineration of Scott Mullener. They may face the death penalty if convicted.
By the time Massey uttered the joke, the charred remains of Scott's body were found in the trunk of his still-burning 1983 Cadillac Fleetwood along a logging road in isolated Flagler Estates, on the St. Johns County side of the line. The St. Johns County Sheriff's deputy who opened the burning trunk of the car "noticed what appeared to be teeth and several bones, including what appeared to be 'hip bones,'" a police report notes. The Cadillac was not properly registered. But authorities traced it to Mullener, 54, who lived with his father on Hernandez Avenue in Palm Coast and had a close relationship with his family. Mullener's family had last heard from him on June 13.
The story of that day, Mullener's last, reconstructed through a St. Johns County Sheriff's investigation, traces the motive of the alleged murder to a love triangle between Antoinette Heart, 35, Mullener and Boyles, all of them residents of the Hammock in Palm Coast. It describes Mullener's harrowing end when, after Heart and Mullener had argued, Heart summoned Boyles to her house because Mullener wouldn't leave, and Boyles and Massey proceeded to beat, cut and burn Mullener before driving him away with a towel wrapped around his head.
The following reconstruction is based on Massey's and Boyles's arrest reports. All the claims in the report are allegations and observations by witnesses and police drawn from interviews and other investigative means.
At about 7 p.m. on June 13, a Thursday, Heart had visited Mullener and the two had argued. Heart walked away to return home. Mullener yelled out for her to stop then pursued her in his Cadillac, offering to give her a ride. Heart lives less than half a mile north of Mullener's house, at 19 Sanchez Ave., just past 18th Road in the Hammock.
Heart didn't want to see Mullener. She began calling Boyles by phone to come over because Mullener would not leave. He kept banging on her door. Her phone would log calls to Boyles at 7:39, 7:40 and 7:41 p.m. Boyles showed up a few minutes after that last call. His house, at 6 Holly Road, is also half a mile away from Heart's, around the corner from the Prudential Warren offices.
Mullener was outside Heart's house when Boyles, 24, arrived. A fight began between the two men, but Heart didn't see it. She just noticed that Mullener was no longer banging on her door. But when she looked outside, she saw Mullener lying on the ground, semi-conscious, beaten up "pretty bad," in her words, with blood all over his face and Boyles standing over him. Heart told police she became scared for Mullener. Boyles left for a few minutes, then returned with Charles "Danny" Massey, his 38-year-old roommate, and Cheryl Leggett, Massey's girlfriend (whom Boyles calls "Mom," though there is no blood relation between them). When Leggett arrived, she saw Heart on the ground, cradling Mullener, who was bleeding profusely. Heart, Leggett said, was freaking out. The women were told to go in the house. At one point Heart ran out of the house and the men ordered Leggett and her to get back inside or they would be next.
Heart tried to leave but the men didn't let her. But they told both women to go fetch beer at the convenience store on nearby State Road A1A, which the women did: they bought a 12-pack of Bud Light and two margarita drinks. (Video surveillance corroborated the claim, at 8:23 p.m. that evening). They returned to the scene of the beating shortly.
Heart told police that Massey then took a beer bottle and was going to cut Mullener with it as he said he was "going to end this." She tried to stop him, and described Boyles then burning a cigarette into Mullener's neck, causing him to cry out in pain. "Stop fucking burning him, stop, no," Heart says she yelled out, to no avail. Boyles got angry that Heart was defending Mullener. He ordered her to kick Mullener. She refused. Massey and Boyles then threatened her that she'd be next if she talked about any of it as she heard the two men talking about killing Mullener.
She saw Massey ushering Mullener to the Cadillac, with a towel over Mullener's head, and drive off in the car. Boyles followed behind in his Jeep. That was the last time Heart saw Mullener alive, though she did not see him upright in the Cadillac. It was about two hours from the time Mullener initially showed up to the time when Massey and Boyles drove away with Mullener. The beating had taken place in the yard of the house.
In Leggett's description of the events to police, she said she saw Mullener leaning against the outside porch and Boyles pouring beer into Mullener's mouth as Mullener was apologizing to Boyles. "Why did you have to come over here and fuck with Antoinette?" Boyles told him. "I told you to leave her alone." Leggett said that was the last time she saw or heard Mullener.
Stephanie Johnson-Soraci told police that she'd driven over to 6 Holly Road around 8:30 a.m. on June 14, finding Boyles and Massey sleeping on couches in the living room. Heart and Leggett were also at the house. Heart and Leggett borrowed Johnson-Soraci's car and made two trips to the scene of the beating, collecting bloodied items and returning to 6 Holly Road, where they promptly unloaded the items directly into a fire pit in the back yard and burning them. Heart told police that she burned her roommate's cell phone the next day because she didn't want anyone to know that she'd called Boyles the night of the beating. She also admitted to police that she'd burned leaves and towels from the yard at 19 Sanchez.
In their statements to police, Boyles and Massey described accounts that didn't have them at the Sanchez Avenue house the evening of the assault, but police, through video surveillance and other means, found those accounts to be false. When interviewed by police on June 18, Massey had injuries on his hands. By then police had obtained a search warrant for the Holly Road house, where "firearms, suspected blood evidence and multiple items that had been burned in a pit in the backyard" were found, according to a police report. "Some of these items were still identifiable and included what appeared to be steel toe boots, cloth items, metal frame of a lawn chair, a speaker and various melted plastic items burnt beyond recognition."
Johnson-Soraci told police that she saw Leggett cleaning what appeared to be blood from the backseat of the vehicle. The vehicle was subsequently processed by evidence technicians at the St. Johns County Sheriff's Office. A stain tested presumptively positive for blood. A visible blood stain was also located on the cloth part of the rear seat belt. Boyles' Jeep was also processed and found to have traces of blood. DNA testing is still ongoing.
The police search at 19 Sanchez Avenue found "a significant amount of blood in the yard near the side entrance and inside the doorway which leads to [Heart]'s room," the report states. "It should be noted the volume of apparent blood and the size of the area affected suggests significant violence occurred consistent with [Heart] and [Leggett]'s statements detailing the victim being beaten in the yard."
When Boyles, Massey and Leggett went to Robert Frantz's and Wendy Crenshaw's house in Bunnell, Crenshaw thought they'd been evicted and needed a place to stay. She then learned from Frantz that Massey and Boyles needed a place to "lay low" because they had gotten into a fight with Mullener. In her statement to police, Crenshaw said Leggett had told her it was "it was her job to hold Antoinette back during the fight while Justin and Danny beat Scott."
Boyles is at the Flagler County jail, where he's been booked several times going back to 2008 on various assault and drug charges. Massey is at the St. Johns County jail. He's also been booked at the Flagler hail several times, on probation violation, battery, domestic violence, possession of a firearm by a convicted felon and a controlled substance possession charge.
Should the case proceed to trial, that trial would be held in St. Johns County, where the body was found.