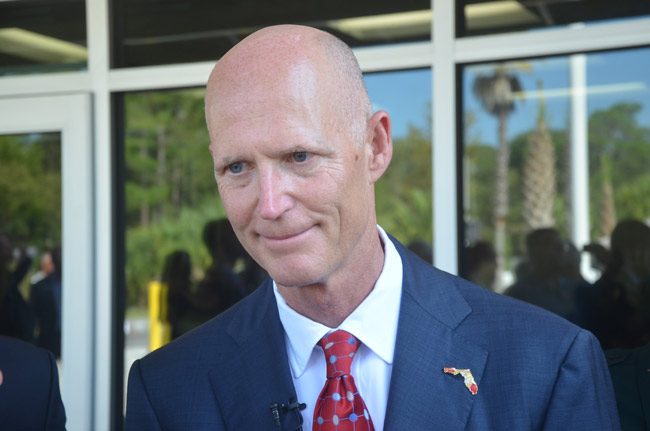 Gov. Rick Scott will embark this weekend on a trade mission to Israel that he instantly made political on Wednesday by calling for the U.S. Embassy to be relocated to Jerusalem.
In announcing the trip, Scott echoed a campaign pledge by President Donald Trump to move the embassy from Tel Aviv, though Trump has backed away from the pledge for now.
"As we prepare for this important trade mission, it is clear that our entire nation must also continue to strengthen this partnership with Israel," Scott, who is widely expected to run for U.S. Senate next year, said in a prepared statement. "I strongly believe that the U.S. Embassy belongs in Jerusalem, and I am hopeful that a decision will be made to finally move the embassy to the its rightful destination in Israel's capital city."
With a nod to ongoing peace talks, Trump signed a waiver in June that expires Friday to delay any relocation. Vice President Mike Pence announced Tuesday — while attending an event in New York marking the 70th anniversary of the United Nations call for the establishment of a Jewish state — that Trump continues to "actively" explore his campaign pledge to relocate the embassy.
Israel claims all of the historic city. However, the relocation is opposed by the Palestinian Authority, which views East Jerusalem as its future capital. The issue is particularly inflaming to Palestinians, who would see a move of the embassy as a provocation and a signal that the United States would then no longer be pursuing a two-state solution, as has been the stated policy of presidents since Jimmy Carter.
The trip to Israel will be the second as governor for Scott.
"Working with international partners like Israel is critical to strengthening Florida as a global destination for trade and to ensuring that our economy will continue to grow for years to come," Scott said.
Scott previously went to Israel in 2011, one of 14 economic trips outside the U.S. Scott has taken in his role of governor. Most occurred during his first term. Among the countries he has visited, some on multiple occasions, are Argentina, Brazil, Colombia, Chile, Japan, England, France and Spain.
The governor's office said an outgrowth of a 2011 trip to Israel was an agreement between Space Florida and Israel regarding aerospace and technology projects.
The upcoming trade mission will include meetings with business owners, a recognition that Israeli airline El Al recently launched direct flights from Miami to Tel Aviv, and the signing of agreements between universities supporting joint research, according to a release from the governor's office Wednesday.
Scott's delegation for the trip is expected to include about 70 people, though the release from the governor's office did not identify them. It also didn't provide details about who they will visit, where they go and how long they will be in Israel.
–News Service of Florida and FlaglerLive