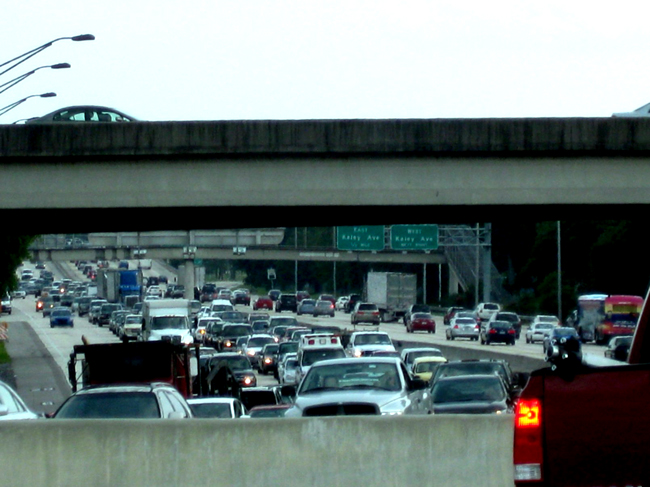 The money was already in Florida's pocket. But in an eight-minute announcement rich in partisan broadsides and explicit attacks on the Obama administration, Gov. Rick Scott this morning rejected the $2.4 billion in federal stimulus money that Florida won last year for the construction of a high-speed rail link between Orlando, Lakeland and Tampa.
The project was to have created between 12,000 and 14,000 jobs in central Florida. Some 1 million Floridians–close to 12 percent of the state's labor force–are unemployed.
Scott also put in question the future of SunRail, the commuter rail line that was to tie into the high-speed rail project, and link DeBary in Volusia County to Orlando in a 61-mile, 12-station stretch. When a reporter asked Scott if that project was still going ahead, Scott curtly replied: "Sunrail is something I'm still reviewing." He did not go into details, but the answer suggests that even that project, which the Florida Legislature approved in a special session after several years of tortuous debates and negotiations, is in jeopardy.
Scott didn't address the Jacksonville-St. Augustine-Miami passenger rail link that Flagler County officials, in Bunnell especially, have seized on as a potential economic boon. But Scott's by rejecting federal aid outright, and putting in question state backing for SunRail, it is extremely unlikely that Scott would support continuing the passenger-rail project on the old Florida East Coast rail line (on which passenger service ended in 1968).
"This project will be far too costly to taxpayers, and I believe the costs far outweigh the benefits," Scott said of the high-speed rail link. Without specifying how, the governor said cost overruns would put Florida taxpayers "on the hook for $3 billion," while ridership "would likely result in ongoing subsidies" by the state–which is true, but no rail system in the United States or Europe operates without subsidies, nor does any highway system, which is entirely subsidized by taxpayers (as opposed to rail systems, which are only partly subsidized). The basis of Scott's opposition is a flawed study by the Reason Foundation, prepared for his campaign, that projected possible overruns in the future. Those findings were based on two Europeans' analysis focusing particularly on three European megaprojects in England, Denmark and Sweden, although those projects, the labor laws, time frames, tax subsidies, northern-latitude weather extremes and other factors, have little to nothing in common with high-speed rail in Florida.
Calling high-speed rail a "spending boondoggle" and going as far as questioning the intelligence of the project, Scott's hastily called news conference this morning was focused less on economics than ideology. In an unusually partisan tone even for a governor of a party opposite the president's, Scott cited Obama by name several times to lace his objections not only to high-speed rail, but to the tenor of federal policy in general. He attacked the president's budget, unveiled this week, for its deficits. "President Obama's high-speed rail program is not the answer to Florida's high unemployment. We must make investments where we get a return for shareholders, Florida's taxpayers." He said the state should focus on improving its seaports and highways.
In a joint appearance with then-Gov. Charlie Crist in Tampa last year, Obama promoted $8 billion in rail grants to several states as a means of producing tens of thousands of jobs in what was to be the nation's largest infrastructure investment since the Eisenhower administration's embrace of the interstate system in the 1950s. Just last week, the administration announced a six-year, $53 billion plan –including $8 billion for next year–to boost high-speed rail.
University of Central Florida economist Sean Snaith said at the time of the Obama-Crist announcement that the Orlando-Tampa corridor "is poised to become the breadbasket for the state and this only catalyzes and reinforces that."
All but a fraction of the Tampa-Orlando link was to be paid for with federal dollars already allocated to Florida. Critics of the plan, including Scott, had cited Florida's portion of around $200 million as a reason to oppose the plan. But Obama's additional spending in the next six years was likely to defray even those additional costs. Florida's share of stimulus dollars for the rail project was less than $2 billion originally. It rose considerably when Wisconsin rejected its portion of high-speed money. New York, on the other hand, said it would cash in on any state that rejects its portion.
Shortly after Scott's news conference, White House Press Secretary Jay Carney said Obama was prepared to redirect the money to other willing investors in high-speed rail.
"We think that is an unfortunate decision," Carney said of Scott. "This goes right to the essence of what we have been talking about here. There has been a lot of bipartisan support for the need to create the kind of modern infrastructure in this country that will enable us to compete. High speed rail is very much a part of that and we will make sure that that money is used elsewhere to advance the infrastructure and innovation agenda that is essential for economic growth.
"We believe that the money that is allocated for high-speed rail as part of the Recovery Act is essential to the infrastructure agenda that this president has," Carney said later. "Again, it is part of the president's priority and it is essential to us to build an infrastructure that allows us to compete in the 21st Century."