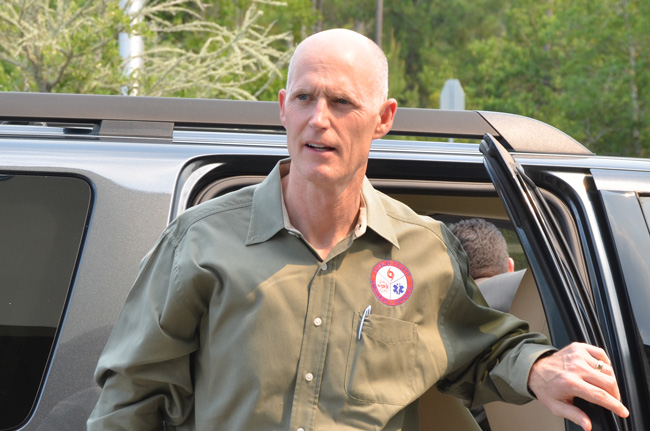 Gov. Rick Scott will be making his sixth trip to Flagler County in three years when he makes a brief campaign stop at Grace's Place at 9 a.m. on Sept. 9, Dave Sullivan, chairman of the local Republican Executive Committee, said this morning.
Scott was last in Flagler 13 months ago, when he attended the groundbreaking at the Flagler County Airport of Aveo Engineering,
The campaign stop is part of Scott's recently announced tour to herald  a pledge to cut $1 billion in taxes over the next two years, such as the communications-services tax on on cable and phone customers (which brought in $2.6 million to Palm Coast's general revenue in 2013), and the phased elimination of the tax on corporate profits. When Scott's office made the announcement last week, it did not include an analysis of how the tax cuts would affect local governments' revenue. 
Grace's Place, on Palm Coast Parkway, formerly the location of Strathmore Deli, was featured in June on the Food Network's Restaurant Impossible show, when restaurant owners Grace and Ed Tutak revealed their struggles to keep the place afloat, down to a $320,000 debt. "Sales at Grace's Place have remained steady since the show, and Grace says that 'the customers love the new decor,'" the show's blog notes.
Scott's visit, in one of the most closely watched political campaigns of the year in the nation, will bring yet more attention to the restaurant.