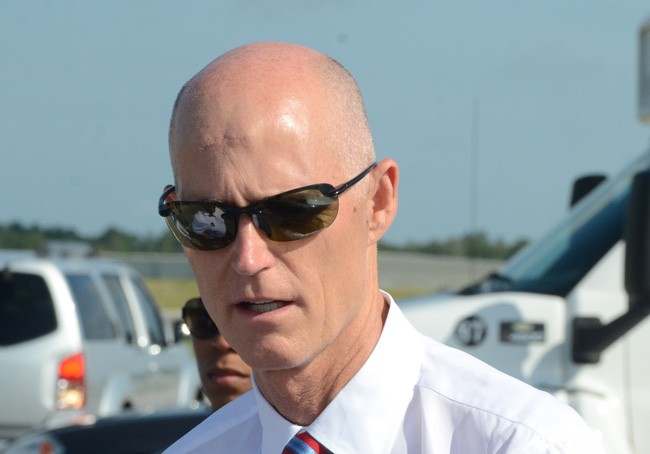 Gov. Rick Scott's office continued pushing back Monday against claims his staff forced longtime Florida Department of Law Enforcement Commissioner Gerald Bailey to resign immediately in December.
The latest salvo from the governor's office followed critical remarks last week from Attorney General Pam Bondi about the way Bailey quickly left the commissioner's job. Bondi said she thought Scott's staff acted without the governor's knowledge in its handling of the situation.
In an email Monday to reporters, Scott's office said the governor didn't instruct anyone on staff to remove Bailey immediately. "Gerald Bailey was asked to work out his transition with his successor," the email said.
The email, which was in the form of frequently asked questions, also gave a simple "no" to the following question: "Does Gov. Scott agree that his staff decided to force Gerald Bailey to resign immediately without the governor's direct knowledge?"
While saying she hadn't discussed the matter with the governor, Bondi said last week she thought Scott's staff was responsible for Bailey's quick exit from the commissioner's job Dec. 16.
"Did I know that Jerry Bailey was going to be told he was fired and have his things packed up, his entire life as a career law enforcement officer in a cardboard box, and be told to be out of the office before the end of the day? Absolutely not. Nor do I believe the governor knew it," Bondi told reporters and editors gathered Wednesday at the Capitol for the annual Associated Press Legislative Planning Session.
Later, she added: "I do not think that Rick Scott would do that. I think it was done at the staff level. I firmly believe it was done at the staff level."
The ouster of Bailey has become a major controversy for Scott, who contended last month that commissioner resigned from the post. Bailey, who has only publicly commented to the Miami Herald/Tampa Bay Times Tallahassee bureau, has said, "I did not voluntarily do anything."
Scott's office has repeatedly emailed "FAQs" — frequently asked questions — to reporters to try to combat allegations that the administration mishandled the Bailey situation.
In part, the office has said Pete Antonacci, then Scott's general counsel, advised Bailey on Dec. 16 that the governor wanted new leadership at FDLE and requested the resignation.
State laws require Scott and the Cabinet — Bondi, Agriculture Commissioner Adam Putnam and Chief Financial Officer Jeff Atwater — to agree on hiring and firing the leader of the FDLE.
Putnam and Atwater have said they were advised in December by Scott's staff that the governor was interested in making a change at FDLE, but expected the change to come up at a January meeting.
Scott and the Cabinet will discuss some rudimentary new steps for hiring and reviewing agency heads during a meeting Thursday in Tampa.
Scott is also calling for the Cabinet to begin the process of possibly removing at least three agency heads: Insurance Commissioner Kevin McCarty, Office of Financial Regulation Commissioner Drew Breakspear and Department of Revenue executive director Marshall Stranburg.
Putnam and Atwater have maintained that they will not discuss additional leadership changes until the hiring process is revamped.
–Jim Turner, News Service of Florida