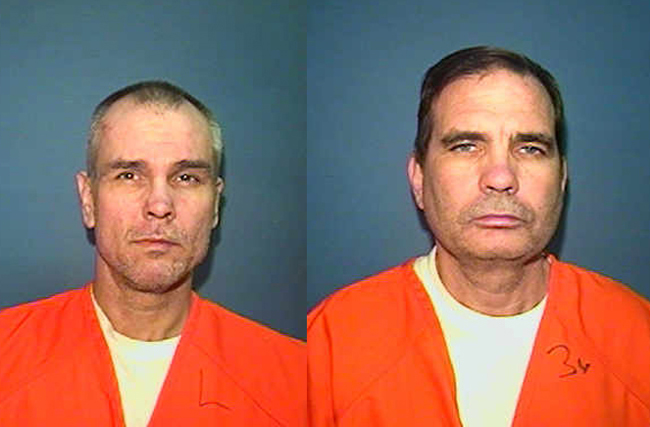 Gov. Rick Scott is not waiting to sign a bill that would accelerate the pace of capital-punishment executions in Florida. Since that bill was making its way to his desk, he has signed the death warrants of three death row inmates, including one last week and one Monday. The three executions will take place in a span of 26 days starting on May 29. That's the fastest-paced series of executions since four inmates were killed in March 1998, when Lawton Chiles was governor.
on Monday, Scott signed the death warrant for Marshall Gore, who, absent a stay of execution, will be killed by lethal injection at the Florida state prison at Starke, where all executions are carried out, on June 24. All executions take place at 6 p.m. On May 3, Scott signed the death warrant for William van Poyck. That execution is set for June 12. On April 18, he signed the death warrant for Elmer Carroll who is scheduled to be killed on May 28.
The three scheduled executions bring to nine the total number of death warrants Scott has signed since becoming governor in January 2011. Two inmates were killed in 2011, three in 2012. Larry Eugene Mann was the first inmate to be executed this year, on April 10.
In late April, the Legislature passed a bill that would significantly scale back the appeals process for individuals sentenced to death, even though the Florida Supreme Court is releasing a report in September on revising rules that may move death penalty cases more quickly through the system, and even though Florida has the highest rate of exonerations, off of its death row, of any state in the Union. Since 1976, when the state restored the death penalty, 24 death row inmates have been exonerated as the process—through additional trials, DNA evidence and other procedures proponents of fast-tracking the process call "delays"–revealed their convictions to have been faulty.
Eight of those exonerated inmates were locked up for more than 10 years before they were exonerated. Those, as tabulated by the Death Penalty Information Center, included James Richardson (21 years), Juan Melendez (18), Rudolph Holton (16), Frank Lee Smith (14), Freddie Pitts (12), Wilbur Lee (12), Joseph Brown (13), and Seth Penalver (13). Florida has exonerated one inmate for every three executions it has carried out.
It isn't clear why Scott has not signed the so-called "Timely Justice Act" yet. It is possible that the governor is building a case against signing it—by himself accelerating the pace of death warrants he is signing.
Gore, who is three months short of 50, was sentenced to die on April 3, 1990, for the murder of Susan Roark, who picked up Marshall at a Cleveland, Tenn., convenience store on January 1, 1988, where Gore was waiting for a ride to travel to Florida. Roark and Gore traveled to Florida together, in Roark's Ford Mustang, instead. In a narrative prepared by the Commission on Capital Cases, Lisa Ingram testified that she was riding in a car with Gore on in mid-February, 1988, when she saw a woman's purse in the back seat.  According to Ingram, Gore told her that the purse belonged to "a girl that he had killed last night."
By then Gore had arrived in Tampa, driving Roark's car. With a friend, he pawned Roark's belongings, then drove on to Miami, abandoning the car after it was involved in a two-car crash. He was convicted of first-degree murder, kidnapping and armed robbery.
William E. Van Poyck, 58, was an ex-con (for armed robbery, among other things), when in 1987, he and fellow-ex-con Frank Valdez attempted to free another inmate who was being taken to a dermatologist's office for skin cancer treatment. The two ex-cons ambushed the van that was transporting the inmate. Valdez shot and killed officer and Vietnam veteran Fred Griffis, of Glades Correctional Institution. Van Poyck, in an attempt to free the prisoner, shot several times at a metal lock. One of the bullets ricocheted and struck another guard, wounding him. Though van Poyck has continuously argued that he was not responsible for the fatal shots that killed Griffis, he was found guilty of first-degree murder on Nov. 15, 1988, with a non-unanimous jury recommending the death penalty (on an 11-1 vote) three days later.
Since his conviction van Poyck has become a writer, self-publishing three books and maintaining a blog, through letters his sister then transcribes onto the web (inmates do not have access to the Internet), called Death Row Diary.
"Today Governor Scott signed my death warrant and my execution date has been scheduled for June 12th, at 6 p.m.," he wrote on May 3, an entry posted on May 11. "I wasn't really surprised when they showed up at me cell door with the chains and shackles; for the last month or so I've had a strong premonition that my warrant was about to be signed, but that wasn't something I wanted to share with you.
"Sis, you know I'm a straight shooter, I'm not into sugar coating things, so I don't want you to have any illusions about this. I do not expect any delays or stays. This is it. In 40 days these folks will take me into the room next door and kill me."
He adds: "After 40+ years of living in cages I am ready to leave this dead end existence and move on. I leave with many regrets over the people I have hurt, and those I've disappointed, and over a life squandered away. My spirit will fly away hugging all the life lessons learned over 58 years on Schoolhouse Earth and with an implacable determination not to repeat these mistakes the next time around."
Van Poyck had been represented by Gerald Bettman, an attorney who said he'd represented him as a favor and had not expected to take him through the maze of last-minute appeals. Bettman appealed to a circuit court judge to appoint a different lawyer and was rebuffed. The Florida Supreme Court did the same last week.
"If this court were to allow the last-minute substitution of counsel to create a situation in which the entire case could be re-litigated at the time the death warrant was signed," the Supreme Court wrote in a similar appeal in February, "this could become a standard delay tactic in any death warrant case."
Scott's detailed views on the death penalty are not known, though he addressed the matter when he signed his first death warrant, for Manuel Valle, in 2011. "For me, it's very rough. I've never done anything like that," Scott, a Methodist—a denomination that opposes the death penalty—told the Tampa Bay Times at the time. "It's not what I ran on, and I only learned about it during the race." Scott would not address a question about the effectiveness of the death penalty as a deterrent, saying he is not a criminologist.
He added: "While I don't like this part of the job, it's part of the job of governor. I agreed to uphold the law of the land. It's not something that I like doing, but it's the law of the land."