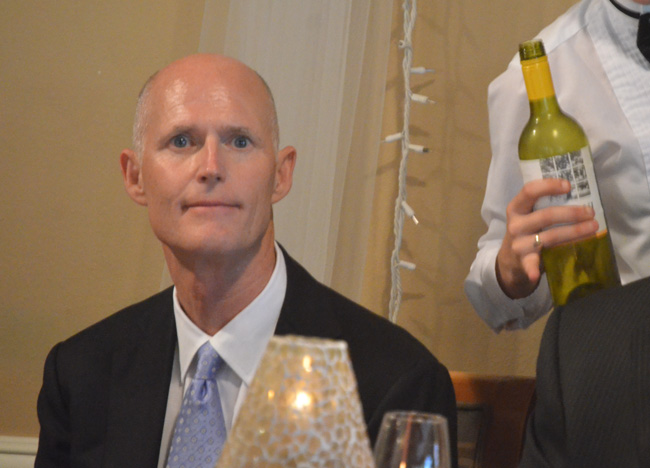 By Adam Weinstein
I'm tired of false moral equivalencies. For a year or more, I've heard pundits and cynics flaunt the conventional wisdom about this governor's race: Both candidates are awful.
It's hard not to feel that way, after tens of millions of dollars in shade-throwing, half-truthing ads and stunts. Calling both guys in the race equally terrible is a fashionable way to signal your disappointment in the whole process, your wish that things would be different. It's understandable.
But it's wrong. These candidates are not remotely equally bad. You can't be reasonable and think that any politician is nearly as toxic, deceitful, callous, inept, and flat-out godawful for Florida as Rick Scott.
Maybe you don't understand or care how, two decades ago, Rick Scott's health-care giant defrauded taxpayers and bullied doctors on a scale that would have made Bernie Madoff gasp, and that either Scott encouraged the schemes or was the most incompetently oblivious captain in the history of captaining. That's fine. It was a long time ago.
But one of the benefits of the Crist-versus-Scott campaign is that we've seen both these guys in action. Or rather, we've seen Crist manage a major state, and we've seen Scott develop a reverse-Midas touch: Everything he contacts turns to a hypocritical sludge.

Rick Scott has said he's for women, but he had no qualms about slashing $1.5 million in funding to crisis counseling centers for statewide rape victims … during Sexual Assault Awareness Month.
He said he's against deficits and government excess — that's why he's refused federal money to create jobs on an I-4 high-speed rail project or to expand health-care coverage for the state's working-class poor — and yet he'scourting contracts for the still-grounded F-35 fighter jet, a $1.45 trillion mistake that even the Pentagon acknowledges as a boondoggle.
He's for private-sector solutions to America's health-care crisis — except when it comes to state health insurance for him and his family, obtained at a lower cost than most of his secretaries pay.
He's for keeping us safe from infectious outbreaks like Ebola — yet he pressed for the early shutdown of Florida's only tuberculosis-specializing hospital in 2012, amid the worst outbreak of the disease in Jacksonville and Miami in two decades.
---
An incumbent who's "done more harm than any modern governor" is being falsely equated to one with a more reasonable record..
---
He's for everybody voting — just not as easily as they did before he became governor.
He's for affordable education, but not really if you're a liberal arts major.
He has helped deregulate prisons, every form of insurance known to humanity, disabled care, barbers' licensing,septic tanks, gunfights, grade schools, universities, and countless safeguards of Florida's beautiful land, among other things. Most of these efforts have cost Florida taxpayers more money and headaches than they expended before Scott's wrecking-ball ways.
Here's how the Tampa Bay Times put it half a year ago: "Scott has done more harm than any modern governor, from voting rights to privacy rights, public schools to higher education, environmental protection to health care."
The Times is too kind; that sort of makes Scott sound cruelly effective. He is not. Rick Scott is not actually convincing or competent at anything. Except perhaps making Floridians more burned-out and selfish.
Yes, Charlie Crist seems like a waffler whose warmth is a little off-putting, considering how many political rebirths he's gone through. Perhaps you think he lacks character or integrity. I surely have my doubts. Reasonable people can disagree there.
But he's no Rick Scott. And that's a good thing.​

Adam Weinstein is a senior writer for Gawker specializing in politics, military affairs, and cultural criticism. A former editor for Mother Jones and the Wall Street Journal, he has written for Newsweek, the New York Times, and GQ. A Navy veteran, he worked for Multi-National Corps Iraq under Gen. Ray Odierno in Baghdad from 2008 to 2009.