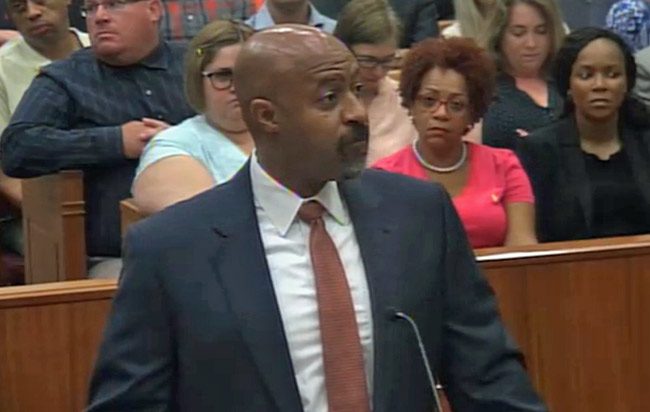 Florida Supreme Court justices appeared highly skeptical of a Central Florida state attorney's assertion that prosecutors have absolute discretion in death-penalty cases during arguments Wednesday in a legal dispute between the prosecutor and Gov. Rick Scott.
Almost immediately after arguments began Wednesday morning, even the court's more liberal justices started grilling a lawyer representing Aramis Ayala, the 9th Judicial Circuit state attorney stripped of two dozen cases by Scott soon after she declared her office would not seek capital punishment for defendants charged with capital crimes.
In her lawsuit against Scott, Ayala — the state's first black elected state attorney — accused the governor of usurping the Orange-Osceola prosecutor's authority by removing her from the cases, including a high-profile case involving accused cop-killer Markeith Loyd. Scott reassigned the cases to Ocala-area State Attorney Brad King, a veteran prosecutor and outspoken defender of the death penalty who is also a defendant in Ayala's lawsuit.
Ayala's lawyers maintain that prosecutors have broad discretion in sentencing decisions, including whether to seek death.
But Justice R. Fred Lewis, who consistently sides with the liberal-leaning majority in high court opinions, hammered Roy Austin, a lawyer representing Ayala, over how much discretion Ayala and other state attorneys have.
Lewis, and other justices, repeatedly referred to Ayala's own words during a March press conference that led to Scott's reassignment of the cases.
At the time, Ayala — who defeated incumbent Democrat Jeff Ashton in an August primary — said she based her decision on research showing that the death penalty is not a deterrent to crime, is discriminatory, is costly, leaves the families of victims in limbo for too long and is imposed on innocent people too often.
"To my mind, discretion is when you make a decision on a case-by-case basis," Lewis said. "But this was just the uniform — or am I mistaken — was there not a statement that, 'I am not going to follow Florida law,' essentially?"
But Austin, a Washington, D.C., lawyer, argued that "there's nothing in the law that says discretion has to be on a case-by-case basis."
That didn't satisfy Lewis, who said the case wasn't about whether Ayala had discretion.
"This is about following Florida law," the justice said.
Chief Justice Jorge Labarga, another justice who often sides with the more-liberal majority, also put Austin on the spot, asking whether Ayala's decision not to seek the death penalty could essentially create constitutionally significant disparities between circuits.
"You are going to have a situation where, in the state of Florida, you are going to have one circuit with the death penalty and another without it, all over the place. How is that proper? Why do we need the Legislature, if we have that?" Labarga asked.
Throughout Wednesday's arguments, and afterwards, Austin maintained that nothing in Florida law required Ayala to seek the death penalty as a punishment in capital crimes.
He also disputed harsh questioning by some of the court's more conservative members, including Justices Charles Canady and Alan Lawson, who asked whether Ayala's position could allow prosecutors to refuse to charge drug dealers with crimes if the state attorneys disagreed with the Legislature's views on drug policy.
In her petition, Ayala's lawyers asserted that she was "not categorically refusing to apply the death penalty" regardless of the circumstances. But the state's lawyers questioned whether, given her comments, "the governor reasonably could have believed that Ayala was not open to applying the state's existing death penalty statute to the 23 currently pending capital cases at issue here."
The "practical effect" of Ayala's policy decision "is to effectively nullify state law providing for the death penalty in the Ninth Judicial Circuit," the lawyers argued, an issue a number of justices raised during Wednesday's arguments, using similar language.
But Austin said Ayala never intended to stop prosecuting capital crimes; her only dispute was with what sentence defendants charged with capital murder should face — life behind bars or death.
Florida Solicitor General Amit Agarwal, representing Scott, said that no one — including Ayala — has the right to ignore Florida law.
"No one individual, in our society, has the right to say 'I've taken a hard look at this. I've considered all of the available evidence. I've figured out this issue, and I am going to make a policy judgment that is blanket, across the board.' That has the practical effect of effectively nullifying it," Agarwal said.
Despite the harsh questioning, Ayala remained upbeat when facing reporters on the steps of the Supreme Court after the hearing.
"I have violated no laws. There were no Florida statutes that I was required to seek the death penalty. There was no blueprint for me to follow. I did what I believed was proper under Florida law, and no laws have been violated," she said.
–Dara Kam, News Service of Florida