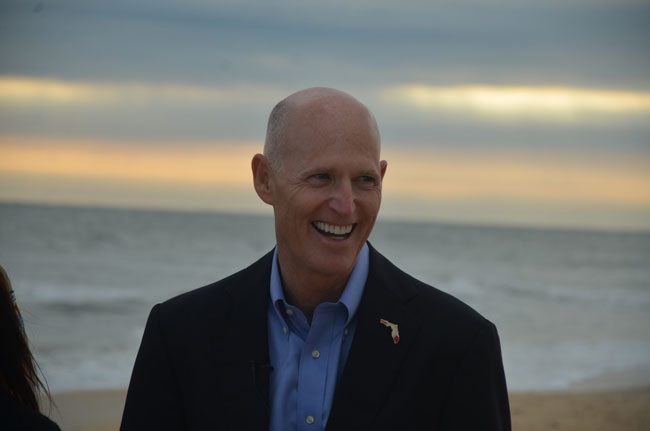 When Gov. Rick Scott unveils his proposed state budget to a room full of reporters and editors Tuesday morning in Tallahassee, the plan likely will include few new blockbuster programs. What will be more interesting to budget observers is how Scott manages to fit everything he wants into the budget.
As has been a tradition among governors for years, Scott has spent weeks dribbling out the most politically popular elements of his recommended spending plan for the year that begins July 1.
Scott has already pitched $618 million in tax cuts, increased salaries for prison guards, raises for law-enforcement officers and an expansion of the popular Bright Futures scholarship program. At most, he might have held back one significant spending item for the big reveal.
But his plans have run into a wall when it comes to math: Scott has asked for about $800 million in new spending and tax cuts. And while getting a fix on the state surplus in the arcane world of Florida budgeting is always slippery, the difference between expected revenues and projected spending is likely less than $200 million.
That differs sharply from Scott's own estimate of extra money that the Legislature has at its disposal: $2.8 billion, as he told reporters during a press conference in Jacksonville last week to unveil his tax plan.
"We have plenty of revenues. … So we've got to spend our dollars well," he said.
Scott's ideas cut against some of the state's budgeting conventions, though he would hardly be the first governor to use creative math to make his proposed budget balance. While Scott's $2.8 billion estimate is technically correct, it makes some unlikely assumptions about how lawmakers will act when they return to the Capitol for the legislative session that begins March 7.
For example, the $2.8 billion number doesn't account for increases in the number of children who show up at Florida schools. It doesn't include increased spending for Medicaid. And it doesn't cover the other run-of-the-mill spending boosts that lawmakers usually make in an average budget year. All told, those "critical and other high priority needs," in budget lingo, add up to $1.6 billion in the coming fiscal year.
In all — and after making room for around $300 million in tax cuts — state economists over the summer projected that the Legislature would have an extra $7.5 million to work with. They added about $142 million in the fall, but that still amounts to a tiny fraction of the state's current budget, which is around $82 billion.
It also doesn't account for the fact that lawmakers will almost certainly set aside much of the money from a legal settlement over the Deepwater Horizon oil spill to help Northwest Florida counties, which could squeeze an additional $300 million out of the forecast.
House Speaker Richard Corcoran, R-Land O' Lakes, has also suggested that his chamber will once again reduce property tax rates to offset increasing values, something expected to cost between $400 million and $450 million. That issue stems from the state's school-funding formula.
Speaking to reporters last week, Corcoran left no doubt about the way he saw the decisions facing lawmakers.
"To the extent that we do the tax cuts that the governor wants, there's going to have be cuts in the budget," he said.
Senate Appropriations Chairman Jack Latvala, R-Clearwater, was more measured when asked about Scott's tax cuts — but also seemed to nod toward a need for caution.
"I certainly support the governor's efforts to lower taxes," Latvala said. "I think he's done a wonderful job on that. I've been here and voted for every one of them. We just have to see what the future holds. We also have to provide for the needs of our state."
Theoretically, Scott could come up with extra money to make his recommendations balance by not reducing the school property taxes and by cutting areas that Scott has argued in the past are overfunded — like Medicaid payments to hospitals. The prospects for lawmakers following his lead on either of those items, though, are dicey.
Scott could also increase the amount of money drawn out of taxes and fees that are set aside for specific purposes, though the state forecast already accounts for some of that.
Either way, lawmakers are also casting a worried eye on the budget over the following two years. In the budget year that begins in July 2018, forecasts call for a $1.3 billion shortfall between revenues and what the Legislature is expected to spend, with the gap growing to nearly $1.9 billion the next year.
Leaders in both chambers have already said that they want to remove local projects that are funded on a year-to-year basis, often enshrined in the base budget by outgoing House speakers and Senate presidents. Corcoran has said that alone could get the House a good part of the way to its overall goal for reduced spending in next year's budget.
"I think what you're going to see us do is reduce the spending hopefully by well over a billion dollars," he said. "And with that I think there's always going to be those opportunities to spend it on things that are more wise or to give it back to the taxpayers."
The Senate also looking at reductions, though Latvala shrugged off Corcoran's goal.
"I don't get involved in trying to put big numbers on goals and try to make statements mostly for politics and press," he said.
–Brandon Larrabee, News Service of Florida