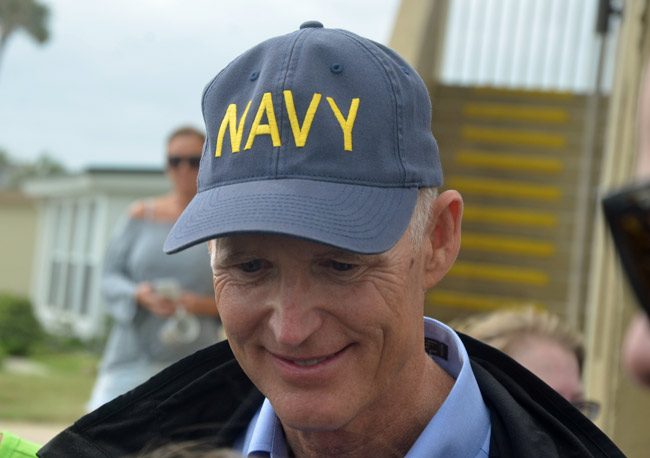 Throwing an elbow or two in the direction of House Republicans, Gov. Rick Scott on Tuesday unveiled a nearly $83.5 billion budget that would slash taxes, boost education funding and cut spending on hospitals.
There were few surprises in Scott's proposed spending plan for the budget year that begins July 1. But his remarks to reporters and editors gathered at the state Capitol for the Associated Press' annual legislative planning session were still notable for taking a stern tone toward some fellow Republicans.
In particular, Scott zeroed in on House Speaker Richard Corcoran, a Land O' Lakes Republican who has been a harsh critic of the governor's plan to spend $85 million for business incentives and another $76 million to market the state's tourism industry. While the governor did not mention Corcoran by name, he left little doubt about whom he was discussing.
"I believe that those who oppose investing in growing businesses simply don't understand how business works," Scott said. "We need to compete for jobs here in Florida so we can diversify our economy for generations to come."
Speaking later to reporters who followed him after his speech, Scott emphasized the need for incentives to help compete with other states in the race for corporate offices.
"We're not the only place that people can go," Scott said. "We've got great weather, (but) we had great weather back in 2010 when we lost all those jobs. … When people are not worried about people's jobs, that bothers me a lot."
Scott had already dribbled out most of the more politically advantageous items on his wish list in recent weeks, as governors often do. Scott had already proposed $618 million in tax cuts, pay adjustments for corrections officers and state law enforcement, and an expansion of the Bright Futures scholarship program.
There were some additional details Tuesday in the proposal, which lawmakers will use as a starting point as they negotiate a budget during the annual session that starts March 7.
Scott would once again boost per-student funding for public education, to $7,420.99, an increase of 3 percent. But that would rely heavily on an infusion of $557.9 million in additional local property taxes resulting from an increase in property values.
The move is almost certain to cause friction with GOP lawmakers, who have insisted that taking advantage of the rising taxable values represents a tax increase even though the actual property-tax rate, known as millage, would remain flat.
"I've said it a thousand times: The House will not raise taxes," Corcoran said Tuesday, drawing out the last six words for emphasis.
The speaker also suggested he was willing to push the legislative session into overtime because of the disagreement.
"We will not raise taxes," Corcoran said. "And if that means a lengthy year, we're prepared for that. But we will not raise property taxes — not today, not tomorrow, not ever."
Lawmakers voted last year to hold local property tax bills steady by partially rolling back the millage in the 2016-2017 spending plan, and Scott included that in a tally of tax cuts passed during his administration. But on Tuesday, the governor bashed the logic of saying the reverse was true — that declining to offset rising property values was a tax increase.
Scott also pointed out that lawmakers like Corcoran had previously voted for education budgets that used an increase in tax dollars to boost school spending.
"Some of those people voted for that before, so they voted for tax increases before?" he said. "When your house goes up in value, most of us like that. Anybody that doesn't understand that that's not a tax increase, I'm surprised."
The governor also rolled out a plan to spend $43 million on recruiting and retaining teachers. The proposal would replace the state's Best and Brightest program, which rewards teachers based in part on their scores on college entrance exams.
The state would give the largest chunk of the money, $16 million, to local school districts for their own initiatives. Another $10 million would provide hiring bonuses for teachers who do well on tests related to the subjects they will teach, while $6.1 million would incentivize high-quality teachers to take jobs in low-performing schools.
The state would set up a pair of scholarship programs, at a value of $10.9 million, to encourage diversity and Bright Futures scholars to enter teaching.
Additionally, Scott would spend $15 million to eliminate five fees that teachers pay to receive or renew their certifications.
Meanwhile, the governor would cut deeply into payments for hospitals. The state would reduce payments to public hospitals by $298 million. It would also save $581 million by allowing the managed-care plans that handle Medicaid patients to tweak how they reimburse hospitals. Another $50 million in funding for inflation and automatic Medicaid increases would be eliminated.
It's questionable whether the hospital plan viable in the Legislature. It drew condemnation Tuesday from House Minority Leader Janet Cruz, D-Tampa.
"All of this is an attempt to privatize (health care services)," she said. "So we as Democrats will stick up for our safety net hospitals — period."
In addition to improving pay for law enforcement officers, Scott also pitched plans to add 327 positions at the Florida Department of Corrections, which has been undergoing an overhaul after revelations of inmate mistreatment, among a total of 596 jobs added across state government.
The state would also get rid of 266 positions, the vast majority of which are either unfilled or expected to be vacant by the time the fiscal year begins July 1.
But Corcoran suggested the size of Scott's budget, which weighs in at nearly $1.2 billion more than the current year's plan, could be a problem. Lawmakers are concerned about projected budget shortfalls in future years.
"I think if we're going to get our hands around moving forward in a fiscally responsible manner for the taxpayers, the budget needs to be cut," Corcoran said.
–Brandon Larrabee, News Service of Florida