An exhibition of Richard Schreiner's works and in honor of his late wife, Arleen, will be held 4-7 p.m. Saturday Dec. 29 at Salvo Art House, 802 E. Moody Blvd., Bunnell. Admission to the show, replete with food, wine and live music, is free.

Palm Coast artist J.J. Graham was dozing on a couch in the studio of what used to be his Hollingsworth Gallery when he was awakened by a grumbling sound like a dyspeptic pit bull. Graham looked over to see Richard Schreiner, his friend, mentor, fellow artist and New York ex-patriate, busy slashing paint onto a canvas.
"I could hear him muttering under his breath, like 'Aarrgggh,' " Graham recalls of that day back in 2011. By then Richard and his wife Arleen had settled in Palm Coast for good. "He got pissed off about Anthony Weiner (the New York congressman who resigned in shame after tweeting a sexually suggestive photo to a woman) and was doing a painting of him. Richard hated corrupt politicians, dictators and scum-of-the-earth type characters. He definitely used his brush to assail them at any point."
And for a few years in Palm Coast until his untimely death–an undivine kidnapping, really–Schreiner was that irrepressible if lesser-known force of art as fury, art as revolt and defiance, art for damn's sake. He was a man revolted whose art could often be intentionally revolting even as it dissimulated the occasional hint of the sentimental: that terrorist with a gun barely suggested under her veil could just as well have been the sibylline twin of the older beauty reclining in the luxury of "Pink lady" and reminding you of his late wife. If there were no boundaries in Schreiner's art, there were none in his exploration of human psychology and paradox, either: we are rarely who we think we are.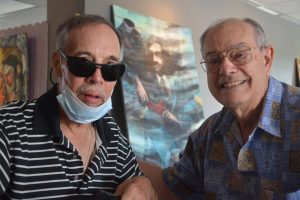 An exhibition of Schreiner's works in honor of the late artist, who died in 2012 at age 66, and in honor of his late wife, Arleen, who died in August of this year, will be held 4-7 p.m. Saturday Dec. 29. The event will be at Salvo Art House, Graham's current multi-artist studio/gallery, at 802 E. Moody Blvd., Bunnell. Admission to the show, replete with food, wine and live music, is free.
Area art patrons may recall the Schreiner retrospective that Graham staged at Hollingsworth in June 2012 shortly before his friend's death from amyloid cardio-myopathy, a rare, stroke-triggering disease that had stricken Schreiner just a few months before. Graham titled the show "La Viscere de la Bete Noir."
"I came up with the title for his show because of something my uncle said one time that stuck in the back of my mind," Graham says. "It means 'the guts of the black beast,' and I think that's what Richard painted: the guts of the black beast. He was so about exposing injustice."
The "Bete Noir" exhibit took viewers into the belly of humanity's bestial side with giant canvases that, akin to both the subjects and style of such early 20th-century German expressionists as Max Beckmann and Otto Dix, depicted brutal authoritarian figures, ranting politicians and macabre, beast-faced sub-humans who reeked of oppression, fascism and sinister motives. Other Schreiner portraits captured the sneer of racists or the leer of pedophiles. Still other portraits depicted the forlorn, even gentle faces of everymen caught up in the Sisyphean struggles of life.
The Salvo Art House exhibit will reveal a different side of Schreiner, who was posthumously named the Gargiulo Art Foundation's Flagler County Artist of the Year for 2012.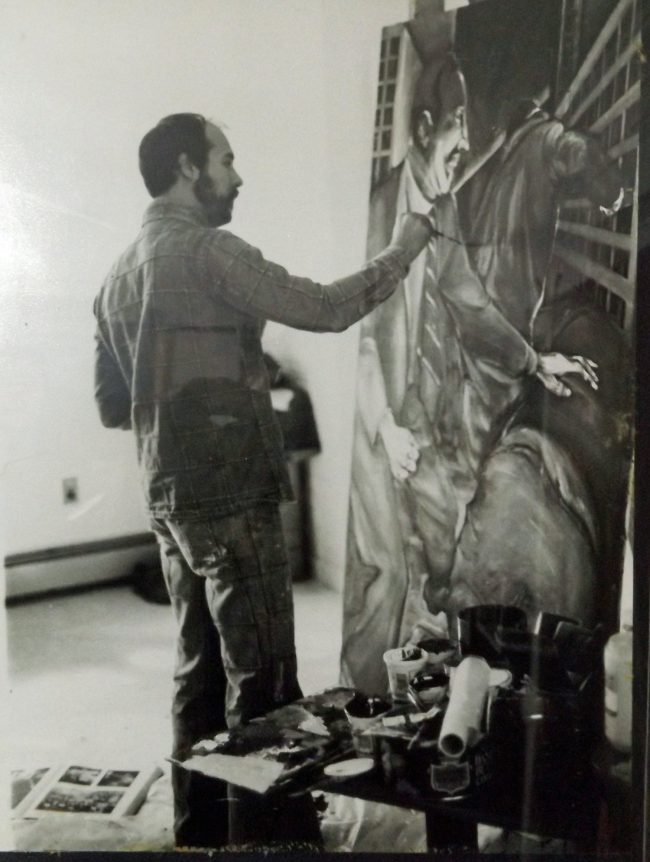 "I tried to tone it down a little bit with this show because it's a memorial to both him and Arleen," says Graham, who — with the blessing of Arleen's brother Doug Cedeno — has become the caretaker of the hundreds of paintings, drawings, etchings, lithographs and watercolors that are Schreiner's legacy.
"Toning Richard down is kind of a feat, and I would never want to do that other than the fact this is a celebration of their lives," Graham said. "I'm not showing just the stuff where he's hitting somebody with a 10-pound glove, not just the screaming side but some of the softer side of Richard. I want to show some of his intimate drawings."
In the gallery room at Salvo, Graham points out drawings that Schreiner did of Arleen and his father-in-law – portraits of beatific faces whose graceful lines are worthy of Goya or Rembrandt.
"What he was trying to accomplish by the brutality of some of his work came from a very just, pure place," Graham says. "I knew Richard, how he felt about those things, but I also knew the softness. He was one of the nicest, most loving people that you would ever meet. He was very much into tai chi. I freakin' loved him from the git-go."
Schreiner was born in Queens, N.Y. and attended the High School of Art and Design in New York City. He earned a master of fine arts degree at Yale and a doctorate in education from Columbia University. He taught in the East meadow School District in the New York area for 37 years, while occasionally exhibiting in area galleries.
Motivated by their love of boating and the water, Richard and Arleen moved to Palm Coast in 2005, where they bought a house on a canal. Richard had retired from creating art, but then one day he walked into Graham's Hollingsworth Gallery, which at the time was one of the earliest viable businesses in City Marletplace as Palm Coast was emerging from the Great Recession.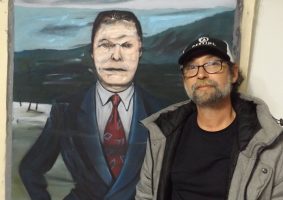 "He just came into the gallery and we hit it off," Graham says. "What's funny is I had just read a biography on Willem de Kooning (the Dutch abstract expressionist artist) and Richard studied under Elaine de Kooning (an abstract expressionist and Willem's wife). He asked me if I wanted to come and see his work.
"I remember riding over, and if you've never been in a car with Richard, he drove like a New Yorker – it's like 'Oh my God, man!' I had seen one or two of his pieces but I didn't know what I was getting into. When I went in his garage it was just rolls and rolls and rolls of canvas. I loved it. I asked him one day 'Why don't you come up and paint?' "
Graham provided studio space gratis to Schreiner at the now-defunct Hollingsworth. Graham becomes misty-eyed as he recalls those days when he and his friend and fellow artist Mike Thoth shared studio space with Schreiner.
"It was great for both me and Mike to have an older painter there," Graham says. "We all loved jamming out to the Rolling Stones. Richard had such a spirit about him. He had a tai chi group that he was in, and in the winter they would come there and do tai chi.
"A lot of nights I'd sleep on the couch because I worked late at night. He'd wake me up in the morning and we'd go have coffee and talk about art, talk about life and different things. He was just a very loving man.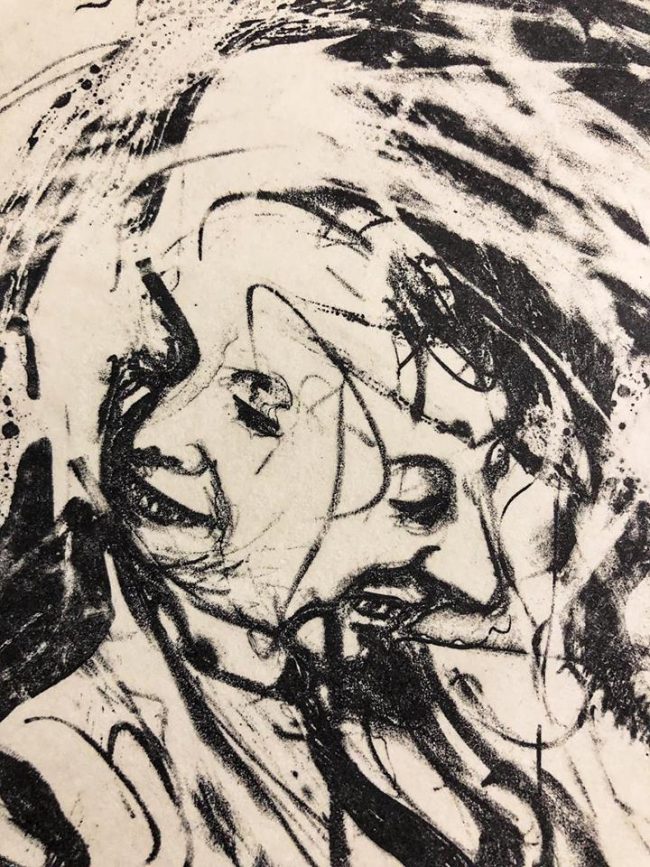 "He had such knowledge but he didn't wear his credentials on his coat sleeves. I'd maybe be struggling with a painting and he would be like 'I want to see how you're going to resolve that.' Nine times out of ten he would come in later and go 'Oh, that's not what I would have done but it works.' He was so humble. No ego. You knew when he gave you advice where it was coming from and what his motive was. He always referred to me and Mike as his sons. We kind of had this art father."
After Arleen's death in August, family members claimed various works by Richard, then Arleen's brother Doug Cedeno bequeathed the hundreds of remaining pieces to Graham.
"Doug called me up to the house and said, 'Look, we don't know what to do with Richard's artwork — there is so much of it,' " Graham recalls. "He thought that whatever work the family didn't take belonged here. It's a huge thing to bite off but I said OK. I'm basically caregiving Richard's work."
At Salvo Art House, Graham will be establishing the Richard and Arleen Schreiner Memorial Exhibition Room, an area which previously was rented by local artists as studio and exhibit space. Proceeds from the sale of Schreiner's work will provide opportunities for guest artists to be featured at Salvo events alongside the venue's resident studio artists.
"I think the majority of Richard's work belongs in museums," Graham says. "I can commit only so much of my time to finding the right museum – it's not going to happen overnight. Otherwise I'm going to try to find homes for it where it's appreciated so he's not stuffed away in a closet. But at least we can keep Richard alive here."
Graham notes that the exhibition is a memorial to both Richard and Arleen.
"She too was very loving," Graham says. "After Richard's passing, she purchased works from the gallery, she supported the gallery. They remembered my son's birthday and Christmas, and they always took care of him and made sure he was thought about. I'm doing this because I loved the man, I loved Arleen. They both were very good to me."
Graham picks up a 5-by-7-inch card that includes an image of "Pink Lady," one of Schreiner's beatific portraits. The card also includes Schreiner's birth and death dates, and what reads like a self-composed epitaph: "I fulfilled my mission. I loved my art and my wife. The love was true. Great joys. Great sorrows. Take a tai chi breath – Goodnight my friends."
–Rick de Yampert for FlaglerLive