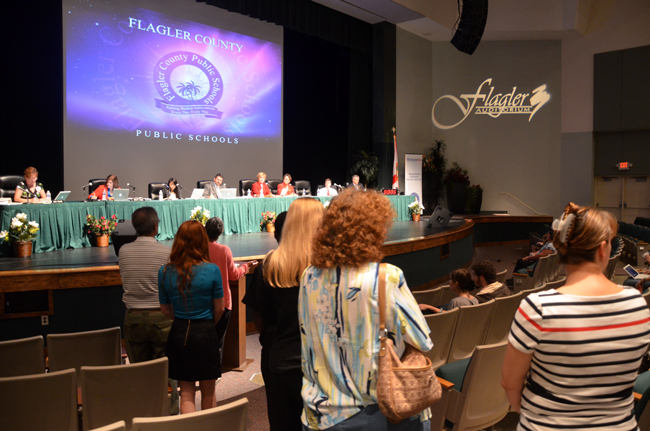 About 150 people scattered over the 1,000-seat Flagler Auditorium this evening and told a Flagler County School board missing two of its five members why school uniforms are a bad idea, why they're a good idea, why students shouldn't all be punished for the bad taste of a few, how the school district should just enforce its existing dress code, how uniforms quash style and expression, how uniforms instill discipline, how "ridiculous" it is to impose uniforms at a time when unemployment and hard times are rampant.
It was the first public meeting devoted entirely to the matter in the school district's latest attempt to institute a uniform policy in Flagler schools. The last attempt, in 2007, frayed before serious opposition, particularly from students.
"It didn't seem that long ago, four or five years ago, that we had the same discussion," board member Andy Dance said in his concluding statement, "and I don't think the arguments have changed any since then. What has changed is, we've had five years of progressive budget cuts to the school system and the county is a lot poorer, and things are a lot harder on people. That is one thing that definitely has changed and would be a struggle for the county."
This latest try at dressing the district's students in uniforms is the initiative of John Fischer, the board's newest and most conservative member, who wants uniforms in schools. But he wasn't there tonight. "He has a family emergency," Sue Dickinson, the board chairman, told one parent who asked why Fischer was absent. (Fischer's wife struck an elderly Palm Coast resident with her car last week. The woman died Saturday.) Dickinson said Fischer was watching the proceedings on TV. Board member Colleen Conklin, also a supporter of uniforms, arrived about half=-way through the public comments from a conference in Orlando.
The board had no intention of deciding anything Tuesday evening—merely to keep gathering opinions and ideas until early January. "This board will make the final vote at the first meeting in January," Sue Dickinson, the board chairman, said. That's Jan. 3.
Going by the numbers, just 10 of the 50-some people who spoke supported uniforms. The rest were opposed, usually with passion, and more than half of those were students—representing the district's elementary, middle and high schools.
Superintendent Janet Valentine had introduced the public meeting with a few numbers the district had recently gathered: the 64 percent of parents who support uniforms (according to an online survey the district conducted), the 71 percent of school employees who support uniforms, and the 77 percent of students, surveyed  at Flagler Palm Coast High School, who are opposed. That student perspective was unrelenting at Tuesday's town hall.
"Kids want to express themselves in rainbow colors, like oranges and pinks and blues and purples," said Sierra Higgins, a sixth grader at Belle Terre with a rainbow voice that belied the thunder in her successive points. "Bullies will find something else to pick on students for, their personality or their hair, their face or something. You really can't do much for the bullies," she said, turning in a petition opposing the idea—and including her teacher's signature. "Style is like everything when you're a kid. You want to express your style, you don't want to remember your teen and tween and little kid years being horrifying because you wore a uniform."
All but two students who spoke supported uniforms, but several parents did, one of them remembering how she sent her children to charter school  because uniforms were required there. That parent countered the notion that uniforms would impose too many costs (buying clothes or laundering them) by describing her experience with her own children: "Actually they can go a whole week without washing their uniforms because they wear white t-shirts underneath—with deodorant," she said. And uniforms prepare students for the workplace. Students need to be expressing themselves through art work, music—not through their clothes, she said.
A Matanzas High School student opposing uniforms pointed out an irony sitting on stage: a big banner celebrating the district's A rating, four years in a row—without uniforms. The A rating is the result of students using their heads, the student said. Uniforms would be a distraction of its own. "That's giving them another reason to break dress code," she said, for a price: "Not only are we going to have to buy uniforms, we're going to have to buy weekend clothes, too."
Michael Craig. A graduate of Flagler schools and Sierra's stepfather, pointed out another irony: "I find it a little bit disconcerting that the schools can now advertise anything that they want to, to my children, yet you're trying to take away my right as a parent to send them to school wearing whatever they like.  So the schools can advertise Woody's and Pepsi and whatever I think even on school uniforms."
There appeared to be no middle ground on the matter: students, parents, faculty, employees and residents at large are either for or against uniforms. But there is agreement for—or a complete absence of opposition to—the district's existing dress code, which many people opposing uniforms said should be better enforced.