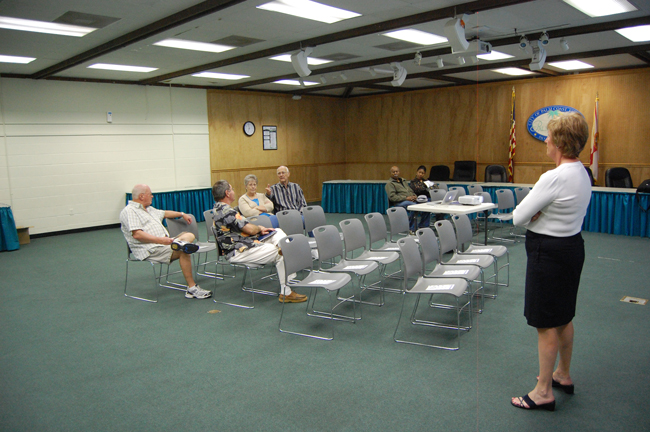 School officials had thought—and perhaps feared–that this would be the town hall meeting that would attract the tea partiers. The meeting, the fourth in a series of five on the school tax referendum on November's ballot, was held at the Palm Coast Community Center on Palm Coast Parkway Monday evening and led by School Board Member Sue Dickinson. Even Superintendent Janet Valentine turned up to field questions if necessary. As did Andy Dance, another school board member. And one of the district's technology guys, to handle the powerpoint presentation.
But no tea party throngs showed up. There were six people in the audience. When Dickinson was done, one or two of them had just a few questions, but they sounded supportive. And that was that.
"This shows me that there are returns on the investment," Terry McClelland, in Palm Coast since 1995, said after Dickinson's presentation. "And there aren't that many returns on investment in government." He described himself as a moderate conservative.
McClelland liked to know details behind requests for money. Speaking to Dickinson in one of the longer exchanges of the evening, he was more upset that he'd had to pay $3 to enter the Flagler County Chamber of Commerce's Creekside Festival two weekends ago than he would be about a school tax. It wasn't the amount. "It's the principle of the thing," McClelland said, noting how he was told that the chamber's money was used partly to help the Princess Place Preserve, where the festival was held, and also to provide money for education. What education, McClelland wanted to know. He got no details at the festival.
He got a few details at the school tax presentation, especially the repeated notion that the 25-cent-per-$1,000 in valuation that the school board is asking of property owners is not a new tax, but a continuation of a tax they've been paying all along. The difference: the Legislature is forcing local school districts to ask voters' permission to raise that portion of their funding, whereas in the past, school boards could vote on their own to continue the tax.
The tax raises about $2 million a year. The revenue supplements everyday operations–and offsets what the district projects will be a "funding cliff" of several million dollars after this school year, when federal stimulus money runs out.
Four school board members have each held a town hall meeting on the tax. The best attended drew 10 people. There's one left, by Evie Shellenberger, at the Hammock Community Center on Malacompra Road on on Wednesday, Oct. 27, at 7 p.m.
It's impossible to tell what the low turnout means. Dance and other school officials are interpreting the low numbers as a good sign: if people aren't fired up against the proposal, they won't turn out to voice their opposition. It could just as well be that people have made up their mind one way or the other, though it'll be impossible to tell until Nov. 2 which majority way that is.