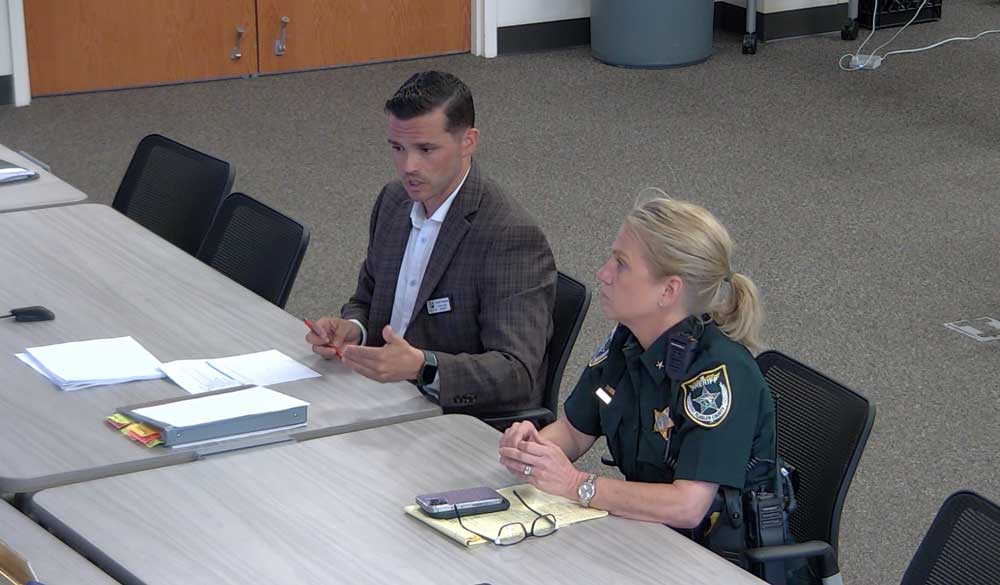 At the end of the latest of many ongoing discussions about whether to arm school staffers on campus, a majority of school board members today said that, while not opposed to such a program, they would be uncomfortable with arming classroom teachers, as opposed to staffers or administrators beyond individual classrooms.




It was the clearest perspective yet on what the program might look like, after the board ruled out hiring what would have amounted to additional security guards in uniform, though many parameters have yet to be defined and a policy written if the board were to vote to adopt the program. That if is still hanging, even as two board members–Christy Chong and Will Furry–are more eager to get it going than the remaining three–Cheryl Massaro, Colleen Conklin and Sally Hunt.
The difference between classroom and non-classroom weaponry was brought up by Hunt. "I want to just speak openly as a mom," she said. "I think we've got a lot of people in our community who are very comfortable with guns, very comfortable. It's something that's just a part of their family. I represent a family that the idea of having a kindergarten teacher or a sixth grade teacher, teachers now are in their classroom with a gun–" she then made a pronounced exhaling sound, expressive of a sense of apprehension, and called guns in the classroom "unsettling."
She asked if it was the district's design to have every teacher armed in the long run. It isn't, other board members told her.
"I thought if we were going to go that route, it might be best to stick with campus support staff, just so they were available to the larger campus," School Board member Colleen Conklin said.




"Not classroom teachers," Cheryl Massaro, the board's chair, said. Conklin later clarified in her view campus support staff of administrators could fit the bill. Conklin has previously stressed that for her part, she would want individuals with previous law enforcement or military backgrounds in that role.
The board has been discussing the possibility of arming some of its staffers since last school year. It would become part of what the state calls the "Guardian" program, which provides for state grants that underwrite the training of participants, but not their cost once in place. In Flagler County, Sheriff Rick Staly said he would train school staffers and participate in the program on the condition that it would not replace the presence of school resource deputies, only supplement it. The district pledged there would be no replacement.
But getting from discussions to enactment has been a long slog, a reflection of such a program's potential complexities and unknown. "Guardian" programs have been adopted in the majority of Florida counties, but because of financial necessity in many cases: many districts have so many schools that they cannot afford to have a sheriff's deputy in every school, as Flagler County does (or two at each of its two high schools). But state law makes an armed security presence on every campus mandatory. So many districts don't have a choice but to arm staffers.




That's not the case in Flagler, where the Sheriff's Office and the district have had a historically strong and steady relationship, with the county commission paying half the cost and the district the other half, not counting an additional school deputy paid for by Palm Coast. Schools have been reconfigured, or "hardened," in accordance with more recent principles of security, deputies drilled with active-assailant training, and each campus has a stash of sheriff's owned weaponry ready to be deployed in case of an emergency.
But as school shootings continue, so does the anxiety about school security. As effective as current measures are with the Sheriff's Office, some school board members think it's not enough, in the sense that there could never be enough security, though that raises a question that had never been clearly answered in Flagler's discussions: what would be the limit? That, it appears, is what prompted Hunt's question about arming every teacher. It is now clear that that would go too far. But that still leaves non-classroom staffers.
Tommy Wooleyhan, the district safety specialist, has been shepherding the board through the proposal's complexities. Today he caused a bit of alarm–from Hunt–when he said the administration was "looking to build an application process" for the program, wit principals playing a key role in deciding who would fit the program best.
"I just got like a big wave of anxiety," Hunt said, concerned about how far the process might have gone. Wooleyhan reassured her: it's all only in draft form, modeled after others school districts' approaches. When the district surveyed its staff to find out the level of interest in individuals willing to participate, over 80 percent of respondents said they did not want to be armed. Among those willing, only 17 individuals fit Conklin's condition of having previous law enforcement or military experience.




Wooleyhan today noted updates in the law framing the program. It requires 16 hours of active-shooter instruction, up from eight, but the eight additional hours were taken from what had previously been a required 12 hours of legal-issue instruction. That's down to four hours. The district's cost of having 12 armed personnel would range between $48,000 and $61,000.
The board is not done discussing the issue. Next, Superintendent Cathy Mittelstadt said, a superintendent from another district will be invited to describe the experience of having armed staffers to the board.