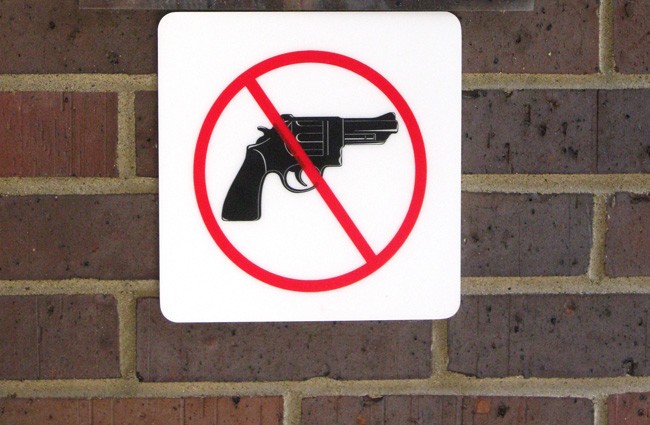 A Senate bill that would allow school superintendents to tap employees or volunteers to carry concealed weapons on school property was effectively killed by a committee Wednesday, meaning that two high-profile proposals blending firearms and education could fail during the legislative session.
Last week a measure that would have allowed students and faculty to carry concealed weapons on Florida's college and university campuses was also killed.
School boards would have been given the authority to let their superintendents designate former or current military personnel or retired cops to carry concealed weapons on public school campuses. A clear majority of the Flagler County School Board was uncomfortable with the notion, as was Superintendent Jacob Oliva, who spoke of existing School Resource Officers are their preferred security measure. Sheriff Jim Manfre is categorically opposed to allowing people with concealed weapons on campuses.
So there was a sense of relief after the proposal died, even from board member Colleen Conklin who, surprisingly–because she has been the board's most vocal anti-gun member–had been among the board members most willing to give the bill a chance.
"I understand and appreciate the intent of the legislation but I do believe there were many more questions than answers," Conklin said in an electronic message this morning. "The consequences of adopting such legislation are far too vague at this time. Regardless, we will remain vigilant in providing a safe educational environment as we work with our school resource officers and our mental health agencies."
The Senate Education PreK-12 Committee agreed to temporarily postpone — a procedural move similar to tabling — the "school safety" bill (SB 180). Because the committee is not scheduled to meet again, the legislation is bottled up and can't go before the full Senate. It also can't be added to another bill on the Senate floor.
The bill was postponed as a courtesy to Sen. Greg Evers, the Baker Republican who sponsored the measure, according to Education PreK-12 Chairman John Legg, R-Lutz. It would have failed if the panel voted on it, Legg said.
"It did not have the votes in this committee," he said.
Technically, the language could still end up before the Senate. House lawmakers could attach the proposal to another bill, then send it over to the Senate. The upper chamber would then be free to vote on that legislation — but Legg said he thought that move was unlikely.
"If it was (amended) onto something, it would put that bill in severe jeopardy," he said.
The House companion (HB 19) to Evers' bill has cleared all of its committees but is also essentially dead as a stand-alone bill without its Senate counterpart.
Bills that would lead to guns at schools have traditionally faced an uphill challenge in the Senate, which is more moderate on such issues than the House. With supporters saying it would improve school safety, the Evers bill called for allowing trained volunteers or employees to be able to carry guns. The training requirements would have been significant. But the House measure had allocated just $157,000, in total, for Florida's 67 school boards, had the measure passed.
Another controversial measure that would allow people with concealed-weapons licenses to carry guns on the campuses of Florida colleges and universities (SB 176) also has been bottled up in the Senate Judiciary Committee.
"I've polled the members of the Senate, and there doesn't seem to be too much support for that bill," committee Chairman Miguel Diaz de la Portilla, R-Miami, said last week.
–FlaglerLive and News Service of Florida