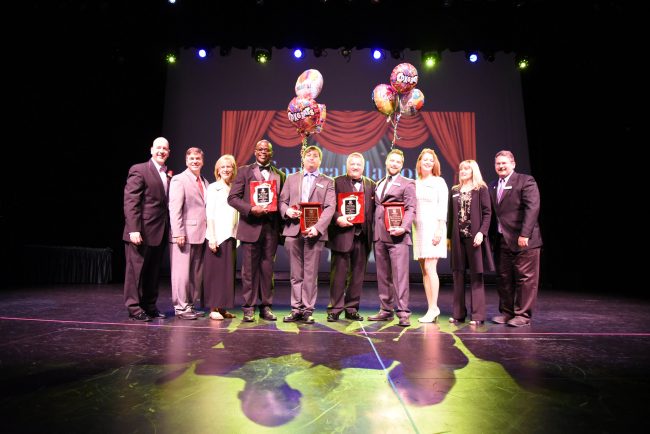 Andrew Hutcheson, an Advanced Placement Physics teacher at Matanzas High School, and Brandon Seminara, the Assistant Director of the Flagler County Youth Center, were named the Flagler School District Teacher and Employee of the Year for 2017 during an evening gala honoring all the district's teachers and support employees of the year at Flagler Auditorium Thursday evening.
Hutcheson began teaching at Matanzas High School in August 2011 following stops in Virginia and Ohio. He received his Bachelor of Science Degree in Environmental Biology from Mount Vernon Nazarene University (MVNU) in 2003. Two years later he was awarded his Master of Education from MVNU. Andrew's wife Wendy is a counselor at Flagler Palm Coast High School and in a way, he sees himself sharing this honor with Wendy. The couple call themselves "Team Hutch."
"She is a guidance counselor so she educates students to have strong emotional intelligence," Hutcheson said. "I am a Physics teacher, so I educate students to be the creative problem-solvers we need in a 21st-century society." If you step foot in Hutcheson's class, you'll instantly know it's a little different than other physics classrooms. Hutcheson embraces online gaming–more like Dungeons and Dragons and other fantasy-like games students identify with, not gambling, of course–and incorporates it into his lessons.
It's an approach his students embrace. However, Hutcheson is quick to use any number of teaching approaches in order to reach each individual student.
Brandon Seminara is a product of Flagler Schools. He graduated from Flagler Palm Coast High School in 2010. He is currently enrolled at Daytona State College where he is working on his Associate's Degree. Seminara currently serves as the Assistant Director of the Flagler County Youth Center, headed by Cheryl Massaro.
It's a place with which he is very familiar. Seminara first started dropping by the center in 8th grade. He began volunteering at Flagler Palm Coast High School following his graduation before he was hired as a computer technician for the District's Technology Team. Seminara is the president of the FPC Alumni Association as well as a member of the FPC School Advisory Council. Of the honor of Employee of the Year, he says, "As a former student and current employee, I truly believe in the mission of Flagler Schools, for they have provided me the tools necessary to be successful."
Both Hutcheson and Seminara will represent Flagler Schools in the statewide Teacher and Support Employee of the Year competition.