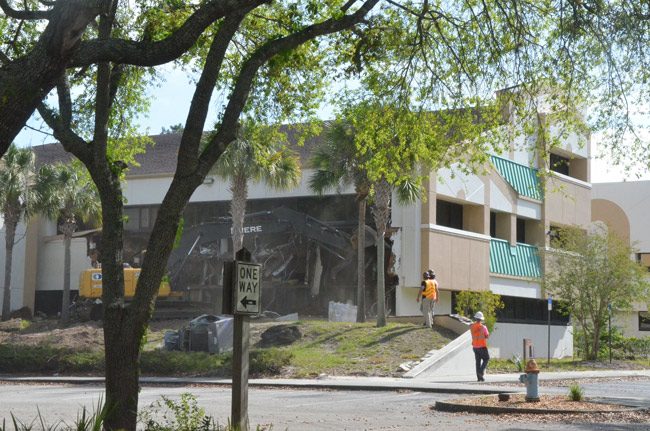 Michael Collard Properties, the Winter Park-based retail developer that remade the old Palm Harbor shopping center into Island Walk, just offered the Flagler County School Board $1.8 million for the 7.2 acres on Palm Coast Parkway that were once home to the old ITT headquarters and the district's adult education operations.
The developer is looking to redevelop the area with shops, restaurants and other retail outlets.
The board said no: not at the moment, not at that price, and not before the district analyzes its own capital needs, toward which it would spend expected revenue from the land sale. Several factors are giving the board pause before accepting an offer.
First, the price. School Board member Janet McDonald thinks the parcel is worth $5 million. Colleen Conklin thinks it's worth $3 million. Either way, to sell the property the board by law would have to secure at least two appraisals, since the last appraisals—which listed the value at $1.5 million, when it still had the old squat structure on it—were done in 2013 and 2014. The building had been condemned and was razed last April, at a cost of $167,000, in essence lifting the value of the property since.
Second, the district has its own capital needs, Finance Director Tom Tant says, chief among them buying at least three buses for an ageing fleet (each new bus costs $144,000), finishing an air conditioning replacement at Indian Trails Middle School this year and next, for $2.1 million, and installing an ice plant at Belle Terre Elementary that would help lower electric usage costs significantly. Money for that project has not been appropriated. But board members want more clarity on capital priorities.
"We don't have an immediate need for the parcel, we do have some immediate needs I think specifically in bus transportation," board member Andy Dance said.
Third, the board wants a clearer inventory of what unused properties it owns and where those might fit in with its school construction plans in the future—whether the parcels may be sold or swapped either to generate revenue or to accommodate eventual construction.
Fourth, the board appears in no hurry to sell what may be its most valuable unused property when property values are rising at an average of 6 percent or more in the county.
"There's huge value in that piece," McDonald said during a board discussion about the offer Tuesday afternoon, though she was referring to an outdated appraisal from 2005, when the property was appraised for $5.2 million, $3.9 million and $4.1 million in three separate appraisals. That's when the old ITT building was still fully functional.
Unspoken in the board's resistance may be its unwillingness to sell the building at such a great loss. The district bought the property in what was then a poor deal, for $3.5 million in 2001 (or $4.9 million in current dollars). It finally paid off the mortgage last year, after financing it through a bond issue. The three appraisals conducted in 2013 and 2014 came in at $1.55 million, $1.1 million and $1.5 million.
"I'm not opposed to selling it if the price is right," Conklin said.
"It doesn't do a lot of people good, sitting," Dance said: as a public property, the parcel is not contributing to the tax base. "It is a marketable piece so if there seems to be interest, I think it's probably a good avenue to get the appraisal done and start gauging that interest. We could even go out to an RFP once we get the appraisal back."
McDonald and fellow-board member Maria Barbosa questioned the need to sell right now, seeing more value in holding on to the property as it appreciates. Once sold, they said, it's gone.
There was no broader agreement even to conduct a pair of appraisals. "I don't want to spend money on an appraisal and then find out we're not willing to sell it for that appraisal," Trevor Tucker, the board chairman, said. "We're going to say we haven't made any determination at this time, is that fair to say? Then we're going to look at critical capital needs, at the next information workshop, which is a month away."
The discussion over what used to be called Corporate One mirrored many previous discussions about the property over the years, when the building sitting there at times seemed more of an albatross than an indispensable office or classroom building. Every step in the parcel's evolution has been fraught with disagreements, hesitation and mixed signals.
On Aug. 10, Michael Chiumento III, the attorney at Chiumento Selis Dwyer who represents Michael Collard Properties, sent a memo to school board members and the superintendent briefly outling the proposal. The memo was especially revealing about Michael Collard Properties' plans for the area surrounding Corp. One: the parcel acquisition is seen as another big redevelopment, this one in "efforts to redevelop the Kohls shopping plaza," the memo reads. An attachment projects three restaurants, shops, a bank and a specialty grocer among the planned retail outlets. If all that comes to pass, Chiumento is calculating the windfall, in property taxes to the school board, at $146,000 a year.
The school board will revisit its capital issues and priorities at a meeting in early September.

The Collard Properties Memo and Proposed Contract